AT FIRST, I couldn't believe my ears. Morning Report co-host, Suzie Fergusson, was interviewing Isabella Lenihan-Ikin, President of the New Zealand Union of Students Associations (NZUSA).
Of course our Justice system is racist and that's the way the sleepy hobbits of muddle Nu Zilind like it.
National are frightened that same day enrolment would attract a large percentage of disengaged voters that don't vote for them and building some moral argument of personal responsibility to defend that is atrocious. 
 In my view, it's not a question of - a donation.  The question is, why?
Join Corey Humm and Ben Kent for a night of laughs at Caluzzi bar Corey Humm is a national raw finalist whose toured NZ/Aus and...
And that jacket is a failure of good taste 
New poll figures reveal that more than half of New Zealanders who had attended a rodeo event supported a ban on rodeo. A recent Horizon...
ANDREW LITTLE has confirmed that the Coalition Government will announce changes to New Zealand's free speech laws before the election. Clearly, Jacinda Ardern has not been able to persuade her Justice Minister that introducing "hate speech" laws is a sure-fire election loser. Or, perhaps the Prime Minister also believes that attacking freedom of speech is an election-winning strategy.
The Venn diagram of those who hate Jacinda because she popular over seas with those who hate her baby and those who hate women is a perfect circle. 
Behind Peters' masterfully patriotic sales-pitch, it would seem that there has always existed a hidden but unbreakable connection to a very different New Zealand.
Family First are the far right Christian pressure group who are currently running campaigns against the Cannabis referendum. Previously they were all about the legal right to beat the fear of God into children, now they are the moral custodians trying to kill off the cannabis debate.
Bridges may have just found the policy that everyone will get around, handing it back to the bloody Aussies. 
CAN THE GREENS get themselves back on track?
This whole sordid clusterfuck of ego, abuse of power, depression, anger and political toxicity is a Shakespearean Greek fucking Tragedy but everyone is MacBeth with an achilles heal.
Nothing is going to make swinging voters recoil in horror quite like thinking the pious micro-aggression policing woke activists they see in their social media feed could be judge, jury and executioner of feee speech.
The Greens have now dropped down to 5% - seeing as they over poll there is a very real chance they could slide under the threshold - who is going to accept responsibility in the leadership for this?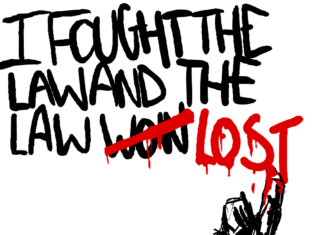 After 5 years, the NZ Police have apologised and settled my complaint against their breach of my privacy and civil rights during their deeply flawed case against Nicky Hager. The formal apology is as follows.