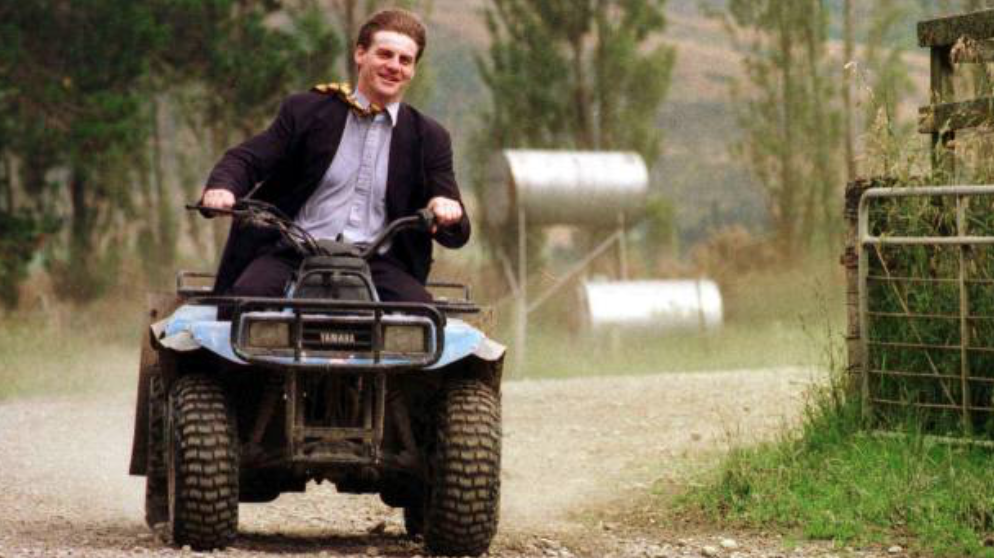 This image more than any other sums up Bill's legacy. New Zealand vs Old Zealand. 
It is respectful to allow Bill English his day yesterday without comment, but today I'm really going romper stomper on all this '27 years of public service' praise by highlighting the enormous social policy damage this fundamentalist inflicted upon NZ
This line by the mainstream media that Bill English somehow saved NZ from the GFC highlights their media elitism. Bill English protected the middle classes from GFC by throwing beneficiaries onto the streets – that's not a hero, that's a coward!
And let's be clear, I'm not be facetious here, when challenged about the Billion dollar hole in Government funds early in National's rule and asked where he would make that money up, Bill simply told NZ, from beneficiaries.
TDB Recommends NewzEngine.com
What many always missed about Bill English is that he was a fanatical Catholic. For English, the greatest sin was state welfare which allowed the poor to gravitate towards secular institutions as providers instead of fearing God.
He was viciously anti-gay and aggressively anti-abortion…
ENGLISH IS VERY SOCIALLY CONSERVATIVE

English has spent the last eight years deep in the budget books, where he is clearly a fiscal conservative, but nowhere near as ideologically driven as say, Ruth Richardson. On social issues however, this Catholic man is very solidly to the right.

He voted against the legalisation of same sex marriage. He voted against civil unions. He voted against prostitution law reform. He voted for a 2005 bill that sought to clarify that marriage should only be between men and women.

English is perhaps most vocal on abortions. In 1997 he said Parliament had "fallen short in our duty to protect the unborn child".

Anti-abortion groups list him as a supporter.

As Health Minister, he actively attempted to reduce the number of abortions, introducing a booklet about "other options" and foetal development.

His wife Mary, who is a Wellington GP, is on a list of doctors who have reportedly refused to provide abortion services or contraception. She told NZME that the pair were "both conservatives on anti-abortion issues".
…he was driven by a far Right God to redesign the neoliberal welfare state so that even less State money continues to support the valueless and sinful existence of solo mothers.
English was far more dangerous than Key ever was. Key was a self serving populist who looked after Key first, English was a religious zealot whose Southern drawl and dryness masked a hard right moralistic fanatic.
The horrific failure of State House privatisation is now apparent, the horrific manner in which English had duped the mainstream narrative that he's dumping tens of thousands off welfare under the guise of focusing on the truly needy few has been uncovered and his use of mass surveillance to demand big data from social agencies so he could spy on the children of the poor under the claim he's helping them is Big Brother madness.
English rammed through hard right moral doctrine to appease his angry right wing God. He killed off secular Government social obligations which he saw were sinful by pretending to resource only the truly needy. It's a clever way to fool people, but it's simply making the neoliberal welfare state even more punishing and more draconian.
English focused on mutilating the State's capacity to fund and dispense its social obligations so that desperate people are pushed towards God or Gods representatives on Earth.
English also stopped the recent cannabis reform in Parliament.
English mocked climate change.
English was the one who controversially signed off on the Kim Dotcom case that has put NZ on the hook for $6.8billion in damages if Kim wins.
English claimed to have seen the SAS footage where our troops are alleged to have committed a war crime and claimed he saw no evidence of that. When that tape finally surfaces, Bill will be proven a liar.
Bill's deception over the Todd Barclay tapes gave a stark insight into how ruthless and manipulative he really was and staring down the barrel and telling NZ that Labour had a $11.7billion hole when he knew that was a lie was him at his most desperate to win.
And what of Bill's beloved farming community that he cares for so much? What has he left them as a legacy? An industry that steals and pollutes water, that is selling base ingredients to China, who has many mortgaged up to the eyeballs because of dairy intensification and an industry that now faces oblivion because of  technological advances in synthetic meat and milk.
All his life, from gay rights, abortion rights, marriage equality, climate change and cannabis reform, this man has been on the wrong side of history. In the end his religious fervour and his value system generated huge social welfare ideas that were more punishing and less compassionate than he ever intended, that's because Bill's sense of love never extended to his fellow human being, it was always set by a distant and angry God.
After 27 years of public service, Bill deserves his rest and he deserves his family time, but my only gratitude is that he has gone, not that he served.
In the end he was all haka with no mana.