Judith's new 'Leader of the Opposition' office was controversial for it's addition of an armoury and Cameron Slater as her Secretary. "Some say they don't know what's more dangerous, semi-automatic rifles or Whaleoil', Judith cackled.
I don't know what the hell was going through her mind, but Julie Anne Genter has sent this out…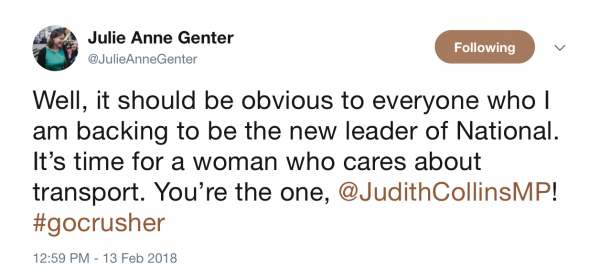 …but Judith doesn't care about Transport, she cares about building more bloody roads!!! Put that to one side, let's be quite clear here, in my opinion, Judith Collins represents the greatest danger to NZ politics in its truest sense than anyone since Muldoon. Curwen Ares Rolinson
TDB Recommends NewzEngine.com
There's a great story about establishment National Party identities debating Judith ever becoming leader and their genuine fear – so the story goes – was that none of them could hand on heart ever rule out Judith declaring martial law.
Judith's deep connection with Slater and Lusk and the dark means with which 'someone' has been destabilising Bill's Leadership since the Todd Barclay leaks alongside her Orivada scandal, her acquiescence to Chinese business interests and her need to stand down for an inquiry into whether or not she was planning a hit on the Head of the Series Fraud Office all mark her out as a threat to NZ democracy, certainly not its fucking champion.
I am going to believe that Julie Anne Genter is being sarcastic here, and that this tweet is a joke because NO ONE, and I mean NO ONE with any progressive intelligence whatsoever would allow someone as dangerous as Judith Collins anywhere near power.
And anyone championing Judith's rise to power, can not be trusted with it themselves.
If your need for identity politics strips you of your wisdom, then you don't deserve to be in the game in the first place.
But I am certain Julie Anne was being flippant and not genuine. It is however something Green Party members voting will need a clear answer to before they vote.
UPDATE: I have been assured that Julie Anne Genter's tweet was a tongue in cheek joke.