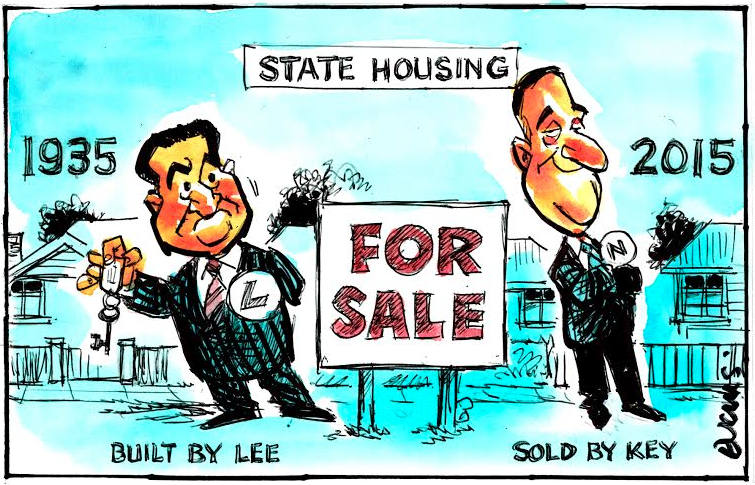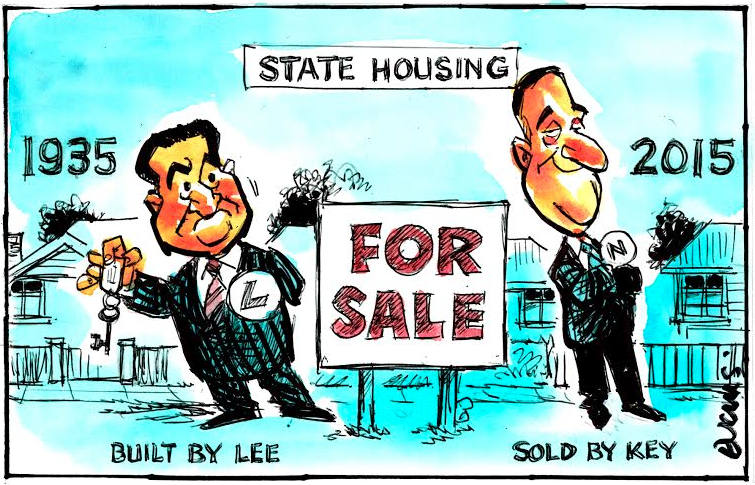 Vision-bereft policies from National include chucking more cash at first home buyers so they can compete with investment property landlords. More of the same policies from National will see more baby boomers walking away with unimaginable wealth at everyone's expense, increasingly unliveable cities and more homelessness and poverty.
The huge imbalances of the housing bubble won't be solved just by building more houses no matter how much they are needed. Bryan Bruce new documentary Who owns New Zealand now? points to the property crash in Ireland that left a glut of unsold and half completed houses.  New Zealand should take heed especially as we have replaced Ireland at the top of the global house price index
Labour seemed to have a sensible approach  to getting expert advice on this controversial issue after the election, so I was shocked and disappointed when Labour resiled from dealing with the taxation of housing with any urgency. While Labour can still immediately extend the bright line test, stop foreign buyers, and improve rental housing quality, etc. to curb speculation, it will not be enough to restore fairness.  
But there is always a silver lining. Now there is time for a proper, rational debate on all the alternatives for the sensible taxation of wealth held in housing.  In reality any tax working group would struggle to find a magic way to do a capital gains tax quickly post election. Nor would a capital gains tax deliver much in the short term. It could likely only apply to properties purchased  after a given date and would have little impact on the excessive, accrued, untaxed capital gain that has been driving inequality.
We are not doing policy development well in New Zealand. Labour now has a real chance here to get it right. There would be time, for example, to investigate the risk-free return method first discussed by the McLeod Tax Review committee in 2001, and more recently by the Gareth Morgan foundation.
In risk-free return method equity in property would be taxed at least as much as if it had been placed on a bank deposit.  This immediately levels the playing field and begins to treat income from all sources more equally.
TDB Recommends NewzEngine.com
This method taxes a person's total net equity (real estate value less mortgages) at a rate which would be set each year to reflect interest rates for term deposits on offer at the banks.
Jacinda should take away the limitations of what can be looked at by the tax taskforce. The family home should be included in the tax base otherwise people would over-invest in their own home. We do not need any more over-elaborate homes to gobble up our scarce building resources or people like John Key to make untaxed millions from their own home.  The cbest way to protect those who have modest property equity is to have an exempt level of net equity, set high enough that the majority of New Zealanders would be unaffected.
Let's say Anne and Arthur have a family home worth $2.4 million, a rental property worth $600,000 and a family bach worth $1m. Each has property assets of $2m. With a personal exemption of say $1 million, and a risk- free rate of return of say 4%, they would each be liable for tax on an imputed income of $40,000.
At a personal tax rate of 33 per cent, they each would pay $13,200 in tax but they would not have to include any rents as part of their taxable incomes.  There would be an incentive to make sure the rental and bach were generating some rental income and not standing empty. All of the complexity of keeping records of expenses and deciding which are really capital expenditures on the rental property disappear. Negative gearing whereby losses from rentals are offset against other income would be impossible.
By relating the tax to the net equity held, as property prices increase, future capital gains would be captured in the base. The burden of the tax would fall on the older wealthy with large equity while the young with small equity and high mortgages would be protected.
Of course there are fishhooks in any property-related tax. There needs to be an agreed way to assess the capital value for each property, such as the use of CVs as at the beginning of the year.  Overseas owners and property-owning trusts would have no exemption.
In principle, even just the prospect of the tax could have the desired depressing impact on house prices while releasing more houses for sale. Importantly it would remove the incentive to over-invest in property and restore some balance and equity to a grossly distorted picture.