In 2014, NZers shrugged over dirty politics & mass surveillance lies & voted in National to protect their speculative property bubble wealth, so as a progressive, to be where we are with Labour + Greens + NZ First being the majority, that's a major victory.
Special votes which include many of the 'youth quake' who enrolled and advanced voted are 384, 072 (15% of the total vote) and they won't be counted for another 2 weeks. It is believed that Labour and the Greens will benefit most from that and expectations are National and NZ First will come down and the Labour/Green bloc will benefit.
Analysis
suggests Labour and the Greens will each add an MP from the special votes which would gives a Labour + NZF + GP majority of 63 seats in Parliament.
WINNERS: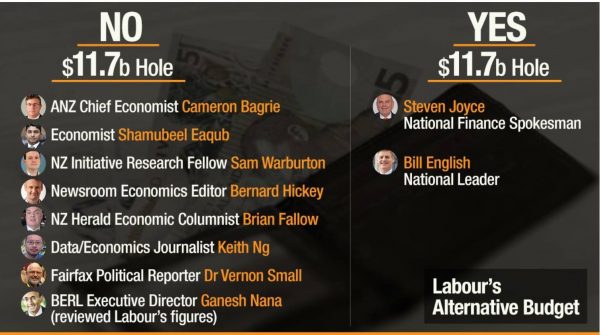 Dirty Politics: 
The disgusting way National have openly lied to our faces has been extraordinary. They have utterly failed to explain and justify how their mass immigration, milk powder to China and property speculation economic policy is helping 41 000 homeless, 10 000+ in prison, 300 000 kids in poverty, generations locked out of home ownership, student debt, infrastructure gridlock and mental health breakdown and instead just lied to our faces!
There was no $11.7billion dollar hole, no one would have paid more in income tax and claiming inequality and poverty were high because of the Christchurch earthquake as Paula Bennett did was beneath our collective intelligence, but it worked.
Lies, deceit and wilful ignorance was National's campaign and it worked well enough to win National 46% of the vote.
Corporate mainstream media:
The right wing corporate media won this result for National. The tirade of right wing attack columnists and pundits who swamped all the newspapers and panel shows to repeat National Party spin lines was extraordinary.
The way they lynched Metiria for courageously pointing out how damaged and punitive our neoliberal welfare state agencies have become while ignoring a possible Chinese spy in the National Government highlights the obscene double standards of our rich white male broadcasters.
Willie Jackson:
Incredible result for the Campaign manger of the Maori campaign. A total 7 seat sweep of the Maori electorates on top of an incredible pumping up of the Party vote for Labour by Maori voters in the Maori electorates and the General seats marks Willie Jackson out as front bench material. The Maori faction within the Labour Party is now the largest faction but most importantly, Willie Jackson's close personal relationship with Winston means he is the nervous system connection between Labour and NZ First that Jacinda will need to make a Labour led Government work. If you want any clear idea of how likely a Labour led Government will occur, watch to see the interaction between Willie and Winston.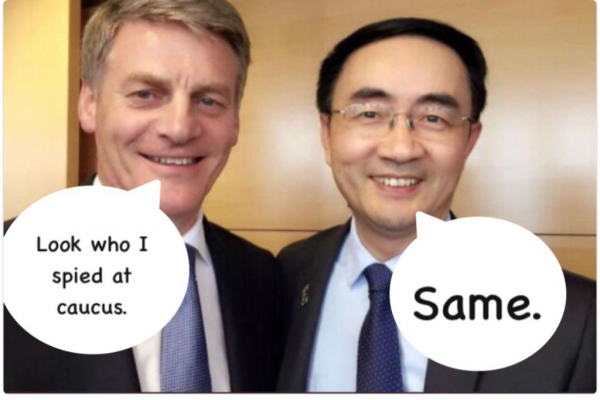 China:
The full implications of the devastating University of Canterbury investigation into National's total acquiesce to Chinese business interests was lost in the noise of the election. TDB will be running some analysis of this because it will quickly become the major issue moving forward now. The level of control China has over the National Party makes tonights result for National as big a win for Beijing as it is for Bill English.
TDB Recommends NewzEngine.com
Jacinda: 
8 weeks ago, Labour were 23%, they ended up with 35.8%. For Jacinda to have turned it into a race shows there is hope for us and our democracy. Whatever else happens, we should celebrate that. Her emotional intelligence and her political values will make her an incredible Prime Minister this time or next. She was extraordinary. She is the hero of my 7year old daughter and has given so many a hope we had forgotten.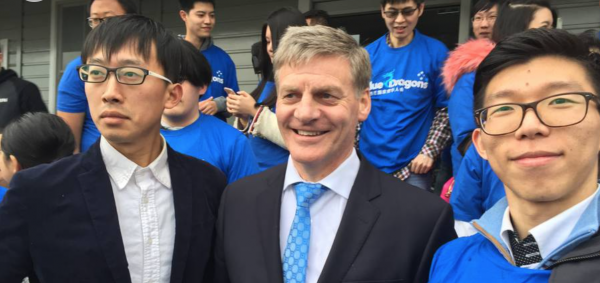 Blue Dragons: 
The rise and rise and rise of the influcene of Chinese New Zealanders within the National Party mark them as one of the largest factions inside National now. The utter dominance Chinese business interests have in the private lives of leading National Party MPs as highlighted in the University of Canterbury report means National will continue to feed the Blue Dragons until they end up getting eaten by them.
Dairy propaganda: 
The Dairy propaganda adverts on TV were hilarious. So terrified are Fonterra that the rest of the country is getting sick to death of them stealing and polluting our water, they were desperately pumping these farcical adverts out to try and distract Kiwis from the wholesale abuse of their industry.Richie McCaw wanders around a Farm in the early morning and marvels at the pristine goodness of these human beings as if Jesus himself had personally popped down to the milking shed to milk a herd before feeding 5000 with a block of cheese.
Indeed the most recent advert actually goes as incredibly far as suggesting milk is some kind of miracle drug that can help paralysed teenagers walk again.
You have to see it to believe it…
…that's right folks, Dairy doesn't shit into our rivers or steal our water! They didn't get National to privatise 49% of our state owned energy assets to create an irrigation slush fund worth $400million to convert as many square inches of NZ into intensified dairy farms! Oh no! They create a miracle juice that helps the  sick and needy!
This level of delusion summed up the angry Farmers who protested against Labour and it showed Fonterra that their propaganda was essential in rallying National's base vote with deceptive myths.
Winston:
Despite a train wreck of a campaign (that radio interview with Guyon Espiner was jaw dropping) and despite getting less than they did in 2014  and despite all the belief that NZ First would be 15%, Winston remains the King or Queen maker. In NZ politics, the loser selects the winner, I'm not sure how positive that is. Winston now has the most important choice of his entire political life in front of him, prop up a corrupt, lying National Party that is effectively a front for Chinese business interests or legitimise a Jacinda led Government who can turn his macro economic dreams about tapping the Super fund for regional infrastructure into a reality.
Neoliberalism:
The cultural mythologies that the poor are to blame for being poor, the political disconnect of those poor who don't vote and the selfishness  that it produces in those who do vote are all major wins for the neoliberal agenda. None of the political parties (other than NZ First) are openly suggesting political economic push back against neoliberalism. The political economic structure that has robbed NZ of so much of its value is still the dominant force, if Labour + NZ First + Green are to make any traction as a Government, serious push back must occur.
Andrew Little:
His foresight and courage to fall onto his own sword for Labour was an act of true leadership.
Chris Trotter:
Trotter was the first pundit who came out on TV and demand that Jacinda pick up the leadership in the wake of the 23% Poll result. He claimed then that only she had the ability to lift Labour. Trotter was right before anyone else.
LOSERS:
The Maori Party:
Terrible night for the Maori Party. Their relationship with National finally cost them the credibility to be the independent Maori voice they claimed to be. The loss of Marama Fox will be a heavy one.
Bill English, Steven Joyce & Paula Bennett: 
The bare faced lies these three told the country to scare voters can never and will never be forgiven. They are liars and must now be described as liars any time they are mentioned.
The homeless, the poor and 300000 children in poverty:
The agony of the 41 000 homeless, the poor, the 10 000 in prison, the 1600 dying each year from the cold, the 300 000 children in poverty, the 1500 committing suicide, the hundreds of thousands locked out  of home ownership – none of that mattered to 46% of those who voted National.
MMP: 
The way the smaller parties have been destroyed, some serious questions need to be made about the way our 5% threshold strangles off real democracy and a chance to build them. We need to wipe that threshold so that we gain real representation and generate political dynamism because this isn't working right now.
Green Party Strategists:
There are major issues in terms of the Green Party strategists. The Greens have selected Wellington insider after Wellington insider to their team and it's led to an intellectual inbreeding, how the fuck they allowed Metiria to do what she did without having paid the bloody thing before she made her declaration is jaw dropping in its incompetence and total lack of insight in terms of how the media were going to crucify her. Green strategy for the last 3 years was completely dependent on a weak Labour, the second, the fucking second that changed the Greens didn't have the imagination or foresight to implement anything other than begging for their life. Heads really need to roll.
The Environment:
Our environment is the second biggest loser by tonights results.
Mental Health: 
Biggest Issues:
Economy: 
There are real dangers of an
economic collapse
that demand more than more immigration and milk powder.
National's relationship with China:This is a building story that will not go away.
Total lack of critical media analysis: The same pundits and voices shunted around each others online political panels and 'left' commentators who meekly and politely put their point of view while rabid right wing pundits lie and attack.
Conclusion:
After specials, Labour + NZ First + Greens will have a majority, now is the time to show how hard they want to fight for it.The most terrifying part of the result is that 46% of NZ's voters support more homelessness, more poisoned rivers, more property speculation, less mental health funding, more experiments in education, no infrastructure investment, more NZers in prisons and 300000 kids in poverty in return for $20 extra a week and half a dozen more bloody roads!
Labour + NZ First + Greens have the chance to stop this guy from influencing our future…