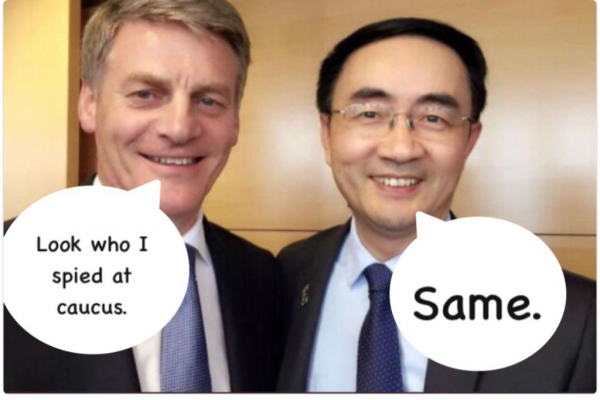 Ummmmm, what?
National MP taught English to Chinese spies

A National MP taught English to Chinese intelligence agency cadets so they could monitor private communications.

National list MP Jian Yang denounced an investigation into his past published by Newsroom today as defamatory and a smear campaign.

Yang grew up in China before moving to Australia and then New Zealand. He spent time as a student and then lecturing at the People's Liberation Army-Air Force Engineering College and the Luoyang language institute.

At a press conference this afternoon, Yang said those institutions taught English, and not intelligence training. He was a civilian officer in the military without ranking.
So Yang's defence is, "I taught the spies, but I'm not a spy'???
Does that fill anyone else with confidence?
National has a real problem when it comes to Chinese influence in their Party.
Can we trust the National Party when it comes to handling our economic interests with China because when you examine the National Party, it is wedded and compromised personally to wealthy Chinese interests.  Jenny Shipley, Don Brash, Ruth Richardson and Chris Tremain are Director's of the China Construction Bank, Judith Collins interaction with Chinese Officials to help her husbands Chinese Company, Oravida, to gain more Chinese money  and Maurice Williamson's love affair with  Donghua Liu saw him become Liu's personal handyman when doing up Liu's batch and heavying the Police to drop domestic violence charges.
Allegations that one of their MPs might be a Chinese spy demands scrutiny on top of National's relationship with Chinese business people.