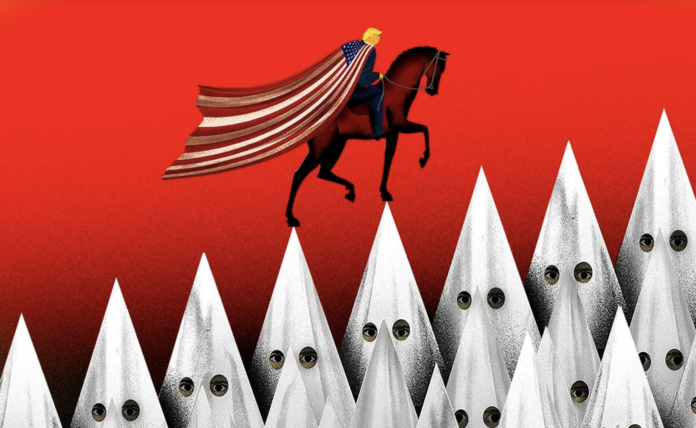 While our collective attention is on the war crimes being perpetrated by Israel on Gaza and Putin's ongoing war of aggression in the Ukraine, the world is ignoring the dangerous rise of White Christian Fascism in America with the election of Mike Johnson as Speaker.
Johnson is the kind of Handmaid's Tale nightmare amalgamation of White Christian Nationalism and MAGA Fascism, his legacy of Hate has been decades in the making…
Mike Johnson symbolizes a new turn for the religious right
The arc of Rep. Mike Johnson's career encapsulates the shifting priorities of the religious right in the era of Donald Trump.
During his first decades in political life, the newly elected House speaker was a vehement opponent of legal abortion and greater legal equality for LGBTQ people. That focus reflected the dominant public focus of religious conservatives on issues of sexuality and gender roles from the 1980s until Barack Obama's presidency.
Without abandoning those views, Johnson in recent years has embraced key priorities of Trump's MAGA movement, describing illegal immigration as "the true existential" threat to America's future and leading congressional efforts to overturn the results of the 2020 election, which he claimed suffered from "credible allegations of fraud and irregularity."
…that someone as hateful as Mike Johnson has been elected Speaker is deeply alarming and just another step towards White Christian Fascism, the fears of which have alarmingly jumped this week with the leak of plans Trump has for mass detention camps if he wins next year…
Donald Trump plans to deport millions of undocumented migrants if he wins second term
TDB Recommends NewzEngine.com
Donald Trump plans to carry out sweeping raids to round up undocumented migrants and put them in camps while they await deportation if he returns to the White House, according to reports.
The former US president is plotting a series of hardline migration policies if he wins a second term, which includes combing the country for millions of unauthorised people to expel.
Trump, 77, is also understood to be planning to bring back Title 42, a Covid-era ban on asylum applications, as well as blocking citizens from certain Muslim-majority countries from entering the United States.
His plans come as the US struggles to cope with record numbers of migrants crossing the southern border as they flee violence, political unrest and poverty.
…Jesus wept!
This is a naked White Christian Fascism rising, if he creates an internal Police State, he will never give it up!
If Trump manages to get elected next year, the planet will go from bad to worse with such speed it will cause us all to gasp in alarm.
New Zealand needs to consider our Independent Foreign Policy as a geopolitical life raft as our Political Masters in Washington go crazy and our Economic Overlords in Beijing demand loyalty.
Increasingly having independent opinion in a mainstream media environment which mostly echo one another has become more important than ever, so if you value having an independent voice going into this pandemic and 2020 election – please donate here.
If you can't contribute but want to help, please always feel free to share our blogs on social media.