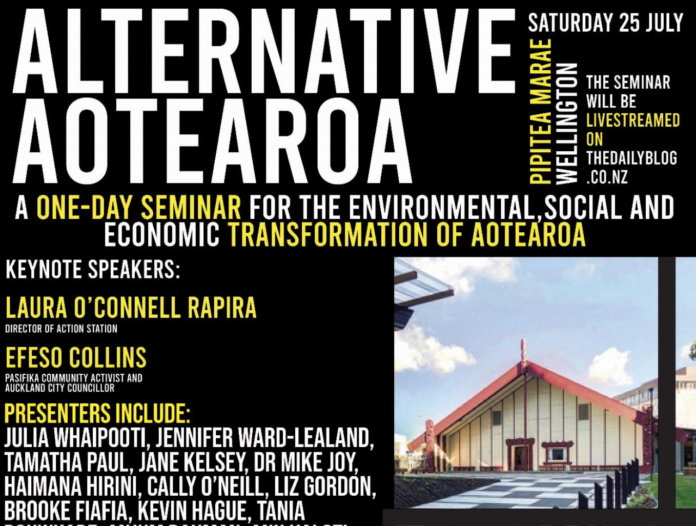 On Saturday I attended the Alternative Aotearoa meeting in Wellington. This was a fantastic event, organised by my friend and fellow Daily Blogger John Minto. I think what stood out for me was the large number of young people, pākeha, Māori and Pacifica who spoke passionately about the need for change in so many aspects of New Zealand life. 
For me, my eight minutes of fame were about rethinking education for the future. I talked first about neoliberalism, and the work I have done over more than 30 years to rein back the competition, marketisation, and user pays approach to our education system. 
But I also reminded people that before neoliberalism, our education system was far from perfect. Māori, women, people of other cultures and the poor failed to achieve in an education system that was hierarchical, narrow and exclusionary. 
I said that is quite ironic that protest action had focused on things like pulling down statues as the obvious markers of colonialism, when one effigy right in front of all our eyes, and within all of our experiences, is a system of schooling that is colonialist and affects the opportunities of every child, enhancing some and depressing others.
What is education for? We imported lock, stock and barrel, a compulsory schooling system from the United Kingdom that encapsulated the system of class and privilege from that country. There are many examples of this. Why, for example, are school uniforms of a particular type, blazer, shirt, tie? Who wears such attire in the real world?
Why are schooling systems so hierarchical, with models of discipline more appropriate to the Army or prison than to children? Where a boy can be stood down merely for having hair that curls on his collar? Where a person can be expelled for having a disability?
Attempts to import low level initiatives into schools through restorative practices have generally fallen on fallow ground, with some notable exceptions.  This is because such practices, which promote low-level interventions rather than top-down discipline, are out of synch with the overall structure of the school. Attempts to implement restorative systems always lead to active resistance by some teachers, falling back into a 'default' (disciplinary) mode by others, with the rest embracing the system. Even though these systems work brilliantly in calming classrooms and reducing punishment, there is far from a whole of system buy-in.
And the system is so exclusionary.  Children who do something wrong or even who have disabilities can be chucked out of school with a label that makes them suffer a life sentence of a lack of education.  Also, those who may need education the most tend to get it least. The link between class and race privilege is undeniable, but does it reflect some true hierarchy of 'ability' or some structuring of the schooling system? The latter, of course, as educational research always shows.
TDB Recommends NewzEngine.com
Bullying in schools also needs to be recognised as something produced by the school rather than imported by bad children. The pinnacle of the type of system we have here in New Zealand is England's public schools which, until not that many years ago, encouraged a system of 'fagging' where younger children became the slaves of senior students, abiding by their will.  While the practice has stopped (oh, the abuse it caused!), the bullying of younger by older, powerless by powerful and browner by whiter still exists in practice.
Research done by Adrienne Alton-Lee and Graham Nuttall in New Zealand classrooms years ago noted the casual racism, sexism and bullying that went on just below the surface of classroom life.
The alternative view of schooling is that it should be a system that promotes the best learning of every person, including those with disabilities and other barriers to learning. What if, instead of excluding, judging, failing and bullying, our schools were opened up as places where each person's human potential was maximised, their talents uncovered, their barriers to learning dissolved, their hopes and dream encouraged and where the community of the school was completely supportive.
Our schooling system is an edifice of colonialism.  The system forces good people, teachers and students, into poor practices that block opportunities and can make life a misery.  While the system fertilises many lives, others are left with no clear path to good futures. For those who do not get a slice of the education cake, their whole lives can be beset by underachievement.  
The school system that we have is built on a colonial legacy that has determined that there be a hierarchy of human achievement based on pre-existing structures of class, race and ethnicity.  We need a vision of whole-of-system educational reform to unleash the potential of all of us. New Zealand has eradicated Covid here. Our team of five million can do anything!  Let's put our focus on improving our children's outcomes. Here is an election challenge for the Labour Party, which has so far failed to show leadership towards a system that truly promotes education for all.
Dr Liz Gordon is a researcher and a barrister, with interests in destroying neo-liberalism in all its forms and moving towards a socially just society.  She usually blogs on justice, social welfare and education topics.