The ignorance of  Work and Income was on display when it was revealed that  staff tell benefit  applicants that their redundancy money has to be used up first. 
New Zealand's core benefit system is subject to an income test but never to an asset test as clearly spelt out in 1972
None of the standard categorical social security benefits is subject to a means test. All except universal superannuation, family benefit, and miners' benefits are, however, subject to an income test set at the level of the benefit plus a varying amount of "allowable other income". Apart from ad hoc emergency payments, it is only in the area of supplementary assistance that assets as well as income are taken into account (Royal Commission of Inquiry on Social Security in New Zealand, 1972, p. 139) 
Importantly, in the NZ system, asset and income tests apply only to what should be limited and unusual cases of top-ups to relieve unexpected hardship.
It is necessary to look more deeply at the confusion at Work and Income  because the reason has bred a culture that lies at the core of the administration of the welfare state and will be dangerous to the COVID recovery. 
TDB Recommends NewzEngine.com
Controversially, in 2007 Labour included a new statement of purpose and set of principles in an amendment to the Social Security Act 1964. The intent was not only to put a strong emphasis on paid work as the tool of social inclusion, but also to introduce the idea that an individual should use resources available to them first, before seeking help from the state:  The purpose became:
"to enable in certain circumstances the provision of financial support to people to help alleviate hardship:

to ensure that the financial support referred to in paragraphs (a) and (b) is provided to people taking into account—

that where appropriate they should use the resources available to them before seeking financial support under this Act"
It is no wonder staff have been eying things like redundancy money. The culture facilitated by that amendment stresses the need for applicants to "draw on other resources first" and go away to become the 'deserving poor' before asking for anything from the state.  
Other social security programmes like ACC and NZS have no such poverty inducing requirements.  The idea that a welfare benefit is a social insurance payment to tide people over so that assets are not run down just to survive has disappeared. As part of the engrained MSD culture, benefits are rarely referred to as 'social security' but have all the negative connotations of 'welfare'.
What does looking to your own resources first mean? Because core benefits are set well below poverty lines, supplements such as the Accommodation Supplement and hardship top-ups are required. These are tightly means-tested and require that cash assets are run down to low levels.  They effectively force applicants to look to their own resources first even if the core benefit itself is only income tested. 
The supplementary payments are no longer an unusual addition and the system has become wildly distorted. The picture below shows the numbers of means tested top-ups in contrast to the numbers of core benefits.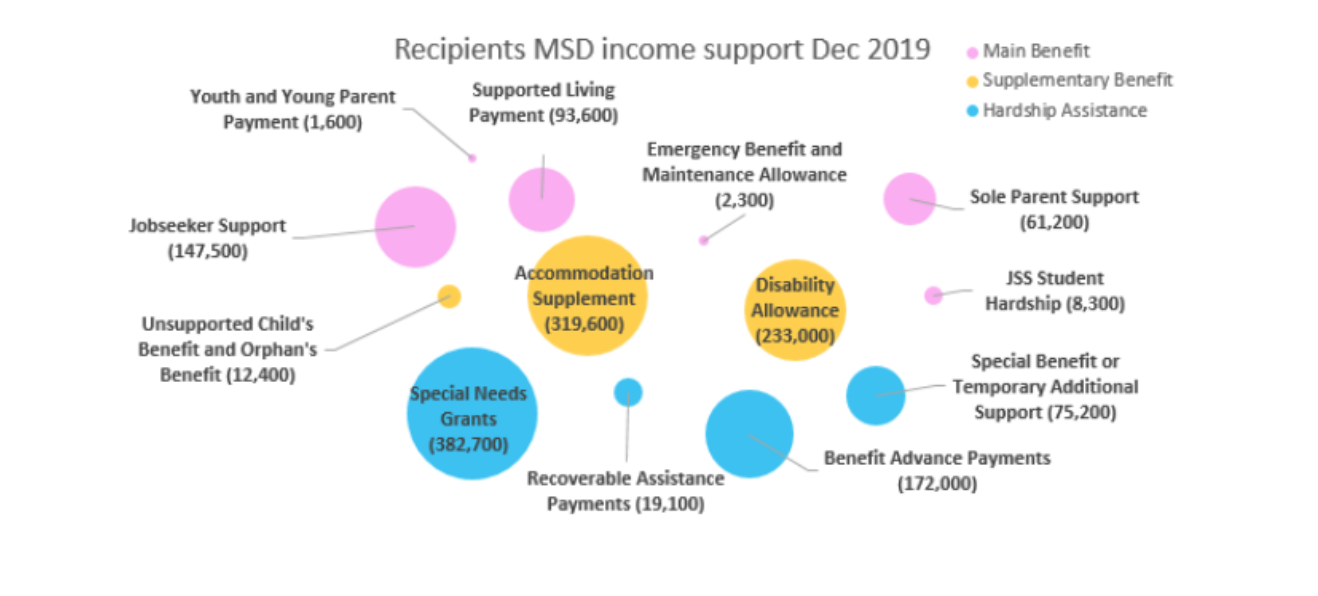 But what does this "looking to your own resources" mean in practice? Should  Kiwisaver be drawn down? What about taking out a bigger mortgage, getting loans from family or loan sharks, cashing in assets like the car?    
It is no wonder when so much staff time is needed to pry into people's affairs for these complex supplements that such thinking spills over into the way applicants for the core benefit are treated.
In fact, staff have been acting on the mis-information on their own website that has since been corrected to remove redundancy payments.
MSD now say
 "When a person applies for income support because they are finishing employment, the payments they receive when they stop work may delay the date when their benefit starts.
"Payments that impact the benefit start time include holiday pay, sick pay, long service leave, pay in lieu of notice and retirement payments. Redundancy payments are not part of this calculation."
But even now this is wrong. There will be many older workers whose COVID-19 job loss experience sees them exiting employment with early retirement payments.  Section 422 of the Social Security act says quite clearly:

"in calculating the income of a person for the purpose of determining the rate of benefit, to take no account of a redundancy or retirement payment."
Clearly, there is a long way to go before the conditioning of staff into this mentality of "stand on your own two feet' gets sorted. But in the meantime it will be a tragedy for the COVD-19 recovery.   
In the coming long, drawn-out and painful recession, the better-off will emerge with scarcely a dent to their balance sheets, while the worst-off will struggle for decades to repair theirs. 
For those close to retirement recovery of retirement savings may never occur, and elder poverty will soar. Others of working age will become entrapped in the welfare system with poverty traps punishing them when they attempt to get on their feet, when retraining, insecure casual or part-time work is all that is on offer.
Meeting Child Poverty Reduction Targets seems a pipe dream for the foreseeable future and family and child poverty will surge with its associated costs of poor health, stunted potential and high levels of transience, domestic violence and suicide.
As WEAG and CPAG have said multiple times, first fix the Act and frame our purposes and principles intelligently. That is the way to get the culture shift we will so desperately need.