Why so quiet Minister Sepuloni?  This is amazing and was found by chance on your department's website.  Is vindication  for the small group of superannuitants affected by the Spousal Provision applied under section 70 of the Act imminent?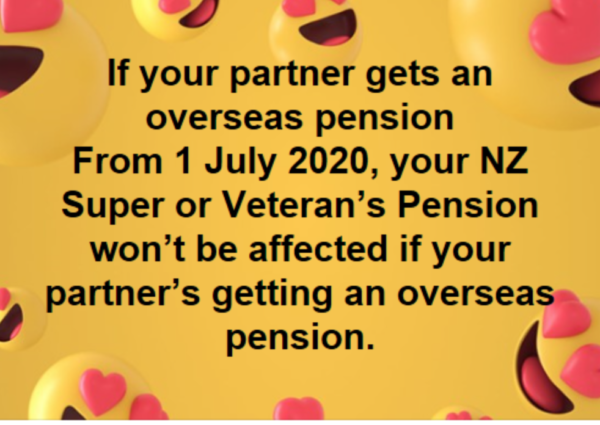 When this unequivocal statement was first discovered there was great jubilation, albeit tinged with anger that it had taken so long.  
Then doubts crept in.  If this is genuine new policy, why it was buried in the budget? Being such a contentious issue, some fanfare and spin would surely have been expected.  I was at the social sector lockup and it was not mentioned at all. It is very hard to find any indication of it in the budget documents, and what is there is fudged in a very ambiguous fact sheet .
Along with many others, the Retirement Policy and Research Centre has worked assiduously for at least a decade to alert the public and politicians to grave anomalies in the policy for superannuitants with overseas state pensions.
Of these multiple anomalies the one that takes the cake is the 'spousal provision' .  On The Daily Blog you can read about it here: Justice delayed is democracy's undoing and here: Policy changes to a festering sore are sadly in the far distance: and here Mean and petty and  wrong
This policy reduces a person's superannuation when their partner has an overseas pension. A woman could have lived and worked all her life in New Zealand and entered into a second or third relationship later on life only to find to her horror that she gets less NZS, or even nothing, and thus loses her financial independence. Increasingly, men who marry women with long working histories from other countries are affected as well.
Fobbed off with promises for years that something is coming, usually after yet another report, a great deal of   bitterness and cynicism has festered. Early in 2018 three affected superannuitants, at great personal cost, went to the Human Rights Review Tribunal. A week of lengthy and banal filibuster submissions flowed from MSD to justify this anachronistic policy.  Fifteen months on, there is still no decision and nothing on the horizon. The best guess was that it would take three years to learn of the verdict given the backlog.
TDB Recommends NewzEngine.com
But maybe it is now irrelevant. If you look really hard, there is a line in the appropriations of $2 million allocated for 2020 to fix this anomaly.    Change is coming not because this is a human rights abuse (as Jacinda Ardern said in opposition in 2015), but because the system needed 'modernisation'.  Slowly it is dawning that there has indeed been a genuine change of heart and all the affected spouses will get relief from 2020. Just like that. Lets break out the champagne after all these years of fighting!
The Spousal Provision clearly has been a source of extreme distress for so long for the 500 or so couples affected and the removal will greatly improve their financial situation. The mystery remains as to why the government not been trumpeting the new policy as  yet another example of how they are putting well-being of people first and not anachronistic and heartless, unintelligent, petty policies from the 19th century.