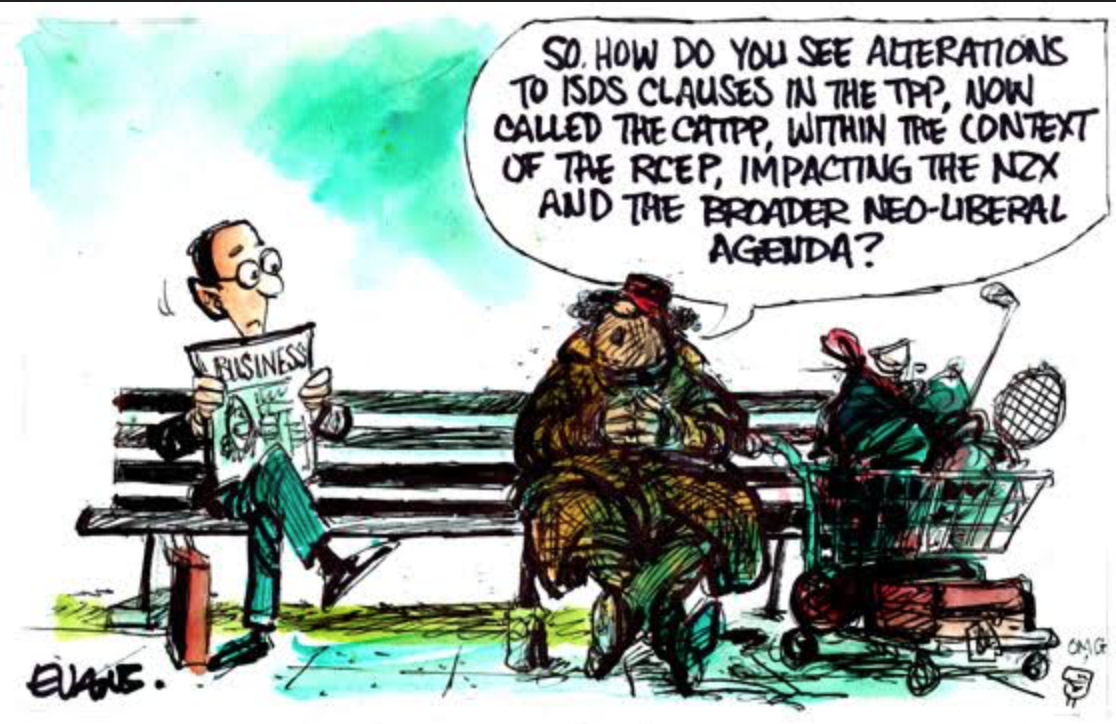 The rebranded TPPA-11 is a high stakes gamble for Labour (I refuse to call it the Comprehensive and Progressive Agreement on Trans-Pacific Partnership – there is nothing progressive about it!).
Jacinda Ardern admitted as much when she recorded a propaganda video, hailing the changes she says Labour won, while she was still en route back from Vietnam. She and David Parker know their claims won't stand up to scrutiny. So they did what the Nats did after the old TPPA was agreed and frantically spun their line to a largely gullible media (with a few exceptions) and a support base who desperately want to believe.
What happens now? We are told there are four country-specific issues the eleven have yet to reach consensus on. These involve changes to schedules for Malaysia on State-owned enterprises, Brunei on investment for coal, and Vietnam on trade sanctions for certain products. These are portrayed as solvable – presumably because the countries have limited bargaining power. The fourth, a 'cultural exception' sought by Canada, is seen as more problematic. The Trudeau government has gone back home to consult on a number of issues, and they are not only about culture.
The TPPA-11 ministers are expected to meet when they are all in Buenos Aires, Argentina from 10-13 December for the WTO ministerial conference.
TDB Recommends NewzEngine.com
The worst-case scenario is being pushed by Japan, which is leading the charge to get the deal signed and into force. The Abe government wants to host the signing in February 2018 or in early Spring (March/April). Mexico and Malaysia have elections mid-2018 and Japan fears that new governments might walk away.
Canada will doubtless be given some kind of ultimatum in Argentina. But they have made it clear that domestic political priorities have to be addressed. Moreover, what Canada (and Mexico) accept in the TPPA-11 will flow over to the Nafta renegotiation with Trump. Friends in US say Nafta's likely to come to a head in March or April, so there may not be anything agreed in TPPA-11 before then, if at all.
Would the others really kick Canada out? It's the second largest remaining country in the TPPA-11 after Japan. Despite the tough talk, it would look really bad to lose another big player, maybe two if Mexico went too. The remaining 10 might bluster that this allows them to bring others in, such as South Korea, Philippines, Colombia. But most of them have FTAs with those countries anyway.
If Canada becomes a martyr, governments like ours, would be really exposed. The opposition in Australia could use Canada as a precedent. The Australian Labor Party, Greens and the Nick Xenaphon team are still saying they won't support it through the Senate.
From our end, the time line is therefore very uncertain. It could happen very quickly or drag on interminably. We have no way to predict. So we can't be complacent. The longer it stays off the political radar without people challenging the reality that it's the old deal in drag, the easier it will be for the government spin machine to win by default if it is suddenly finalised.
David Parker has promised to hold consultations after the TPPA-11 has been agreed and before it is signed. That could be at very short notice and in a very short window, unless people intensify the pressure on the government to follow Canada's lead and go back to the table.
I know that people need more accurate information and analysis if they are to hold the feet of both Labour and New Zealand First to the fire. I have been working on that, starting by debunking what the government said about investment and ISDS. You can read a blog about that later in the week.