Another week, another abysmal failure of delivery by Labour…
Government plan to move mental health patients into housing helps just three people in 18 months
A government pilot aimed at moving 100 mental health inpatients into stable housinghas housed just three people in 18 months.
The $16.3 million pilot was launched in February 2020 as part of a $337.2m suite of measures aimed at preventing homelessness over four years.
It aimed to help 100 acute mental health or addiction patients transition from inpatient wards in hospitals back into the community, by providing housing and other wraparound support.
TDB Recommends NewzEngine.com
But as of July, just three people had been supported by the scheme, with $1.8m allocated.
We learned that all the Government had to show for $1.9b in mental health was 5 new acute beds and 20000 hours of counseling yet Mike King got no money and was able to provide 15000 hours of counseling.
We learned that over half of beneficiaries didn't get the promised $20 a week after MSD clawed back the money for their own pockets.
We learned Jacinda would lift 30000 kids out of poverty while leaving 190000 behind.
Today we learn that despite millions budgeted, we have only helped 3 mental health patients gain housing in 18months.
And don't start me on kiwibuild or the lack of social housing.
The real difference difference between Labour and National is this.
National are ruthless pricks. Nasty, bullying ruthless pricks and you need nasty bullying ruthless  pricks to beat the bejesus out of the Wellington bureaucracy to actually get shit done.
Labour on the other hand wants to give everyone a cuddle and an inclusive Hui with a vegan lunch menu in te Reo and a side dish of pronouns, where they all feel safe and as such, the Wellington bureaucracy isn't scared of Labour.
Jacinda pumped $1.9 billion into mental health and what has she got for it? 5 extra acute mental health beds! The Wellington bureaucracy are laughing at her and divvying up the latest splurge of cash on whatever they want.
New Zealanders don't understand that the representative democracy they interact with once every 3 years is merely a masquerade of democracy, a pretense to keep you voting and giving the process the flimsiest of legitimacies, the real powers are the Wellington bureaucracy and a Party's success is determined purely by how much they can force the Wellington bureaucracy to actually implement policy.
In the words of the great Unionist, Robert Reid…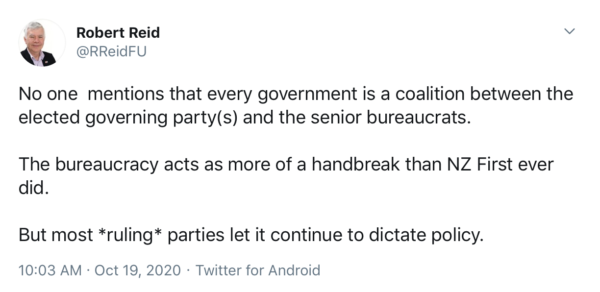 National got shit done because the Wellington bureaucracy was frightened of them, Labour can't achieve jack shit because they are too busy giving everyone a cuddle.
Kiwibuild, child poverty, inequality, that bloody bike bridge we all know they will never build – Labour can't bully or headkick the Wellington bureaucracy and that's why nothing ever gets done.
This is ultimately a political failure by Labour – they didn't expect to win in 2017 & didn't expect to win a majority in 2020, so they had no reform agenda for the neoliberal bureaucracy.
There's no point shoveling billions into policy when the bureaucracy fiefdoms rule!
I wish we could care about housing the mentally ill the way we do about an orca calf.
Increasingly having independent opinion in a mainstream media environment which mostly echo one another has become more important than ever, so if you value having an independent voice – please donate here.
If you can't contribute but want to help, please always feel free to share our blogs on social media