Stuff declares that Big Government is back.
Is it?
Certainly the universal shared experience of lockdown and Covid have made people rush towards the State for protection and National's small Government mantras are a joke.
Certainly deregulation has dirty example after dirty example to pursued Kiwi's the free market is a scam.
But is the Government really challenging the failed free market when it comes to Housing, Poverty, Inequality and social services?
In the words of the great Unionist, Robert Reid…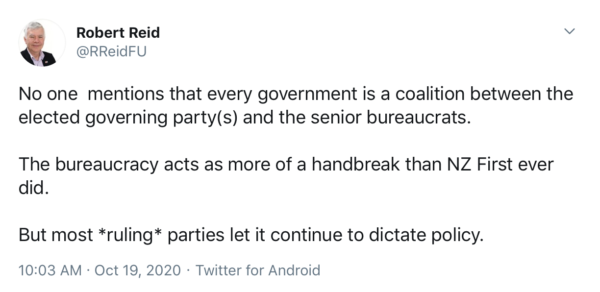 …Labour won by accident in 2017 and Covid overshadowed 2020 so none of them have any real reform platform for the Public Service which allows the neoliberal public service to call the shots.
TDB Recommends NewzEngine.com
The ideological right wing acolytes  who have taken up residence in our public service, must be cut from the body public as one cuts out a tumour. These spiteful people have spread their hateful right wing beliefs and infected every inch of what should be a welfare system designed to protect and help rather than punish and torture.
We have seen example after example after example of how these 'servants' damage and kill the poor they are supposed to serve. Hounding a beneficiary into suicide for a debt that never existed is an abomination.
Our civil service has become uncivil.
Our Public Services are supposed to be the bastions of egalitarianism which are essential for a progressive liberal democracy progressing. Instead, spiteful zealots mutate it into the cruelest of torture devices used by the State to keep the poor too terrified to fight back.
Just like Oranga Tamariki stealing babies,  Housing NZ evicting tenants, Motels housing the homeless, Corrections miscalculating Prisoner sentences and sparking prison riots– all of them don't care about the actual welfare of the people they are supposed to care about.
Prisoners, the poor and beneficiaries have no rights as far as our burnt out and mutated public services are concerned, and attempts to push through new Government policy will fail if there isn't a vigorous counter attack inside the Ministries.
Big Government may be back, but if it's the same neoliberal Wellington Bureaucratic Elites, why rejoice?
Increasingly having independent opinion in a mainstream media environment which mostly echo one another has become more important than ever, so if you value having an independent voice – please donate here.
If you can't contribute but want to help, please always feel free to share our blogs on social media