The Chair of the NZ Media Council has praised the Australian government for standing up to Facebook's attempt to blackmail Aussies into letting it post their media's news content for free, but which it has now agreed to pay for. 
Comparing the Australian resolve with that of US President Teddy Roosevelt who, 120 years ago, passed anti-trust laws to break up big US business monopolies, Hon Raynor Asher QC wrote; "It represented an important issue for democracy."
Laying aside that Facebook's power epitomises everything that Roosevelt opposed and that the Australian scrap hasn't lessened that, Mr Asher emphasised how important the widespread dissemination of news and opinion is to the maintenance of open government. "It puts misinformation in balance, and exposes corruption and bad practice," he wrote.
However, despite Mr Asher's assurance that the media is accountable to his Council, and the Broadcasting Standards Authority, "to meet principles and standards of accuracy balance and fairness," the New Zealand media's crucial international news coverage is selective, arbitrary and biased. 
In fact, with their international news stories sourced from just a fraction of the world's news agencies, the resulting world view that the New Zealand media then propagates is surely itself a minority monopoly view.
TDB Recommends NewzEngine.com
Our understanding of issues that confront us are a reflection of the information our news media supplies, and so it follows that the media's role, as the provider, is indeed, as Mr Asher wrote, "an important issue for democracy."
But if our media is practicing "the required principles of accuracy, balance and fairness" Mr Asher asserts, how is it that our "understanding" of world affairs is so consistently at variance with that of large swathes of the rest of the world?
How is it that our understanding of world affairs has actually more to do with our geo-political alliances than with truth, honesty and fair reporting?
It's because, just as colours on a world map once defined the breadth of empires, today they define the areas of managed news media influence
New Zealand's foreign policy opposes the exact same "bogeymen" as those of our allies and, lo and behold, the news agencies that supply them with the stories that paint those "bogeyman" pictures are the self-same ones that supply our media!
Could it just be coincidence, or is there something else at play here?
Since the advent of the internet, independent newspapers having been losing money, and yet, as each succumbs, the best of them are inevitably bought up by multinational news media.
Why would a big multinational organisation, with all its obvious business acumen, buy a news publisher that's losing money? Because by controlling the media a multinational can control the news narrative which underpins the viability of its much larger and more lucrative other business interests!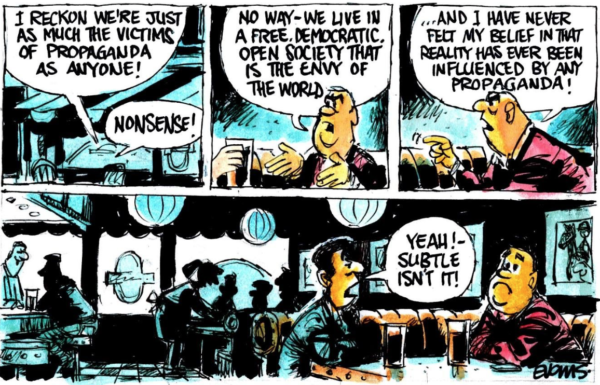 And when that control is backed by untold millions of dollars spent, in the guise of promoting democracy, on lobbying politicians to foment distrust, enmity against and fear of concocted enemies, you get the situation we're in today – perpetual war. 
Just as the Herald promotes its One Roof real estate pages with properties-for-sale stories set among general news, so too do multinationals steer the news narrative to benefit their investments in the military industrial complex, agricultural chemicals, aero-space, and the newly-arrived and highly lucrative domestic security industry.
Multinational don't even have to own news media organisations to promote their interests!  A newspaper publisher told me recently how, when he ran a story detailing how a bank's operations were threatening ruin for a significant number of readers, the bank pulled its advertising. 
Now think about that for a moment. If advertising is about the effective promotion of a product or service, surely to pull your advertising is cutting off your nose to spite your face. Unless advertising is treated as a sum paid to discourage media criticism.
Bribery and corruption?
And now, in the name of protecting us from objectionable material and "hate speech", multinational media organisations are lobbying Governments to further enhance their control of the news by banning material deemed "abhorrent."
Professor Noam Chomsky, co-author of "Manufacturing Consent", the book that first exposed the duplicity on the media in its presentation of news, said; "If we don't believe in freedom of expression for people we despise, we don't believe in it at all,"
Still, if such a law is passed, imagine if the first to be slapped with a writ by "the Hate-Finder-General" was media that run "bogey man" stories that promote hatred of sovereign states.  But don't hold your breath!
None of which is meant to imply that today's newsrooms are full of evil people working to deceive us – the system is more sophisticated than that. 
Chasing after real news, once described as "that which somebody somewhere doesn't published – all the rest is advertising," real reporters are doing their job, but still one rule is observed – don't upset the established order of things.
And so to ensure that, responsibility for foreign news is left to a select group of foreign news services from which the ubiquitous "Bogeyman" stories, many of them rough rewrites of propaganda handouts that turn victim into villains, constantly spew.
But the really sad thing about all of this is that it's not readers of the Daily Blog who need to know how the media manipulates people, and ultimately encourages them to send their sons to fight and die, opposing those who reject the narrative.
Those who need to know are the hard-working people, politicians included, who live and work in our towns, cities and countryside, whose carefully nurtured trust in the media has them believing the "Bogeyman" stories, which our media won't ever admit to fostering because they themselves often don't realize they're doing it.
And if the Chair of the NZ Media Council doesn't know that, then he should.