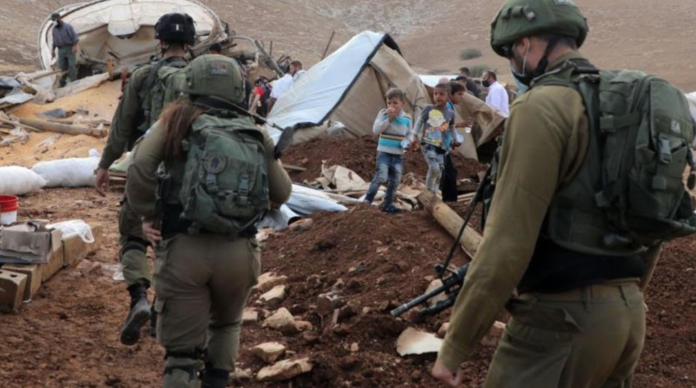 This year, on 28 January, the Israeli Army of Occupation destroyed a nature reserve in the Palestinian West Bank, uprooting not only a forest of 10,000 trees but also 300 olive trees. Zionist forces openly admitted that the vandalism was done to serve Israel's military, with the precious land now designated as a 'military zone'. The nature reserve was planted eight years ago in the Jordan Valley as part of the 'Greening Palestine' project overseen by the Palestinian Ministry of Agriculture. Western governments, of course, raised no objection or condemnation of Israel's vandalism and the mainstream news media did not consider it worth a mention either. The next day, dozens of steadfast Palestinian Resistance activists planted an estimated 500 tree-seedlings in a valley, near Khirbeit Einoun, in an attempt at environmental healing. However, without support from the world community the people stand little chance of defending their land or gaining security.
The nine days from 23 January until the end of the month saw mounting terror exercised by the Israeli military and illegal Occupation settlement activists, while the Zionist regime continued to be served with absolute silence from mainstream news media scrutiny and not one word of criticism from Western governments. One of the worst days began at 2am on 25 January, when Occupation forces, firing rubber-coated steel bullets, stun grenades and tear gas canisters, raided the Jenin UN refugee camp, and invaded homes, wounding one resident, Baraa Kamal Lahlouh. The Israeli Army destroyed a horse-breeding farm in the Marj al-Anati district of Anata and buildings, including a petrol station, in Anata. Israeli troops invaded the grounds of the Al-Aqsa Mosque, to continue preventing restoration work inside the al-Qibli prayer hall and, near Laban village, destroyed parts of the Al-Khan ancient building, including repair work, in a repeated attack on the site. The Israeli Army also prevented the Hebron Rehabilitation Committee from completing restoration and maintenance in the Ibrahimi Mosque. The same day, a gang of Israeli settlers, near the village of Kisan, attacked shepherds, injuring one of them, Khalaf Hassan Ubayd Allah Abayat, while unleashing police dogs to attack sheep. More militants, this time from the Kiryat Arba Israeli Occupation settlement, felled dozens of Palestinian olive trees. The day was one of relentless terror for Palestinians and, tragically, they must surely face each new day with dread.
On the day that the Israeli Army destroyed the nature reserve, Israeli forces also demolished a home and three more livestock shelters while, at night, Israeli settlers invaded the Um al-Ferran area in the North Jordan Valley and set fire to a tent-dwelling. Israeli soldiers abducted three youths; one of them, 17-year-old Mahmoud Muhammad al-Ghaliz, was taken during a night raid in the al-Jalazoun UN refugee camp. Israeli Occupation forces ended the month by ordering the evacuation of five Bedouin families from a pastoral area, east of Yatta, seizing possession of their tent-dwellings and forcing their livestock off the land now seized for Israeli military use. From 23-31 January, the Occupation inflicted 82 raids on Palestinian communities, many of them at night, with 18 of the raids including home invasions. There were eight abductions of youngsters, aged from 13 to 17. In those nine days, three Palestinian residents died and more than 16 people were wounded/injured.
Time to face the truth
In case anyone might imagine that the January atrocities were for some reason exceptional, even for Israel – think again. February began with Israeli Occupation forces destroying 11 tent-dwellings in the North Jordan Valley region of Khirbet Homsa al-Fawqa and forcing the families out of the area. The Israeli Army then proceeded to demolish 29 pastoral facilities, including sheep-breeding pens, belonging to the, now homeless, victims. Hardline Zionist will deny reports of Israel's selfish, ideologically-driven atrocities as left-wing, 'anti-Semitic' propaganda. However, in the real world, even Israel's allies cannot deny the truth. The British Government, which supports the IHRA definition of 'anti-Semitism', admits that Israel carries out "evictions of Palestinians from their homes in East Jerusalem" and that they "cause unnecessary suffering to ordinary Palestinians". It even acknowledges that these crimes are "contrary to International Humanitarian Law."
TDB Recommends NewzEngine.com
When approached by a New Zealand peace activist, concerning the destruction of the 10,000-tree Palestinian forest reserve and neighbouring olive grove, our own Minister of Foreign Affairs, Nanaia Mahuta, also acknowledged that Israel commits gross violations of international law. In her response, she wrote that "we regularly engage on these issues in both bilateral and multilateral settings", adding that New Zealand had "recently registered specific concerns about the human rights situation in the occupied Palestinian territories during official talks with Israel in November 2020 – including recent demolition activities by Israel." So it would be reasonable then to expect that our country would at least have expressed some condemnation of the Occupying power's continued intransigence – but no, our Foreign Ministry's response fails to show the slightest regret over the manifest failure of its policy.
Having 'official talks' with Israel clearly contributes nothing towards upholding international humanitarian law. Our Foreign Affairs Ministry's declaration that it "will continue to pursue a principled and balanced approach to the Middle East Peace Process" merely grants Israel never-ending immunity. Where can there be the slightest possibility of 'balance' when a defenceless population, forever denied its right to self-determination, is being ruthlessly controlled by a nuclear power that enjoys both overwhelming military might and the support of powerful governments?
Nanaia Mahuta should be ashamed of her failure to condemn, outright, the actions of a regime that is permitted to use its military advantage to seize ever more Palestinian territory, destroy homes and allow its settlers to pump their sewage onto Palestinian farmland. The indigenous Palestinian population has a right to respect and understanding.
On 1 February, in reply to a UK Parliamentary question concerning complaints from within Israel, regarding the regime's apartheid practies, Britain's Foreign Affairs Minister, Lord Ahmad, stated: "As a friend of Israel, we have a regular dialogue, encouraging the Israeli government to do all it can to uphold the values of equality for all." This soulless statement from our Five Eyes alliance partner has a chillingly familiar ring to it, here in New Zealand.
The failed policy, pursued by Western governments for many decades, has so benefitted Israel that, today, the very principles of international humanitarian law are threatened. The United Nations, and the world community, must shoulder responsibility for this and unite to bring Israel to account. Governments are elected to serve their people but frequently end up serving other powerful interests. As we have seen, they pay lip service to principles yet continue to ignore and undermine them in practie.
Within every parliament and legislature, however, there are those that fight for justice and humanity. A recent shining example of this, in the UK, is the declaration made by the new Chair of the Equality and Human Rights Commission, Baroness Falkner. The Commission is a statutory body established under the UK Equality Act 2006. As an independent body, it is responsible for protecting and promoting equality and human rights. Baroness Falkner has, since her appointment in December, unequivocally denounced the call for UK universities to sign up to the International Holocaust Remembrance Alliance (IHRA) working definition of antisemitism. Speaking in the House of Lords, Baroness Falkner described the IHRA definition as "extremely poorly worded and probably unactionable in law." She explained further that it "directly conflicts with the duty on universities to protect free speech".
An unrestrained Israel will never abandon its determination to render the so-called two-state solution ever more unrealisable. It is time for New Zealand to adopt an independent, justice-based approach, in line with international humanitarian law. Will Nanaia Mahuta and her Ministry, indeed the New Zealand Government as a whole, choose to recognise and practice moral principles, as has the new Chair of the UK's Equality and Human Rights Commission? There can be no half-measure, let's end the suffering and rebuild hope.