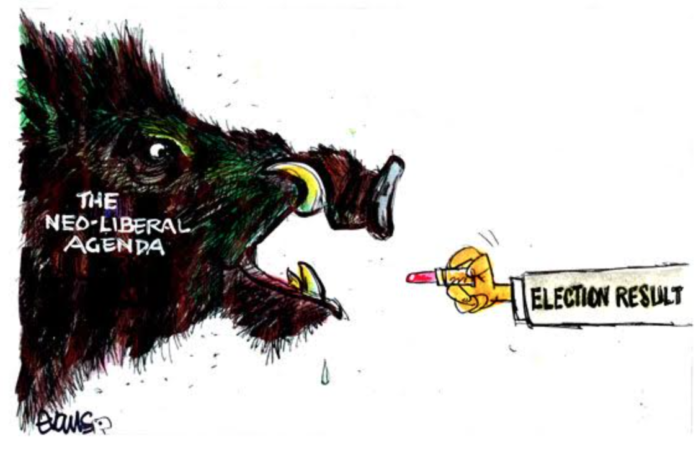 Election 2020: Greens could be cut out of government as Jacinda Ardern charts course for political centre
The Green Party could be left looking for ways to maintain influence in the next government after now second-term Prime Minister Jacinda Ardern hinted the party's role in the next government might be seriously downgraded.
After winning 64 seats – the only outright majority in MMP history – Labour doesn't need any Parliamentary support to govern. Any presence in government would be a bonus for the Greens.
The only thing Labour fears is a sustained attack from the Left.
The Green Party result doesn't show support for the Greens, it shows Labour voters appalled at how timid Labour policy actually was!
TDB Recommends NewzEngine.com
The Left, knowing that Labour were cruising to victory, put aside the Greens alienating woke middle class identity politics shtick and brought the Greens back from the 5% threshold they were sinking to a couple of months ago because Labour supporters saw how tepid Labour's policies really were.
The politically active Left KNOW that Labour's last 3 years have been mediocre at best. There's only so many 'Good first step' press releases from the Wellington Union Clique before you have to acknowledge you're just jogging on the spot.
The Left backed the Greens because the wider policy platform was far more radical than Labour's.
While Jacinda doesn't need the Greens, she certainly fears them.
And she should.
The new leadership of Chloe Swarbrick, Steve Able and Ricardo will bring a righteousness to the current debate that highlights the mediocrity of Labour's neoliberal domestic agenda.
What Jacinda is banking on is the cowardice of the current Green leadership of Davidson and Shaw to be bullied into accepting a substandard deal.
The Greens should resist that.
They should meet with the Māori Party to negotiate a shared 100 day agenda, make that agenda public and if Jacinda walks away from it, open the schism up for the 2023 election.
The demographic dynamics are in the Greens and Māori Party favour, not Labour's.
Over the next 3 years, expect a vast jump in climate crisis events and rising inequality which the Greens alongside the Māori Party could exploit mercilessly to build a huge mandate for transformative change.
Jacinda knows she can bully and con the current Green leadership into accepting a bullshit deal to gag them for 3 years, but she knows those threats won't work on the next gen Green MPs.
Jacinda has shown she is prepared to immediately use some of that political capital she gained this weekend to suffocate any agents for actual transformative change.
Incrementalism never looked so ruthless.
Welcome to NeoKindness.
Increasingly having independent opinion in a mainstream media environment which mostly echo one another has become more important than ever, so if you value having an independent voice going into this pandemic and 2020 election – please donate here.
If you can't contribute but want to help, please always feel free to share our blogs on social media.