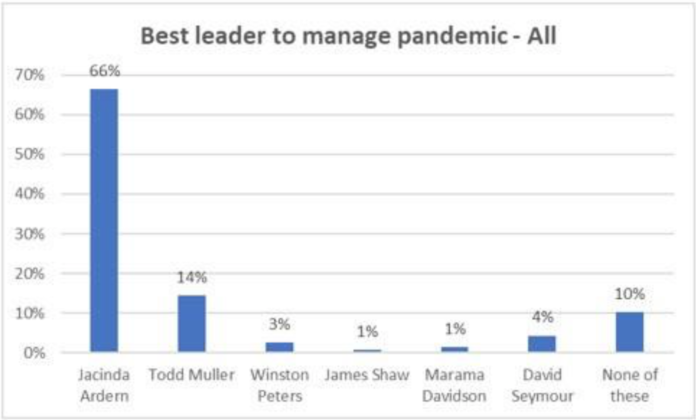 Ouch.
The new Horizon Poll that was taken during some of the quarantine breaches and it has shown no bounce at all for Muller…
Voters think Jacinda Ardern better than Todd Muller to manage both pandemic response and economic recovery – poll
Out of the current crop of political leaders, more than half of voters would pick Jacinda Ardern to lead the COVID-19 economic recovery, a new poll has found.
The current Prime Minister had the backing of 53 percent of respondents in the latest Horizon poll, with her rival for the top job Todd Muller only getting 24 percent. The result is a near-match for the latest party polling, – Labour getting 56 percent to National's 26 in the latest Roy Morgan poll, released nearly three weeks ago.
TDB Recommends NewzEngine.com
…this is actually a more devastating blow to National than the pure party polling because management of the economy has always been National's advantage. Despite all the evidence showing that Labour in power does well for everyone while National in power only makes those already rich wealthier, most NZers have always given National this aura of economic power that they don't actually have.
This myth is slowly dying with more NZers trusting Jacinda now on the economy…
…what's fascinating however is this…
Third place was 'none of these', with 13 percent, followed by NZ First leader Winston Peters on 4 percent, ACT's David Seymour on 3 percent, and the Green Party leadership duo of Marama Davidson and James Shaw on 2 percent.
…more NZers trust bloody David Seymour to run the economy than the Greens?????
Oh how low have we on the Left fallen?
This poll is further evidence of the psychological change in the electorate. Many voters who had never seen Jacinda outside of news soundbites or short Breakfast TV interviews were blown away by her daily hour long briefings and they felt gratitude to Jacinda.
This emotional attachment can cut the other way if voters feel their lockdown sacrifice has been squandered by incompetent public servants, and we've seen that anger last week, but until the incompetence actually sparks off community transfer and forces us back into lockdown, voters will maintain that enthusiasm and gratitude to Jacinda.
Labour are still on track for a majority Government.
Increasingly having independent opinion in a mainstream media environment which mostly echo one another has become more important than ever, so if you value having an independent voice going into this pandemic and 2020 election – please donate here.
If you can't contribute but want to help, please always feel free to share our blogs on social media.