.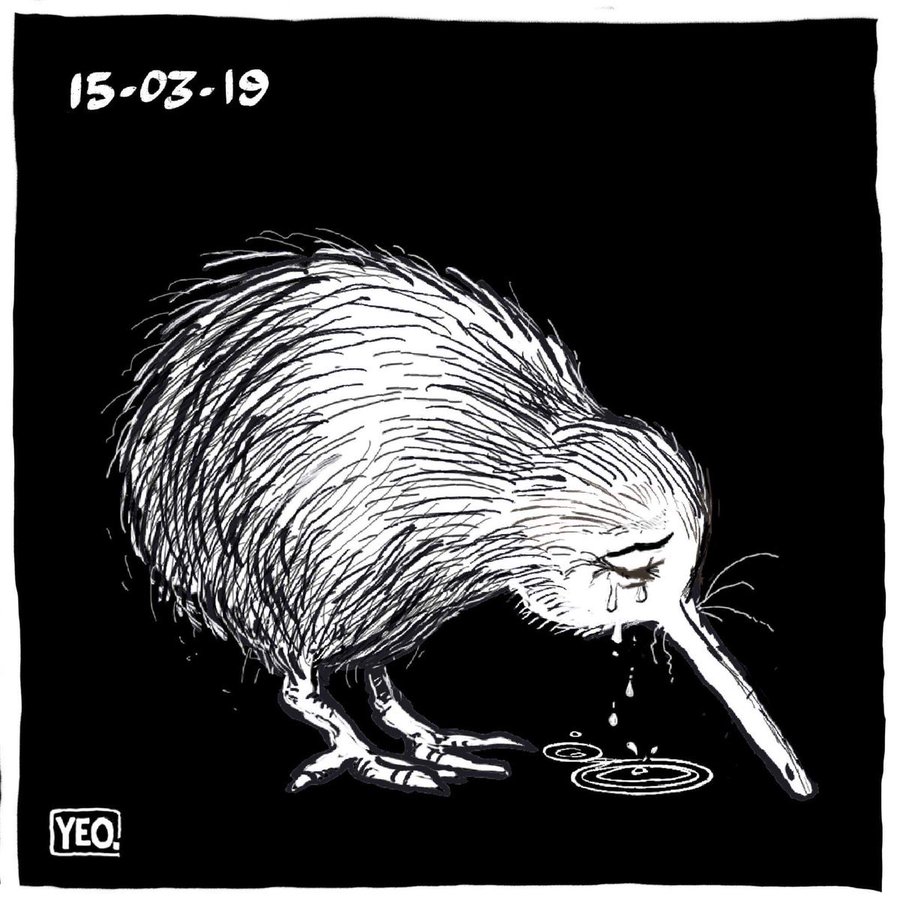 .
On a day when our young people succeeded in prodding grownups to take notice of the looming climate change disaster bearing down on us, other "grownups" had more nefarious, murderous thoughts in mind. On a day which should have been positive and filled with idealism and hope, we ended with tragedy and tears.
This was not our first terrorist attack in modern times. Many of us will recall the Wellington Trades Hall bombing in March 1984 and most of us will recall the bombing of the Rainbow Warrior in Auckland harbour a year later.
A life was lost on each occassion.
On 15 March, 49 unarmed, innocent people – men, women, children – were shot dead by a coward. His political agenda – white nationalism. His means of "persuasion" – a high-powered rifle.
It was a gutless act of terror espousing a corrupt, poisonous ideology.
TDB Recommends NewzEngine.com
The handful of fanatics responsible do not represent Aotearoa New Zealand and our espoused values. Not even close. Their minds are as alien and repellent to us as something that crawled out of a primordial swamp.
It is still early days. New Zealanders are still in shock as disbelief is replaced with reality setting in. Then will come the other stages of grief, including anger. Our Prime Minister's steady, measured voice of calm reassurance has been a godsend. Her resolute rejection of extremism was heartening, almost Churchillian;
"For those of you who are watching at home tonight and questioning how this could have happened here, we, New Zealand, we are not a target because we are a safe harbour for those who hate, we were not chosen for this violnece because we condone racism, because we are an enclave for extremism, we were chosen for the fact we represent none of these things. Because we represent diversity, kindness, compassion, a home for those who share our values, refuge for those who need it.

And those values, I can assure you, will not and cannot be shaken by this attack. We are a proud nation of more than 200 ethnicities, 160 languages and amongst that diversity we share common values and the one that we place the currency on right now and tonight is our compassion and the support for the community of those directly affected by this tragedy

Secondly, the strongest possible condemnation of the ideology for those who did this … we utterly reject and condemn you."
After the grief and anger, there will be debate and questioning. Perhaps I am premature, but these are some of the things we, as a nation, will have to confront and address…
1. A Message to the GCSB and NZSIS: where were you?
Why were security services targetting left-wing bloggers like Martyn Bradbury and investigative journalists like Nicky Hager – but white supremacists were "unknown" to them? What do they spend their days and budget on?
Commentator, Matthew Hooton was one if the first to put the question on social media:
I know this is early, but it seems to me the Director-General of Security should at least offer her resignation to the Prime Minister, even if it probably shouldn't be accepted today. This is a disastrous & inexcusable failure by the intelligence services. 

9:09 PM · Mar 15, 2019
Former member of parliament, Tau Henare, put the same question;
It was so easy for the Security Forces of NZ to lay camera's in the Urewera to spy on Maori "terrorists" It was so easy for them to arrest Tame and to send him to prison for having a clapped out Lee Enfield rifel. I'm sorry, but this is NZ. "How did we miss this" the media ask?

8:22 AM · Mar 16, 2019
"No agency has had any info about these people. I've been in touch with my Australian colleagues who had no information about them either."
It cannot be for a lack of resources and legislative power.
Since 2002,  successive governments (mostly National) have enacted a string of amendments and new laws. Each law change ramped up surveillance powers of the State's agencies:
Labour government
National government
Search and Surveillance Act 2012
Countering Terrorist Fighters Legislation Bill (aka Customs and Excise Amendment Act 2014)
National/Labour
Customs and Excise Act 2018 (legislation) (history)
The Government Communications Security Bureau Amendment Act 2013 – one of the most contentious in recent history – increased the reach of the GCSB to allow monitoring of New Zealand citizens, and other individuals, at home and abroad.
Prime Minister at the time, John Key, justified increased State surveillance by invoking the threat of terrorism;
"In a world of global terrorism where Isis is trying to reach influence into a country like New Zealand, of course on a much lower scale than they do somewhere else, we can best defend ourselves by stopping that before it ever happens."
During a review of the security agencies in 2016,  Michael Cullen put the case for widening the surveillance powers of the GCSB by invoking emergency scenarios;
"Let us suppose a New Zealander is in imminent danger, in terms of their life overseas. Maybe lost at sea or some other example. Under this legislation as the GCSB feels it has to interpret it, the GCSB's capacity to trace an individual's cellphone and to say exactly where it is, cannot be used.

We have no way of finding out where that person is, using that capacity, in order to take immediate and urgent action, in whatever way, to try to protect the safety of that New Zealander."
The National government got the "green light" and the GCSB Act was duly amended.
And it did not help us one iota.
As for financial resources, both the GCSB and NZSIS enjoyed a considerable increase in funding over a decade:
GCSB:
2008/09: $48,888,000 (up $8,543,000 from 2007/08)
2018/19: $158,029,000
NZSIS:
2008/09: $36,889,000 (up $3,138,000 from 2007/08)
2018/19: $82,843,000
So any suggestion that  State agencies did not have the legislative power or government funding to enable monitoring of extremist groups in this country is not credible and flies in the face of facts.
The threat existed. Just not from ISIS. The State was looking in the wrong direction.
Indeed, surveillance was widespread in Aotearoa New Zealand by State agencies, even going so far as to employ private investigators to spy on Christchurch  property-owners, affected by the earthquakes in 2010 and 2011.
The spying by Thompson and Clark was illegal, but it indicated a strong willingness by various State agencies to carry out snooping when it suited them. Thompson and Clark spied on political activists, iwi groups, and environmental protestors such as Greenpeace.
The invasive and illegal breach of Nicky Hager and Martyn Bradbury's privacy by Police is also a matter of public record.
But when it came to keeping a watchful eye on our own, local hate groups, the Police, SIS, and GCSB failed.
They had one job to do and they failed us. They failed 49 innocent people.
Where were you?
2. A Message to Simon Bridges
As the awful horror of the terrorist attack slowly dawned on us, social media was flooded with many messages of support, well-wishes, empathy, as well as disbelief, anger, and horror, our elected representatives added their voices.
One, from current leader of the National Party, Simon Bridges, 'tweeted';
Simon Bridges
@simonjbridges

I'm shocked to hear about the incident unfolding in Christchurch. My heart goes out to the families and I stand with the Canterbury community.
2:49 PM – 15 Mar 2019
My response – perhaps overly emotional as the Christchurch terror-attack impacted on me – was not impressed;
fmacskasy
@fmacskasy

Replying to

Simon Bridges
@simonjbridges

Mr Bridges, I have one request of you. DON'T YOU DARE USE THIS TRAGEDY AS SOME PERVERTED LAW & ORDER ELECTION ISSUE NEXT YEAR. Don't even think about exploiting this for votes. Just. Don't.
6:29 PM · Mar 15, 2019
Is it a forlorn hope that National's party strategists, desperate to regain the government benches, would not exploit this tragedy and the deaths of fortynine people? National has exploited the "law and order" issue in the past;
.
.
If, as I suspect, National goes down this road, I hope the vast majority of good  New Zealanders responds accordingly.
Does Mr Bridges really want to end his career as the self-serving politician who was willing to exploit the worst terrorist attack in our modern history? I hope that wiser heads in the National Party counsel him against such a grotesque idea.
Don't do it, Mr Bridges.
3. A Message to my fellow Progressive Comrades
Last year, two alt-right (I call them polite-fascists) Canadian activists visited Aotearoa New Zealand. Their visit generated much soul-searching and debate – especially within progressive circles. There were many bloggers and  left-wing commentators who – whilst opposing Southern and Molyneux's racist, transphobic, Islamophobic, and sexist beliefs – supported their right to free speech.
I held a different view.
On 29 August last year, I explained why I believed that countenancing the spread of hate-ideology by visiting "activists" was a luxury we could ill-afford;
For many others, free speech was not absolute. Spreading racist, homophobic, sexist, and transphobic vitriol belittled already-marginalised and disempowered people in our society.
For others, their Care Factor was zero. Faced with an empty refrigerator, or sleeping in a garage or car, or choosing whether to pay the power bill or medication for a child with rheumatic fever, was a closer reality for many New Zealanders.
If you were white, male, and straight – you would be right to feel safe from the bigotted chauvinism of two alt-right Polite Fascists .  A White, Male, Straight could countenance violence as a price for "free speech".
If you were a person of colour, gay, a woman with a career and a baby, or transgender – not so much.  You might feel less inclined to welcome people into our country whose main purpose was to denigrate you; deny you your equality; your inclusivity in society; your very identity.
[…]
For the more rational angels on the side of the Free Speech debate, it was a necessary price to pay for a free society.
Unfortunately, it could be said that 'price' was paid mostly by those minorities and women targetted by our Polite Fascist visitors.
Perhaps my background as the son of immigrant parents gave me an insight that other New Zealanders, whose parents were also born here (or immigrated from another Anglo-Saxon country) could not easily appreciate.
I repeated my subtle warning that "free speech" was not free and "unfortunately, it could be said that 'price' was paid mostly by those minorities and women targetted by our Polite Fascist visitors".
As in the United States, many Americans support their Second Amendment "right to bear arms". At least 5% support gun rights with "no or very few" restrictions". For those Americans, mass-shootings is the "price" to pay for their Second Amendment rights. Unfortunately, that "price" is paid by others.
Just as the sale of one gun, from one gun shop, somewhere in New Zealand, probably didn't contribute directly to the mass-shooting in Christchurch. Or the sale of one gun in the US didn't contribute directly to mass shootings in Las Vegas, Orlando, Sandy Hook, Columbine, etc.
Am I suggesting that Southern and Molyneux were directly responsible for the terror attack in Christchurch. No, not directly.
After all, their voices were only two, of many.
But really, what did people think  was the purpose of Southern and Molyneux  to visit Aotearoa New Zealand? To engage in rational debate with progressives over a cup of Earl Grey and gingernut? To do the Tourist Thing and take 'selfies' on the Fox Glacier?
What did we think their purpose was to visit Aotearoa New Zealand?
Let me answer that. They were not here to debate. They are past debate.
They were here to (a) encourage new recruits amongst the disaffected and (b) re-energise existing far-right and alt-right groups.
It took barely six months after I wrote my rebuttal to permitting the Polite Fascists to visit. They came, nevertheless. They made their public speeches. (There was no debate.) And they left, to continue their 'mission' to spread their poison somewhere else, to eager listeners with anger and hate in their minds.
So we had our free speech. Only, it wasn't "free". There was a cost attached.
The price for their free speech has been paid-in-full. By the gods, we paid dearly.
Or at least, people of colour; of another religion; another ethnicity, paid. Those earnest, white, Free Speech Advocates who called for free speech – they didn't have to pay the price.
The alleged shooter reportedly approached a white male by-stander outside one of the Mosques and spared his life. Because the person was white. Fortynine others were not so lucky. Wrong skin colour.
I hope that Aotearoa New Zealand's naive notions of free speech for visiting far right extremists has come to an end.  Extremists have no natural, "god-given" right to enter our country. That "right" has never existed and was an indulgence we mistakenly encouraged.
The price to pay is too high.
15 March was a day when thousands of  young people took to the streets to demand action on worsening climate change; which would impact on them and steal their futures. Meanwhile another "grownup" was committing cold-blooded murder. On a day which should have been positive and filled with youthful  idealism and hope…
… it ended in tragedy and tears and grief that would break our hearts.
15 March 2019 – it was the best of days, it was the worst of days.
15 March 2019. Our Day of Infamy.
#Love
#Christchurch
#ThisIsNotWhoWeAre
.
.
.
References
Radio NZ: Christchurch mosque shootings – 'This can only be described as a terrorist attack' – PM Jacinda Ardern
Twitter: Matthew HootonMatthew Hooton
Twitter: Tau HenareTau Henare
Maori TV: Christchurch shootings – Man charged with murder
Fairfax/Stuff media: New GCSB bill allows spying on Kiwis
Radio NZ: Focus on Politics – 11 March 2016  (alt. link)
Budget 2008/09: Vote Communications Security and Intelligence
Budget 2008/09: Vote Security Intelligence
Budget 2018/19: Vote Communications Security and Intelligence
Budget 2018/19: Vote Security Intelligence
Radio NZ: Thompson and Clark spied on earthquake victims, inquiry finds
Radio NZ: Private investigators used vehicle register to spy on environmentalists for years
Twitter: Simon Bridges – 15.3.2019 2.49PM
Twitter: Frank Macskasy – 15.3.19 6.29PM
Southern Poverty Law Centre: Stefan Molyneux
Fairfax media: Southern and Molyneux good test for our free speech tolerance video
Mediaworks/Newshub: Jacinda Ardern 'simply can't' be both a mum and Prime Minister – Stefan Molyneux
Fairfax media: Oscar Kightley – This free speech victory tastes a little strange
Reuters: Gun control support fades three months after Florida massacre – Reuters/Ipsos poll
Previous related blogposts
Audrey Young, Two Bains, old cars, and… cocoa?!?!
National Party president complains of covert filming – oh the rich irony!
An Open Message to the GCSB, SIS, NSA, and Uncle Tom Cobbly
Dear Leader, GCSB, and Kiwis in Wonderland
One Dunedinite's response to the passing of the GCSB Bill
The GCSB Act – Tracy Watkins gets it right
The GCSB – when plain english simply won't do
The GCSB law – vague or crystal clear?
The Mendacities of Mr Key #1: The GCSB Bill
Campbell Live on the GCSB – latest revelations – TV3 – 20 May 2014
The real reason for the GCSB Bill
Letter to the Editor: John Campbell expose on Key and GCSB
A letter to the Dominion Post on the GCSB
Dear Michael Cullen: the GCSB is not International Rescue!
"Free speech" – The Rules according to the Right
.
.
= fs =