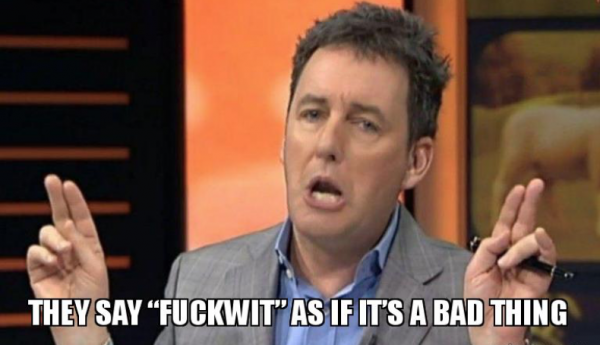 Our favourite right wing opinion factory, Mike Hosking, has penned a pretty ignorant piece on why NZ gives the Pacific any money and what if anything we get in return. He's referencing the new Government's tour of the Pacific and is selling it as some sort of lolly scramble for brown people. Mike wants to know why we should help Samoa, Tonga, Cooks, Niue and the Tokelau islands.
Here are my top 5 counter reckons to the magnificence that is Mike, but I must warn you that while I start pretty nicely, I end being extremely offensively because it's difficult to list these reasons and not become incandescent with rage at what Hosking is saying.
1: I think Mike that the Pacific is whanau to us, and with Auckland the largest Pacific Island city on the planet we have a unique kinship that must be celebrated and cherished, that's why we should provide aid and support to them, because they are whanau to us.

2: Because the Pacific are whanau to us, it's important not to be dicks to them Mike, like the way you are being right now. 

3: NZ has done sweet fuck all to mitigate climate change in anyway meaningful (beyond our bullshit carbon free by 2030 crap), so when the worst edges of that pollution we have been pumping into the atmosphere damages cultures that have little hand in creating it, we have an obligation to do right by them because that's a basic compassion and empathy most humans have. We contribute to climate change, climate change damages Islands in the Pacific, we help those island mitigate some of that damage with tiny payouts which don't go anywhere near matching the enormity of what the developed world are plunging the developing world into. Why is that concept so difficult for you to understand Mike?

4: The fourth reason we want to keep them onside you stupid muppet Mike, is because the bloody Chinese have moved into our neck of the woods and are bribing every Pacific Island they can, and that we need to counter that influence with some clever tactics like Rugby Diplomacy and promotion of Journalism. That you seem to have made these comments about Pacific Aid with no comprehension whatsoever of the geopolitics that are being played out in the US-China Pacific Cold War is truly astounding for someone who is on the largest radio Breakfast show in the country. It's like reviewing a movie by complaining how much the pop corn costs.What kind of moron are you? 

5: And the 5th reason as to why we need to keep shelling money out to the Pacific Mike, the most important of the reasons? Because we, as New Zealanders are fucking arseholes Mike. We. Are. Fucking. Arseholes. 

Let's start with NZ incompetence in Samoa that saw the influenza pandemic come ashore and almost wipe out the entire Island or Black Sunday that saw NZ forces kill 11 Samoans. What about the way we brought Tongans into the country in the 1970s as cheap labour but when it was politically expedient start dawn raids to force them out? How about the fact that the Cooks, Niue and the Tokelau islands are actually still under control of NZ, which means we are responsible for them Mike? Are you even aware that they are free association states officially placed under NZ sovereignty? 
I think Mike has no fucking clue about what he's talking about and as such all we get are some cheap and glib options that are nothing more than garden variety bigotry.
NZ owes the Pacific and we never acknowledge that.
TDB Recommends NewzEngine.com