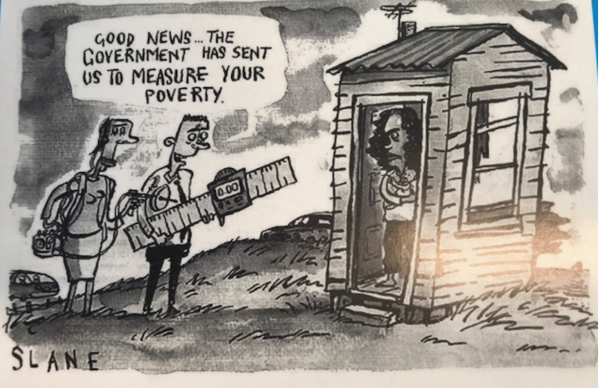 It's probably been a bit of a surprise for many – especially for those who wiggled their eggs out of National's basket and into Labour's at voting time – to read claims from former Prime Minister Bill English that his government lifted 85,000 children out of hardship between 2011 and 2016.
Bill's numbers defy the reality that more families are seeking help from charities than ever, and that the sector reports deeper and more intractable distress. Meanwhile the Ministry of Social Development's figures show that relative income poverty for children – especially for those on the lowest incomes – has worsened.
According to the latest Household incomes survey, the number of children living beneath the 60% After Housing Costs (AHC) relative income poverty line is now 290,000​. This number is 30,000 MORE than the number of children experiencing income poverty than in 2008. Most importantly, between 2008 and 2016, the number of children experiencing the worst poverty (using the 40% AHC measure) and who are most likely also suffering from material deprivation increased substantially – from 105,000 to 140,000.
Our former PM has claimed that the new Labour Government 'lacks ambition', while presenting sudden and confusing 'facts' about hardship reduction.
TDB Recommends NewzEngine.com
"The Prime Minister committed her Government to reducing the number of children in material hardship over the next ten years by 70,000. Yet, over the last five years of the National government, the number of children in material hardship fell by 85,000.

"So this Government is promising to do less over a longer period of time than National did – in spite of its bold claims it would do better.
What is going on here?
One critical detail that Bill hasn't acknowledged is the global financial crisis of 2008-09. Unemployment reached a peak just before 2010 and remained consistent over the next few years. Fewer wage increases occurred. Many low-waged families lost their jobs, and many who retained work were unable to meet their basic needs as costs increased at a faster rate than wages. In 2011, there were 234,600 children supported by parents who received a welfare benefit, compared to just over 201,000 in 2008.
Figure 1. Household labour force survey – unemployment rate (trend series)
Naturally, the hardship numbers increase as the result of an economic recession, and decrease in the recovery phase following a peak. But Labour has a much harder task on their hands of reducing the hardship numbers during a 'normal' period of economic activity. Their targets are indeed ambitious; relative income poverty has become deeply entrenched and is not easily fixed.
Why have hardship measures shown an improvement in recent years while income poverty for children has worsened?
Material hardship is determined by a Material Wellbeing Index (MWI) score, that is based on how many items considered necessary for an adequate standard of living a child does not have on a regular basis. There are two hardship measures, the 'more severe' measure meaning a child lives in a family that goes without nine or more of those items (there are seventeen in total) and the 'less severe', seven of those items.
Material hardship (of the 'less severe' kind) increased between the time National was elected in 2008 and peaked in 2011 with a total of 220,000 children. This was an increase of 50,000 on 2008. Meanwhile the numbers in severe hardship also peaked at 100,000.
In recent years, charities like KidsCan, Variety New Zealand and Fonterra have stepped in to fill some immediate needs through sponsorship and distribution of food and other basic necessities, such as raincoats and shoes. Government initiatives such as the KickStart Breakfast programme, and Fruit in Schools programme, and free doctor's visits for under-13s have helped to tick off some of the immediate need.
KidsCan are now supporting more than 30,000 children who experience food insecurity every week. Last year the charity expanded their programme to include provisions for basic hygiene, as well as beds, mattresses and pillows. The Auckland City Mission helped families out with 12,753 food parcels between Christmas 2016 and 2017. In December last year, they had reached capacity, and needed $1.3 million to meet the growing need.
At the same time, Government social assistance in the form of top-up supplements and non-recoverable emergency housing grants has soared.
Today, many families are without proper homes as increased housing costs and scarcity have reached crisis proportions. The numbers on the waiting list for social housing doubled since 2015. Meanwhile housing need is 'met' by housing families temporarily in motels.
Charity interventions and a series of state Band-Aids have done little to improve families' financial ability to provide for their children. Bill will remind us about the $25 increase for beneficiaries with children that came in during his Government's last term in 2016, but data showing how effective that was for reducing poverty isn't even out yet. And when it does show up – two years out-of-date – it is likely to be a drop in the bucket. Likewise, it will be 2020 before the data shows the impacts of Labour's Families Package on poverty measures.
While some families experience fewer lacks, their underlying income poverty remains. The real evidence of poverty is in the stressed and desperate families queueing at Work and Income, the increase in uptake of charity services, and the unrelenting need for housing.
Jeni Cartwright is a researcher with Child Poverty Action Group