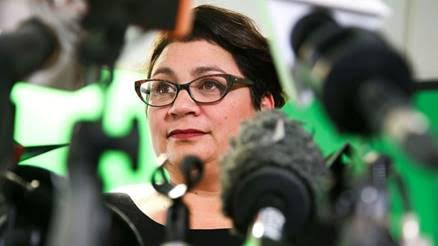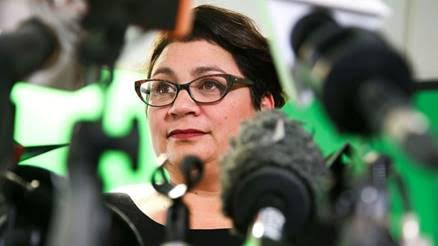 I've been poor, a beneficiary, even been homeless. I'm a Māori mum – but I'm not going to say #IamMetiria.

I have a few friends who, like me, have a hard time saying no to social justice causes. We are usually overburdened, overcommitted, and reliant upon good support systems. The best support systems are the ones who will say "no" for us. They watch us and monitor our energy levels, they know what the whanau unit needs, they know when we have been absent for too long and will simply step in and tell us, or the people enquiring: "No". They're kinda like commitment police. At times when we may be losing ourselves, heartbroken, for a cause, and ready to launch into it – these voices of reason will come in and tell us, frankly, that the risk is simply not worth it. We're astute, yes, and with time we get better at it  – but sometimes that heart breaks, and there you go, ready to sign away hours a week that could be spent with your whānau

Most especially, when the request holds a hint of threat for the whanau – these are the ones that will certainly step in and simply say: "No".. When this happens, your police officer comes in. They'll ground you in the reality of where your primary duty lies, and remind of you of exactly what rights you have, or don't have.
Watching the recent events with the Green Party, one of the resounding persistent questions I have held is – where was THAT person for Metiria?
I mean – how difficult would it have been to deduce the outcome? Media watchdog Kupu Taea have been officially reporting since 2003 on how racist the NZ media is – and even highlights how sexist it is in its racism as well. We're talking about the same media that ignores non-Māori child abuse, and holds a consistent theme of Māori as lazy, privileged, promiscuous, radical, violent, bludging, unreliable, hypersensitive, brutal, primitive, child murderers who can't manage money to save ourselves.
We're talking about the same government (both National and Labour) that has carried out a conscious policy and legislative assault on Māori in the face of clear evidence of its contributions to high Māori mortality. We're talking about a genocidally racist government. A government that steals Māori children from homes and tears apart Māori whānau. A government that steals our land and poisons our rivers. A government that ignores whānau sleeping in cars. A government that continues to negatively profile young Māori men and young Māori mothers and deny them effective support even when armed with the knowledge that suicide is a leading cause of death for both groups.
Notice the strong language I'm using here? Genocide, child theft, suicide, murderers. This is the reality of who you were dealing with, Metiria. Human rights abusers. Yeah – it will be intensely vicious. They'll crucify you over a jacket. They're morally bankrupt, pathologically sick power-mongers. No, they know no bounds. And once you go down this path, there is no way to protect yourself, or those you implicate, from them. Even your whānau.
So where was that person to remind Metiria of this? The person that assessed the very predictable outcomes and sat Metiria down and pointed out to her that this was not just her story, but the story of her child, the story of her partner, the story of her mother and others that she placed, unbidden, before the racist, sexist, classist NZ media? Where is the person who grilled Metiria for what her responses would be, and how she would handle the inevitable intrusions into her life and those who she exposed in this way? Where were the ones that said that this risk would be taken AND the primary message would also be lost in the sensationalist feeding frenzy?

And while we're at it – after 16 years of dealing with this government and media, how did Metiria fail to foresee this herself?
It's a little confusing, really, to listen to the Green response to this line of questioning. On one hand, they insist the strategy was weighed this up (although they're careful not to use the word strategy themselves – more on that in a moment) and decided it was a big risk, but one worth taking. There are no regrets because "now a national discussion on poverty is taking place". At the same time, Metiria has clearly and readily admitted that the intensity of the attacks upon her and her family was too much for her to handle, and the personal focus on her drowned out any focus on poverty, climate change, and waterways.
TDB Recommends NewzEngine.com
Yeah, no shit.

You cannot have it both ways – Metiria, you cannot say you understood the risks going into it, but are now leaving because it has become too much. You can't say you have no regrets, even as you walk away from the strongest position you could have been in to make the change you wanted. You have to, at least, admit that the risks were grossly miscalculated.
Any less than that is much worse.
It means you knew you were going to destabilise the party, and decided it was worth it.
It means you knew that the chance to take immediate ACTION on poverty was diminished, and decided it was worth it.
It means you knew you were going to place yourself as the champion of the underclass, and then quit on them, and decided it was worth it.
It means you knew that implicating your family would open them to scrutiny, and decided it was worth it.

It means you knew that the desperately needed policies on water health and climate change would be pushed further away, and decided it was worth it.
Let's just say you miscalculated, aye.
You and the peeps around you who SHOULD have been holding those very available, predictable projections up to your face. If you were alone in this, you shouldn't have been. Yes I'm including you in this, James Shaw.

Problem is, Greens are up against the wall now. Only way is up, and they're not going to head in that direction by admitting "clumsy" and "poorly thought out" to their media discourse can they. Nothing for it but to sing of noble fallen queens and call for her to be avenged. Speak not of the word "strategy" for it can only be called "honesty" (unbidden, unnecessary honesty). Don't breathe the word "tactic", only "courage". The irony is – we're not even allowed to be honest about the fact that it was a tactical decision to draw attention to Green policy on poverty. If there was no electoral strategy to it – the confession might as well have happened at any time (like after your party is in power).
Greens have strategists alright. Crap ones. Ones that develop a hashtag campaign which completely individualised Metiria at the same time as they were trying to say this was not about her. If it's not about Metiria then where were the "I stand with beneficiaries" green/pink profile pics? Yo, Green team: Māori and Pacific Islanders are communal peeps – we don't individualise and this isn't Charlie Hebdo. You can't just transplant a trendy (and notoriously white) hashtag campaign and expect it to work magic. It just spotlighted Metiria as the saviour queen and that's who our people focussed on – not Greens, Metiria. Now she's quit and there goes the one leader they'd dared to pin their hopes on. Now many haven't a clue who to vote for, were made centrepiece in a political shitstorm that wound up with just another boring election choice, and may well return to not voting.
There's a nasty, vicious undercurrent to the management of this campaign that, if I'm being honest, smells to me like well-intentioned corporate white liberalism. A campaign manager that took unnecessarily petty swipes at Graham and Clendon after they left. Tone-policing. The steadfast refusal to take responsibility for the choices made. Romanticism. A saviour model. Individualism. Importing a white hashtag campaign that was torn apart in PoC communities for lacking racial nuance. The white-knuckled grip on the intentions while ignoring the impacts. Missing the historically consistent racism of the NZ whitestream media and government. Doesn't sound to me like an advisor that's lived an Indigenous reality. I'm gonna go ahead and guess that the campaign team is predominantly white.

White-stream media and the establishment cannot escape blame in all of this – let's be clear, they are who we are facing on the battleground. But you can't just let your leaders march out into the field in a white dress just to show how fast she'll get shot. Metiria deserved better than that. NZ climate justice deserved better than that. Our waterways deserved better than that. We all deserved better than that. Someone needed to be there reminding her of the very severe consequences of her choice for herself, and those implicated and impacted.
And in reflection of that – while we need many of the Green's policies – I cannot endorse a party OR person that will, knowingly or not, place vulnerable people at risk, however well-intentioned they are.  I hope Greens have an honest self-appraisal of this at some point soon, because in my observation, that's yet to happen.
Tina Ngata (Ngati Porou) works for indigenous university Te Wananga o Aotearoa as a diploma and degree-level educator in indigenous environmental leadership. She lives in Te Tairawhiti and blogs underneath the name "The Non-Plastic Maori" about issues relating to indigenous rights and environmental issues.