The ever brilliant Tina Ngata and ever insightful Mike Treen have already canvassed the criticisms of the Green Party strategists and tacticians for not preparing Metiria or the Greens for the media and establishment backlash that was going to erupt from her honesty.
As someone who has done political consultancy, I haven't stopped kicking myself at how personally frustrated I am that the Green strategists and tacticians didn't reach out and allow me or one of the other left wing political consultants to have sat down and gamed through what was going to happen next.
I think in political party's you can get into a bubble at times, and the Greens just didn't see what was going to happen next.
An external perspective that is familiar with how brutal the establishment is could have highlighted the flaws and ensured they were cauterised before she ever made that speech.
TDB Recommends NewzEngine.com
Regardless of the final result the Greens gain in September, there needs an urgent change of Green staff tacticians and strategists because this looked like amateur hour far too many times.
That said, I totally stand with the Greens for doing something meaningful about the cruelty of our neoliberal welfare state by boosting benefits and dismantling their moralistic rules.
You can not philosophically pledge support for clean rivers and then shrug off the social pollution of poverty.
So where do the Greens need to go now?
Here.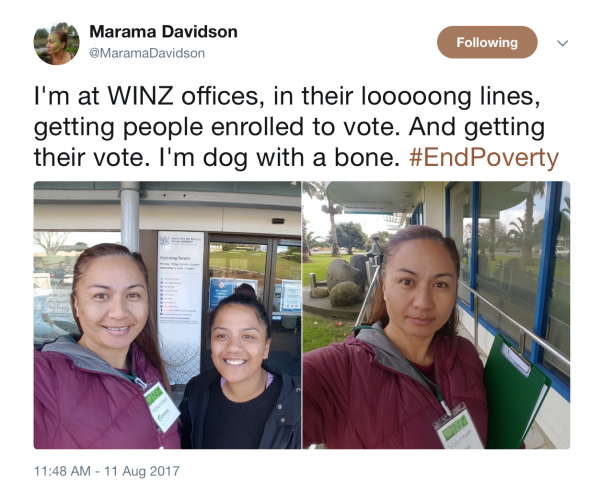 The Greens are the only political party who are genuinely offering the largest chunk of the missing million voters – beneficiaries – meaningful policy of $180 each week increases in welfare.
This means the Greens need to be outside WINZ offices, Prisons during visiting hours, Courts, and Housing NZ – everywhere beneficiaries are forced to congregate. The Greens need to enrol these voters and explain to them their policy. The Greens need to tap into this deep swell of support for them and for Metiria that isn't registering from landline polls.
This is how the Greens stick it to the establishment, they awaken the voters 30 years of neoliberalism has done everything to destroy and sabotage.
Finally – I want to do a shout out to James Shaw.
I was not a fan when he was first elected, I felt he middle classed the party and watered down its radical agenda, but the way Shaw has stood by Metiria and fought back at every broadcaster who attempted to denigrate his co-leader was true political leadership.
He showed courage and strength without ever once being rude or discourteous.
His mana has shone over this sad chapter, and I have become a fan.
I honestly didn't know who I would vote for this year, Metiria's courage and James' staunchness have answered that for me.