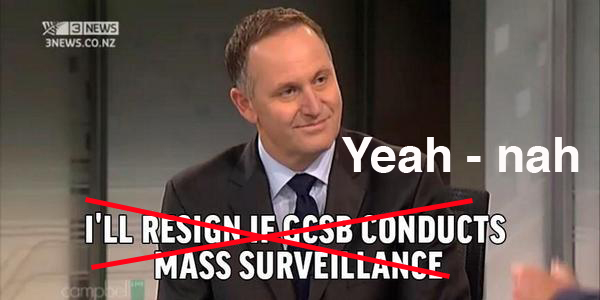 Anarchist Neil Roberts spray painted this shortly before blowing up part of the Wanganui Police Computer in 1982.
I just don't think this story below is getting enough attention and I hope the release of the new documentary by Annie Goldson reignites public attention…
Judge: Dotcom spied on two months longer than previously admitted

The illegal spying which earned Kim Dotcom an apology from former Prime Minister Sir John Key went on two months longer than previously admitted, according to a High Court judgment.

The revelation – if accurate – would open a can of worms over sworn admissions the GCSB has made in the High Court and the Court of Appeal over assistance given to police ahead of the FBI-inspired 2012 raid which saw Dotcom and three others arrested.

It could also raise the possibility of a fresh apology to Dotcom because Key's apology was in the context of spying from December 16, 2011 through to January 20, 2012.

Questions have been asked of Prime Minister Bill English but he has not responded. A spokesman for GCSB Minister Chris Finlayson referred questions to the GCSB, even though previous issues around the illegal spying have been handled at ministerial level.
…despite signing affidavits over their illegal spying of Kim Dotcom, it has now been revealed that the GCSB perjured themselves in the High Court because the spying went on for 2 months longer than they had previously admitted.
Remember the timeline here…
TDB Recommends NewzEngine.com
March 8th 2011 – Jerry Mateparae is stepped down as head of the GCSB.
March 15th 2011 – Top NSA spook, James Clapper, flies to NZ to meet with Key to discuss 'synchronicity' between the NSA and GCSB.
March 22nd 2011 – High level intelligence meetings
May 2011 – McCully visits Washington
June 17th 2011 – Key meets with Ian Fletcher for breakfast at Stamford Plaza.
July 22nd 2011 – Key is invited to Washington as pay back for this new 'synchronicity'.
July 26th 2011 – Key side steps normal protocols and appoints his old school friend Ian Fletcher to take over at the GCSB.
October 2011 – John Key, the head of the SIS and NZDF join Ian Fletcher, the MFAT Head, and the DPMC boss for a secret dinner at the British High Commissioner's home
December 8th 2011 – A letter states that Key is going to meet Ian Fletcher on 12th December
December 12th 2011 – Key meets with Ian Fletcher.
December 14th 2011 – The Police boss responsible for spying on Dotcom meets John Key with other intelligence agencies present.
December 16th 2011 – Kim Dotcom starts to be illegally spied upon.
January 2012 – Raid on Kim Dotcom. Spying supposedly ends.
The long, long, long list of corruption by the GCSB and the Government to arrest Dotcom for the NSA because Corporate Hollywood threatened Obama with a boycott on election donations demands a move by the Judiciary to show the secret intelligence apparatus that it can not over ride the law.
Corporate Hollywood profits have been risen to National Security status, that is something that needs to be understood as an explanation to this all. Wars with their violent and bloody outcomes are too expensive and counterproductive, cultural imperialism however only has strength if intellectual property rights are protected to keep the profit margin rolling in.  The Motion Picture Association of America have been trying to get their copywriter infringement fetish to National Security levels since 2010 and Chris Dodd, the MPAAs Hollywood lobbyist threatened political funding for not elevating their piracy to National Security levels.
Days after Dodd's threat, Obama launches a press conference confirming that Kim Dotcom will be targeted.
Whatever you think about Kim, whatever his excesses or behaviour, whatever you think about the MANA-Internet Party hook up – the way we have allowed our Intelligence Agencies to acquiesce to America so it can attempt to claim jurisdiction in cyber space by arresting Kim in NZ is an affront to every element of our sovereignty.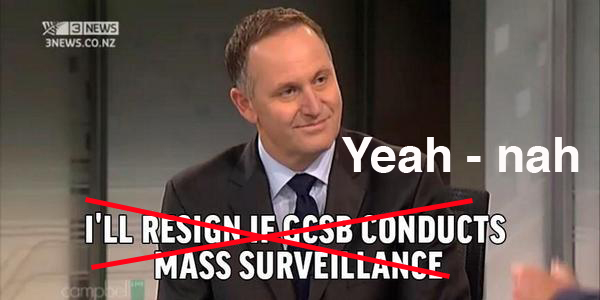 Remember:
National gave the Police vast new retrospective surveillance powers
National rammed through legislation under urgency allowing the State to force civil telecommunication companies to build backdoors to their networks and not tell their customers that the State had breached their privacy.
National rammed through legislation under urgency allowing the State to spy on NZers
The GCSB went from $80m to $140m in budget per year
The SIS were 'rewarded' with a huge increase in powers and budget.
The SIS colluded with John Key's Office to falsely smear the Leader of the Opposition Phil Goff months before the 2011 election.
Warrantless spying
And National gave these security agencies even more powers that will allow…
…and these powers are being considered while there is an investigation under way that..
So after caught illegally spying, after being caught being racist, after being caught abusing their power, after being given vast new mass surveillance powers, after having huge increases in budget – after all that, they still can't keep all this information they now have on us secure in even the most basic ways. 
Will reappointing a toothless watchdog like Cheryl Gwyn to oversee an agency that ignores her make us any safer from a mass surveillance state?
We have allowed the Intelligence communities in NZ to grow at an alarming rate with unchecked powers. The GCSB and SIS have both had increases in budget by 250% and 174% within a decade and consider how on top of the GCSB and SIS that we also now have the  Organised Crime Intelligence Unit, Financial Intelligence Unit, Strategic Intelligence Unit, National Bureau of Criminal Intelligence, Identity Intelligence Unit, Threat Assessment Unit, Police Terrorism Investigation and Intelligence Group, the Special Investigation Group and let's not forget all the military intelligence as well that now take their orders directly from the Prime Minister.
With such an enormous concentration of power with bugger all oversight, we are accidentally building a Black Government, an agency within the State that holds all the power and secrets. Such a Black Government wouldn't answer to our Parliament, they would owe their loyalty to whatever outside agency provided them with the software and hardware to be digitally omnipotent.
Whether you like him or not, Kim Dotcom's fight against the mass surveillance state is all our fight against the mass surveillance state.