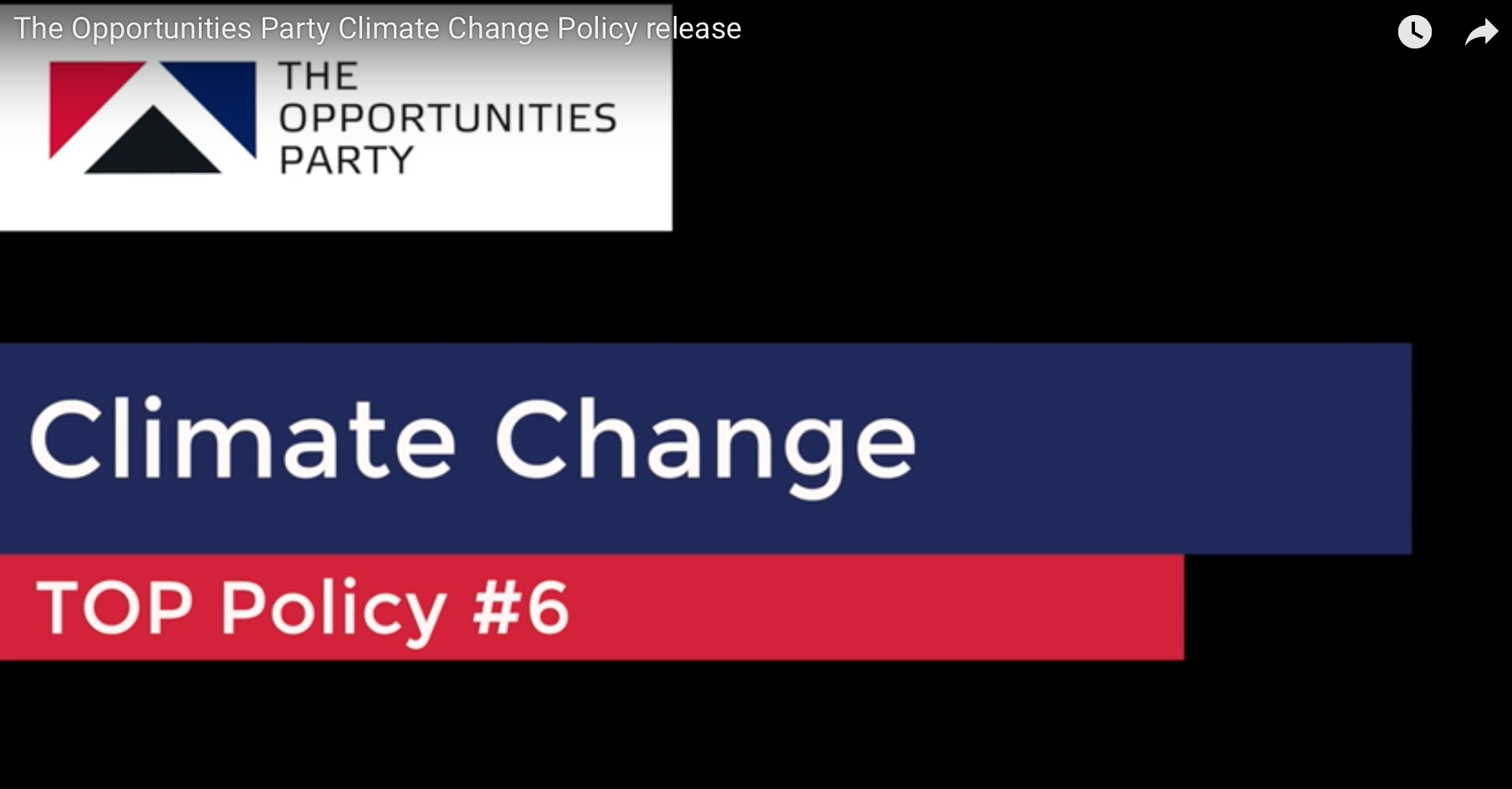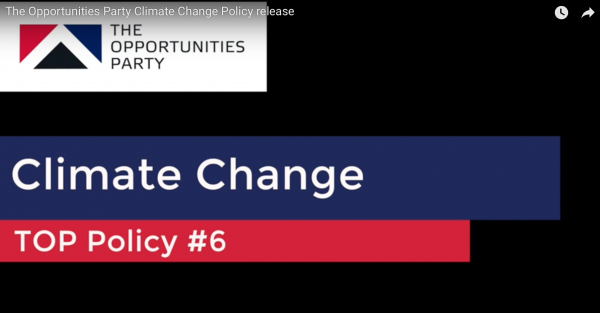 The Opportunities Party, (TOP), have held a Launch for the release of their Climate Change Policy in Dunedin South.
You can watch the policy release launch HERE
There are three main takeaways from the TOP Climate Change Policy revealed in the launch.
They are:
TDB Recommends NewzEngine.com
1: TOP want to rehabilitate the ETS

2: TOP want 2050 as the target date for New Zealand to become carbon neutral

3: TOP want to install programs for climate change remediation and adaptation, starting in South Dunedin, which is the most immediately threatened area by sea level rise related to climate change.
The following is an opinion piece of what I think should be included in any progressive climate change policy:
New Zealand's total Greenhouse gas emissions (from all sources) amount to 0.2% of the world total.
Writing on the government website, Professor Gluckman says, that because of this above fact, New Zealand's greatest contribution to fighting climate change will be by setting an example.
"New Zealand is a small emitter by world standards – only emitting some 0.2% of global greenhouse gases. So anything we do as a nation will in itself have little impact on the climate – our impact will be symbolic, moral and political."

Sir Peter Gluckman
Office of the Prime Minister's Chief Science Advisor
To me, what Professor Gluckman's statement means, is that any policy program by a New Zealand political party that wants to make a meaningful contribution to the global fight against climate change, must include at least one iconic action against climate change that the world will sit up and take notice of.
When considering what iconic actions to take: There are 3 actions that come to my mind that our political leaders can take right now that would make the world take notice that this country takes climate change seriously, (And, that they should too).
They are:
1: The repudiation of all existing and proposed deep sea oil drilling and exploration contracts and operations in New Zealand's greater economic zone, and all other marine territories under New Zealand's jurisdiction. These contracts must be torn up under grounds of national and international emergency.
2: A complete and total, and immediate, imposition of a 'moratorium' on all Fracking operations  on environmental grounds. With the option of making this moratorium permanent, incumbent on the oil companies presenting, (or not) evidence that Fracking, (and other similar extreme unconventional forms of fossil fuel extraction) do not overly contribute to climate change, over conventional forms of fossil fuel extraction.
3: Immediate steps to wind down the New Zealand coal industry.
In recognition of the fact that globally coal is the number 1 most dangerous and damaging of all the fossil fuels to the climate and the environment.
3:a A permanent ban on all import and export of coal across our borders.
3:b A permanent ban on all new coal mines, and a winding down of existing coal mines.
(In line with this wind down it be incumbent on the government and the coal industry to provide for a just transition of the coal miners to jobs that don't fry the planet.)
These 3 iconic actions must be part of any serious climate change strategy for any political party that wants to be taken seriously by the voting public, as wanting to take meaningful action on climate change.
I maintain that there is a constituency out there that is receptive to this message.
In 2007 a TV3 News poll indicated that 81% of New Zealanders believed climate change was real, and 55% of New Zealanders want the government to do more on climate change. These are serious numbers. They are greater numbers than the current levels of support held by the two biggest opposition parties, (combined).
If the TOP party (or any other party), can tap into this constituency, with bold and iconic climate policies, there can be little doubt that they could make serious electoral gains.
Disclosure: Pat O'Dea is the Mana Movement Spokesperson for Climate Change Issues.