My blog on comparing Superannuation with the pittance paid out to the vulnerable via the neoliberal welfare state provoked the usual 'don't be mean to boomers, we worked hard' mantra from our beloved boomer comrades.
Some even suggested that I was falling for a right wing scam to privatise or lower Superannuation, which if you read my column on Superannuation, seems ridiculous.
Cameron Slater went as far as to suggest that because the word 'riot' was in the headline, then I must be pushing for violent revolution.
Being lectured by a hate speech merchant like Cameron Slater for figuratively using the word 'riot' in a blog is like being lectured by Donal Trump on gender equality and nuclear disarmament.
Beyond the anger of the intergenerational theft and its impact on the political landscape that continues to prop up a corrupt Government to keep the property bubble inflated, what do we do?
I don't look at this chart…
TDB Recommends NewzEngine.com
…and think, 'we need to cut back on Super'. Let's be clear about that first of all. I don't believe for one second that Super should be cut, I would in fact argue that it might need to go up.
My issue is that we look after the voting old while gutting everyone else and that this leads to a terrible political imbalance where the old land owning class determine all domestic policy. This chart from the 2014 election is terrifying…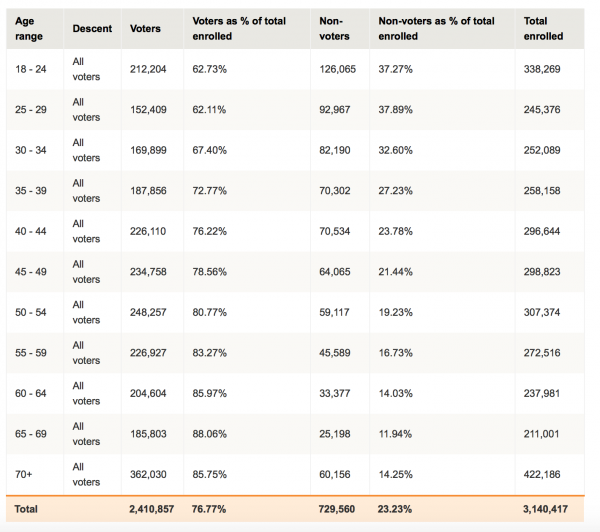 The solution? Not to gut the benefits for the old, but to give everyone else the same level of state subsidised support that those who are benefitting most from enjoy.
How do we do that?
It's obvious.
A Universal Basic Income.
If everyone received a set income from the Government they would all have skin in the game. This would radically change the elections because people under 39 would then see a reason to participate.
We know the future of work is going to see many job loses, we know a UBI would solve many of those social tensions from those job losses. We have a Labour Party and Green Party that have tepidly acknowledged UBI but won't implement it and even Gareth Morgan from TOP who argued for a UBI in his book 'The Big Kahuna' seems too frightened and politically timid to implement it.
For all those beneficiaries who have to grovel on their bellies at WINZ and MoD each month to get the pittance to pay for their day to day costs, no longer would they have to tolerate 'Carol from WINZ' destroying their self esteem. No more would they worry that Tolley is throwing them off welfare and forcing them to do menial jobs that might be counter productive for them, and no more would we see the young avoid the ballot box.
How could we afford this? A Financial Transaction Tax, a Robin Hood Tax and legalisation of cannabis would provide all the money to do this  and  as well respected economist Keith Rankin points out, we could implement an immediate UBI right now.
We need to give everyone within Society the harvest Boomers have enjoyed if that social contract is to mean anything. This is the strength of our democracy, not its weakness and we need to expand this franchise and autonomy of citizenship if this democracy is to withstand the turmoil of our future.