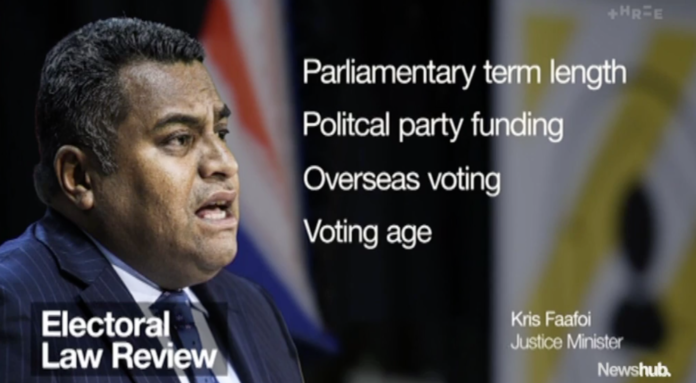 Seeing as we are seriously going to do this Electoral Law Review, let's argue it out.
Lowering the voting age to 16 – hell yes, now!
Let's go through all the arguments.
Taxation without representation is a classic and it has weight. Lots of 16 and 17 year olds have jobs and are paying tax but without any political representation. That is an incredibly powerful argument for Democrats and those arguing against lowering the voting age don't have much intellectual or philosophical counter weight to this prescient point.
One counter is that teenagers frontal lobes haven't developed enough yet and as such 16 & 17 year olds don't have the maturity to vote.
While it is certainly true that teens don't develop frontal lobes until their mid 20s, we are talking about sudden panic moments in young peoples lives like fighting or boy racing or racing off in police pursuits, that criticism can't be extended to teenagers ability to reason or understand the world around them!
What is the suggestion here? Teenagers will panic at the voting booth and murder everyone in an epic melt down over not being able to take a selfie while voting?
The third argument is that this is self serving for the Left. I think that is garbage. Allowing people over 80 to vote leads to very biased results!
TDB Recommends NewzEngine.com
Young people are dealing with climate change, allowing them a political voice and by bringing them into politics earlier builds the franchise of democracy no matter who it benefits politically (and I would argue it benefits older people right now)!
Broadening the franchise of Democracy is the goal and allowing our teenagers to have a say would force politicians to listen.
If politicians aren't going to listen, they won't get their vote!
What more democratic is that?
I say yes to lowering the voting age to 16 and welcome a new generation of citizens into the great debate that is democracy!
Increasingly having independent opinion in a mainstream media environment which mostly echo one another has become more important than ever, so if you value having an independent voice – please donate here.
If you can't contribute but want to help, please always feel free to share our blogs on social media