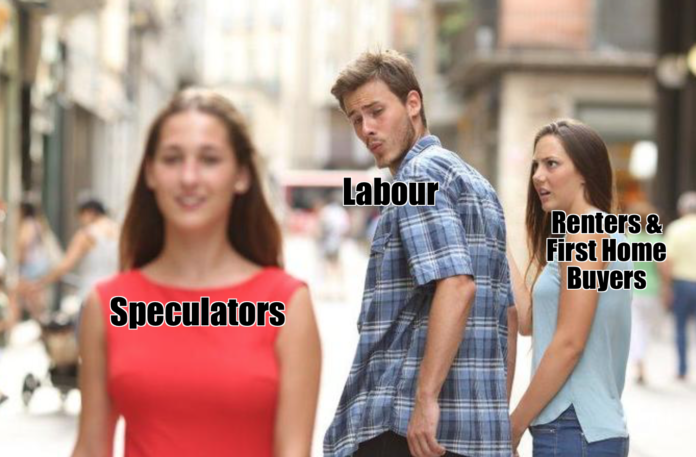 Unbelievable!
Labour were warned their printing of Billions for Corporate Banks to hand out to property speculators would see prices spike to a point out of reach of first time home buyers…
Reserve Bank repeatedly warned Government money printing would lead to house price inflation
Grant Robertson and the Government were warned in January 2020 that there was a 'significant' risk Reserve Bank money printing would push up house prices and deepen inequality. Despite calls from the Reserve Bank that the Government would need to act to blunt the effects of this, nearly 13 months later, nothing has been done.
…Trickle down is the failed neoliberal mythology that if the rich have more money, they will spend it and the little people feed from the crumbs.
It has been debunked a billion times with the truth being that a lift in welfare and the minimum wage actually generates more real world economic activity, so no politician ever attempts to use Trickle Down the way con artists never want to say 'Pyramid Scheme'.
Until now.
The shocking explosion in house prices is thanks to property speculators leveraging their existing debt to borrow more at cheaper rates.
TDB Recommends NewzEngine.com
What is most horrific is that it's a Left wing Labour Government who have done this, despite being warned this exact thing would happen.
The play is very obvious. If property owners feel wealthier from inflated house prices, they will spend more. It was National's economic plan for 9 years and this Government have embarked upon it again to 'stabilise' the economy.
What it has in fact done is given the property speculators a meth hard on for borrowing cheaply to buy everything that isn't nailed down.
Labour have once again used a free market solution for a market warped and damaged from being so 'free'.
None of this will hurt Labour's new National voters with property, but Labour's actual support base will be shocked at how quickly their aspirations have been utterly forgotten.
The truth (like everything else in fucking NZ), is that the under regulated free market has been warped by the wealthy for their interests and all Labour attempt is bullshit tinkering on the sides rather than challenge the dominance of neoliberal theology.
We have allowed the commodification of houses to be a means to make wealth and people are chasing that with all the nuance of meth addicts in a P lab.
If Labour wanted actual solutions, these 3 would do it.
1 – FLOOD MARKET WITH MASS STATE HOUSING REBUILD: End the scum landlord subsidy of housing allowances end putting money into the pockets of unscrupulous motel owners by rapidly building 50 000 new state homes. Scum Landlords can do as they please because the level of desperation amongst renters gives them total power. Flooding the market with 50 000 new state houses would rob scum landlords of that desperation.
2 – STATE HOUSE FOR LIFE: Allow beneficiaries to stay in their state home for life so that they can create stable communities and that their desperation is never transported back to Landlords.
3 – DEPOSIT RESTRICTIONS: I have no issue with people who own their own home, or have a batch or even a 3rd property to provide income into your retirement. What I have no time for is people who own 4 properties, 5 properties, 10 properties, 20 properties, 80 properties.
Fuck them.
First time home buys should be required to have 10% deposit, but the more properties you own, the higher the deposit. The reason the speculators can out buy any first time home owner is because they can use their multiple properties to leverage more debt.
If you are a property speculator, you need to turn up with a 70% deposit to counter the leverage multiple properties allows them.
If Labour want to actually solve the problem they have to regulate the market and re-set it so that speculation is punished while first home ownership and housing of the poor is championed.
For too long we have allowed the the rich to dictate the rules, if Labour's kindness is to be meaningful, it needs to challenge that dynamic.
Unfortunately Labour are not looking for solutions, they are looking for the pretence of a solution to ease criticism from their Left.
Luckily for Jacinda, house prices could jump 50% and as long as Labour keep the Covid virus out of the country, no one will care about housing unaffordability.
What a sad indictment on NZ and its political class.
Increasingly having independent opinion in a mainstream media environment which mostly echo one another has become more important than ever, so if you value having an independent voice – please donate here.
If you can't contribute but want to help, please always feel free to share our blogs on social media.