At the beginning of last year, the rumours of a unique virus out of Wuhan were circulating.
For the Identity Politics woke in NZ, such criticism was racist!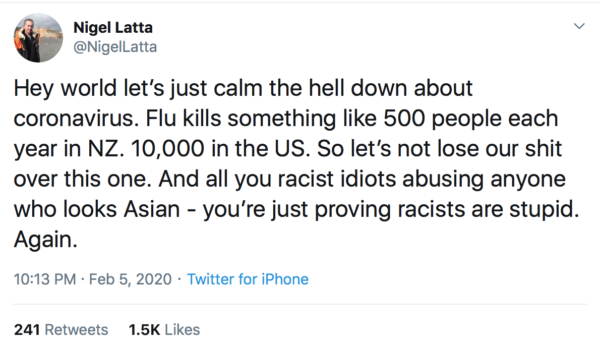 It wasn't just Nigel who was saying this, woke comedians, the Wellington Twitterati and other NZ virtue signallers were all saying the same thing. Even she of the candy floss hair, Siouxsie Wiles, originally underplayed the danger before she admitted she got it initially wrong.
Class Left TDB didn't get it wrong.
Right from the beginning we stated this wasn't a fucking identity politics issue, but instead a serious public health threat that had ALL the ingredients of a global pandemic.
84million global infections and 1.84million deaths later, lo and mother fucking behold, here we are.
So allow me to hazard another opinion as we enter 2021, that we have been really wrong about Covid and that the 2021 spike is only the true beginning.
TDB Recommends NewzEngine.com
The US were supposed to have 20million vaccinations by the end of December, they've barely managed 3 million!
The new mutations out of the UK and South Africa are so contagious that the UKs current lock down regime, which creates a 30% reduction in transmission, will actually see a 30% increase in infections from the new mutation!
The rest of the planet is faring just as poorly and most health systems are now close to capacity and exhaustion.
The euphoria of the vaccination announcement in late 2020 utterly underplayed the lack of public health infrastructure in America, the new mutation's contagiousness and the fact that a global 75% herd immunity will need to be an annual immunisation event if it is to mean anything.
The economic whiplash hasn't hit us yet and the full death count hasn't even begun.
The difference between this pandemic and previous pandemics is that 24 hour air travel can re-infect a country or geographic area over and over again, rather than allow it to slowly die out as previous pandemics have.
What does that mean for us in NZ?
The naked truth is that we don't have capacity to widen the border safely and if the virus gets through, Labour will be blamed if the track-trace can't stop us going back into another lockdown.
All that political gratitude to Jacinda for keeping us safe would immediately evaporate if public service incompetence is seen as a conflating factor in any new outbreak.
That all adds up to one thing, the border is NOT opening before 2022, probably 2023 or even 2024.
That means exploited migrant workers, exploited international students and hyper tourism will be banned from returning which is problematic to NZ because much of our economy is based on those flawed economic models.
This in turn demands a vision from the Government that goes well beyond simply keeping the virus out.
Does Labour have that vision?
No. no they do not.
All the Government's energy is being spent keeping us safe, there is no plan to rebuild, there is no plan to adapt. This would be a problem if any other political party had a vision, but none of them do, so Jacinda's position is only threatened by another outbreak combined with an incompetent response.
If you think Covid will be dealt with this year, I don't think you are paying attention.
Increasingly having independent opinion in a mainstream media environment which mostly echo one another has become more important than ever, so if you value having an independent voice – please donate here.
If you can't contribute but want to help, please always feel free to share our blogs on social media.