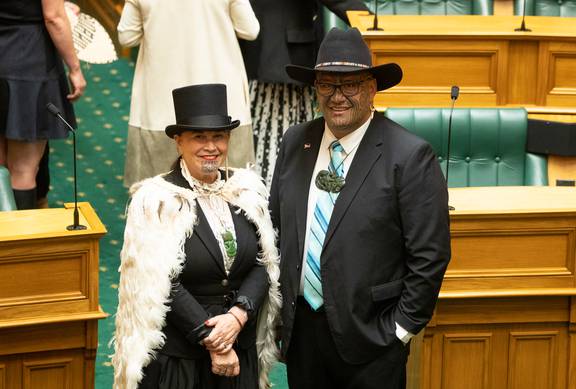 New Zealand's 53rd Parliament has been sworn in, and forty maiden speeches are being heard. Personal stories of struggle, exile, intergenerational hardship, journeys to power through education and inspiration. Union solidarity and strength, relative powerlessness, poverty, war and colonisation, hopes and dreams, aspirations, -legion are the motivations for the many new MPs. But it is a richer Parliament for the return of the Māori Party. Nowhere else in the world will you find MPs with moko and korowai, with these bone and stone pendants, with tikanga, tipuna and tiki. Although Labour Māori MPs and Green Party members attempt to speak for Māori, nowhere else in the New Zealand Parliament will you hear in this particular way, the authentic, unapologetic, dissident, disaffected voice of Māori, than from the Māori Party. But to be radical, revolutionary and reformist, to reclaim and sustain voice, from within a European institution designed to de-escalate tension, to co-opt and compromise, when Parliamentary presence means an acceptance of the legitimacy of colonial structures and the limits to Māori sovereignty, is to walk an uneasy path between two worlds.
Māori Party co-leader Debbie Ngarewa-Packer, in her maiden speech as a Member to the House of Parliament, sought to achieve better for future generations. She accused past New Zealand MPs of being responsible for a Holocaust, for Māori genocide; for rape and murder; for the imprisonment of Māori without trial. She referred to the effects of institutional racism, the impacts of ongoing racist legislation. Co-leader Rawiri Waititi talked of a loss of Māori identity, the loss of Māori land. In their voices were echoes of Ranginui Walker's 'struggle without end'.
But the Māori Party co-leaders walk between two uneasy worlds, speaking truth to power from the Māori perspective, and being part of what they see as a racist Parliamentary institution. When the Parliament's would-be speaker, Trevor Mallard disallowed Rawiri Waititi's te reo Point of Order asking for an opportunity for an Address in Reply to the Speech from the Throne without losing their rights to maiden speeches the following week, the co-leaders staged a dramatic walkout. Ngarewa-Packer said Mallard's call to disallow a Māori Party Address in Reply 'was yet another example of the Māori voice being silenced'. Waititi observed the process was an example of the tyranny of our democracy for minority parties (his being the absolute minority in terms of size and indigenous ethnic representation), and that their walk-out was because they 'didn't want to participate in a system that is based on being very unfair'.
But therein lies the rub. Our institutions aren't colour blind. They're not neutral or fair by design. They are instruments of power. And every element of their expression has power, and distorts and amplifies the inequality of its exercise.  So when for Trevor Mallard the tie is an irritant that he hasn't mastered the art of tieing and for James Shaw it's an anachronism, for Rawiri Waititi, the tie is a colonial noose.  In appearance, Debbie Ngarewa-Packer's hat is a colonial artifact, the clothing of the oppressor, but it's also an exercise of agency. "I'll wear what I want" she said in reply to criticisms, while cultural commentators say it's a way of claiming indigenous identity, status and gender power, of co-opting and appropriating colonial artefacts, of taking and turning markers of oppression against those who wield them.
New ACT MP, Nicole Mckee in her poorly timed, tone-deaf maiden speech talked about the minority rights of the gun lobby, but more than fifty innocent Muslims were on the bloody and blunt end of those 'rights'. This week when the 800-page report into the Mosque attacks was released, the Prime Minister rightly acknowledged and apologised for the terrorism that impacted the Muslim community. At the same time, decent New Zealanders should be appalled at the slow terror of colonial history that still leaves tangata whenua scarred, relatively landless, powerless, victimised and revictimized, a slow burning terrorism inflicted on people of this land, that leads to poorer life chances than for European counterparts. When the Government acknowledges and regrets, but is moved to do little about institutional bias, educational inequalities, economic disparities and judicial processes and imprisonment rates that penalise Māori it sustains the very system that Waititi observes treats some minorities even worse than others. Even when the Māori Party are required to win at least five per cent of the vote and/or an electorate seat to have an institutional presence in Parliament – as Māori, it's evident the two worlds stand apart, with one world more powerful than the other. Make no mistake this process says, Parliament is a western institution of power, designed to enshrine and maintain that power, not to share it. With little perceived legitimacy of, and loyalty to Parliament, the Māori Party may find itself frequently frustrated and exercising more 'exit' power than 'voice'.  The formal and informal, political, economic and social power of this minority is still at the discretion and within the rules and structures of a perceptibly racist state.
TDB Recommends NewzEngine.com
In Māori cosmology, the past is laid out before us, to inform, instruct, illuminate and to guide the path ahead. It's appropriate that the Māori Party should carry its grievances, that are still being written, onto Parliament's 53rd floor. In 'Tears of Rangi : Experiments Across Worlds' by legendary Kiwi anthropologist Dame Anne Salmond, Captain Cook is quoted as saying of Māori "'I have allways found them of a Brave, Noble, Open and benevolent disposition, but they are a people that will never put up with an insult if they have an oppertunity to resent it." And that's the modern Māori (MP) prerogative too. Salmond further notes, historically, 'While such 'rough intelligibility' allowed relationships to be forged, efforts at engagement between Māori and Europeans often backfired, thwarted by differing assumptions about how the world works. At the same time in these encounters – titiro atu, titiro mai – hidden premises sometimes come to light, making it possible for new ideas and practices to emerge as taken-for-granted forms of order are challenged. The element of surprise in such meetings was (and still is) at once disruptive, and creative."
Over the three years of the new Parliamentary term, we can expect more disruptive, creative, surprising, revelations about hidden premises and differing assumptions about how the world works. We can expect nobility, bravery – and probably insult and resentment.  The Māori Party embodied in its co-leaders may illuminate ways of being in the world, ways of the world working on tangata whenua, that may be invisible to other Parliamentary, political and economic elites. With their best, staunch, efforts, new ideas and practices may be forged, that challenge the old order, and give rise to new hope, new institutions, new understandings and solutions. Or as political scientist Hannah Arendt said, it may reveal the truth that to bang your head against the wall is to break your head and not the wall.