So it's been 5 weeks since the righteous crimson tsunami crushed all before it. The final vote swung 3 electorates to Labour plus an extra MP off the Party list while the Māori Party held onto Wiariki and also gained an extra MP off the coat tail, the Greens were bribed with hollow baubles while National wallow in self pity and self deception. ACT called for a $50 per hour minimum wage???
Crazy times.
However the strains and stresses of unregulated free markets have all ubered home to roost and Labour have been caught so flat footed that poor old Grant Robertson has had to get off his chuff and write a letter to the Reserve Bank!
A LETTER!
After all the praise for saving us from Covid, Labour now find themselves 2 months after the election getting attacked by their own allies for the total lack of any leadership on a range of issues.
TDB Recommends NewzEngine.com
LABOUR: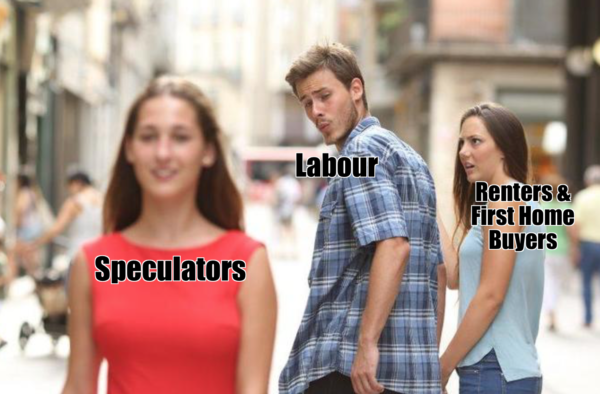 So their first move was to support a racist drug law because 50.7% of the population wants to criminalise the remaining 49.3%, they then told beneficiaries to go fuck themselves this Christmas with no welfare reform despite 50 of the leading NGOs begging Jacinda to be kind, and hilariously Labour have poured billions into property speculators to molest the housing market while ruling out a wealth tax.
I'm not sure that's the 'transformative' change we were all looking for.
Last term Labour defined 'transformative' as 'whatever Winston let's us get away with', now Jacinda defines it as 'change that sticks', which sounds less like transformation in social policy and more like a byline for a vitamin supplement sold on Fox News.
Labour's cowardice of actually tackling the neoliberal settings is shameful, but unfortunately very predictable. They have  a history of baulking when they are required to respond intellectually to the challenge of neoliberalism and failed 'free' markets. Be it public broadcasting, Oranga Tamariki, prison abuse, the toxic culture of winz, inequality, you name it, and they won't do it.
Jacinda's 'kindness' is rapidly becoming 'neokindness', her focus to 'rule for all of us' means newly won over National voters are the priority, long suffering actual Labour voters however are relegated to being first time home buyers in a political market they can't afford.
Yay, how 'transformative'.
NATIONAL:
To truly appreciate how delusional National are right now, consider the words of the National Party President last weekend.
"For an opposition party, trying to hold a celebrity government to account for their decisions and policies it was suddenly a crime to ask legitimate questions for comment and daily broadcasts became televangelistic like a gospel to the masses,"
"Democracy gave way to a time to a form of temporary tyranny; no-one should fear death threats or violence for voicing an opinion no matter how much you disagree, but that was the reality in a Jacindamania world and I'm sure you felt that too throughout the year, I certainly did."
The only conclusion you can take from this ridiculously offensive claim of 'legitimate questions' is just how delusional National truly are.
I'm not talking ideologically delusional for believing Kiwis wanted less State when they were running towards the State for protection in the middle of a pandemic, I'm talking fully fledged Trump denial of reality level delusion.
What the fuck was 'legitimate questions' about National's pandemic debate?
An MP released private Covid Patient details to the media he had taken from the former Party President.
What was legitimate about that?
Brownlee was promoting conspiracy theories in the middle of a pandemic!
What was legitimate about that?
Judith ended up attacking fat people???
WHAT WAS LEGITIMATE ABOUT THAT?
Pretending that this was some sort of tyranny utterly ignores National's own inability to value anything else beyond political selfishness.
National wanted to save the economy, Labour wanted to save the people, once voters see that, they can't unsee it. Every time Voters saw the casual malice of Judith, they recoiled in horror!
That the National Party can't still comprehend that, shows a Trumpian level of self awareness.
GREENS:
Should have gone in there table thumping and demanding real policy gains by threatening opposition, instead they begged and cried for whatever crumbs Jacinda was prepared to offer. Honestly, the Greens have all the tactical response capacity of slow growing moss. The Greens need to be radical on the environment and the economy rather than free the nipple middle class ally causes that only manages to alienate.
This deal will gag them and make them look complicit in Labour's tepid progress. They don't look like members of a progressive Government, they look like collaborators for mediocrity.
Marama and James can gnash their teeth and throw as many tantrums as they like, but while they have those juicy empty baubles, their criticism comes across as meaningless just like it did when the Māori Party would try it on under Key.
Green Party Woke Apparatchik's will flood this page screaming that the whole 'winners and losers' dichotomy is a heteronormative white cis male binary choice and as such is promoting hatred towards women and mummy bloggers, which isn't fair as I also hate daddy bloggers as well. Listening to them trying to sell this meaningless nothing on Twitter as some type of great advance for everyone is like listening to Democrats trying to defend Hillary Clinton's 2016 nomination.
Chloe is the only hope for the future of the Greens.
ACT:
Their discipline, their touring the country thanking voters, their candidate post election academy – it's all boiling up as an incredibly well planned post election strategy and I'm genuinely worried. ACT have become the defacto Right Wing Values Party and ever since the bloody Woke gave Seymour the Free Speech ammunition, they, not he, awoke a once dormant vein of right wing political representation.
ACT will become more radical and more hard right and cannibalise National's vote. There is a real chance that ACT and National could be on level pegging come election 2023. This is great for Labour because none of those hundreds of thousands of 45+ women voters who went from National to Jacinda will go back if the alternative is a hard right ACT-National Government.
The polarisation of hard right politics can be restrained from their worst excesses as long as Seymour is leader, but once he's gone, expect them to go full blown Free Market Nazi. This will be a war to fight in 2026.
MĀORI PARTY:
They need to urgently re-order how they are going to do things and focus on where they can make the most impact.
Debbie Ngarewa-Packer should be in Parliament all times articulating Māori values.
JT should be in the media as much as possible to articulate on the minute responses to issues.
The biggest criticism used against Tamati Coffey who lost Wiariki was that he wasn't around the electorate enough so Rawiri Waititi should be focused on staying in the electorate and ensuring it is a fortress for the Māori Party.
NEW CONSERVATIVES:
After all the attempts at starting a culture war, after all the anti-Māori rhetoric, after all the pious whinging that their free speech was being impacted despite no one giving a toss what they had to say, the New Conservatives have replaced a Clown with a Joker as Leader…
Leighton Baker steps down as New Conservative leader
The party garnered 1.5 per cent of the vote in this year's election and didn't make it into Parliament.
Today, Baker announced he was stepping down, saying he had enjoyed the leadership role "immensely".
"However, the board has decided that now is the time to try another leadership style, and I wish them well in that," Baker says.
If the answer is Elliot Ikilei, the question is 'who could do worse than Leighton Baker as New Conservative Leader.
Strip away any rationality, compassion and gentle sensibilities within Christianity and you have the New Conservative Party.
Hateful of abortion, solo mothers, gays, solo mothers, cannabis and solo mothers, the New Conservatives love guns, patriarchy and more guns.
Paranoid and frightened of any idea post the renaissance, the New Conservatives would represent a great leap backwards for New Zealand.
It's political thinking is so inbred, I think they would want to relax laws around cousins marrying.
Banjo playing with your toes and burning books is mandatory to be a candidate.
I suspect Solo mums are not allowed to vote for the Party.
Their policy against Māori would actually see a race war in NZ.
Replacing a Clown for a Joker won't save the New Conservatives, it will only make them politically irrelevant quicker.
The New Conservatives demise is proof that there is a God.
ADVANCE NZ + NZPP:
Hahahahahahahahahahahahahahahahahaha…
Jami-Lee Ross, Billy Te Kahika locked in ugly money dispute after Advance NZ's split from Public Party
Advance NZ's Jami-Lee Ross has threatened former co-leader Billy Te Kahika with legal action after a nasty public stoush over donations following its split from the NZ Public Party (NZPP) last month.
…I don't care about the minutiae of their war against each other, I just love that it's imploded.
These two snake oil merchants who manipulated peoples fear with Covid Conspiracies deserve everything they get. They are wretched politicians who managed to exploit voter's ignorance in the most venal manner at the most vulnerable of times.
A plague of genetically modified Covid spread by 5G to bring about a shadowy one world Government on both their houses!
Hahahahahahahahahahaha.
They deserve each other!
CONCLUSION:
The geography of our emotional political landscape has been irreversibly re-imagined.
The sense of solidarity this universal shared experience of a pandemic generated was there for any politician to pick up and use. The difference between what Jacinda did and what Bridges, Muller and Collins couldn't, was appreciate what that solidarity meant and could actually do.
The Right are so individual Uber Allas that they had no idea how to appeal to the universal common good whereas Ardern had the emotional IQ to attract this enormous psychological tectonic change in the electorate.
The greatest tragedy is that after winning a mandate, Labour are too timid to use it and actually reform the neoliberal state.
Jacinda won the battle, but she is on her way to losing the neoliberal war.
Increasingly having independent opinion in a mainstream media environment which mostly echo one another has become more important than ever, so if you value having an independent voice – please donate here.
If you can't contribute but want to help, please always feel free to share our blogs on social media.