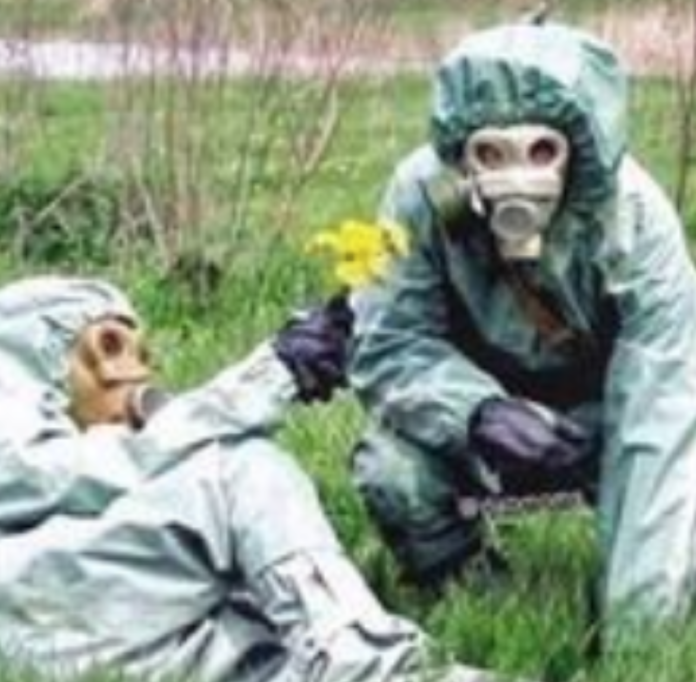 In our mass mediated, digitally connected world the meaning of certain words becomes blurred. Metaphors and reality are hard to tell apart. When researchers in my field employ the term 'media ecosystem', they are referring to the interconnected array of mass media outlets and social media access points available to users. Yet, the term is also contradictory; an 'ecosystem' is ordinarily comprised of animals, vegetation, geology and the biosphere rather than communication technologies. 
A similar conflation of meaning occurs in everyday language. To say that an image, phrase, video clip or meme has gone 'viral' attests to the scale and speed of transmission. This happened when the South Korean 'Gangnam Style' music video reached one billion views on YouTube in December 2012. In the same year, video clips from a short documentary film on child soldiers in Uganda and the activities of militia leader Joseph Kony attracted over 100 million views on YouTube, Vimeo and a 'Kony 2012' website operated by Invisible Children Inc. Since then, mediated viralities of all kinds have become commonplace. Before the Internet though, only biological viruses could go viral. Small infectious agents such as bacteria that replicate inside the living cells of any given organism spread to adjacent organisms. Such agents can, potentially, pass through species barriers, from animal-to-animal and animal-to-human. Covid-19 or the Coronavirus generates both kinds of virality. Each must be understood, separately and in tandem, if recent unfolding outbreaks are to be properly evaluated.
Let's start with the (relatively) good news. Biologically speaking, the virus poses less of a danger than the 'Spanish' influenza pandemic of 1918-20. Then, one third of the world`s population was infected and more than 50 million victims died, many in the prime of life. By contrast, the 3.4 per cent fatality rate of Covid-19 outbreaks, so far, primarily affects the elderly and those with pre-existing conditions, such as cardio-vascular disease and diabetes. The rate could well decline as the total number of reported non-fatal cases increases. Since 1920, medical knowledge about viral biology, epidemiology, prevention, quarantines and containment has improved considerably. Over recent decades the World Health Organisation (WHO) and national health authorities have coordinated effective responses to Severe Acute Respiratory Syndrome (SARS) in 2003 and 'Swine flu' in 2009. The former outbreak, with very high infection levels and a 10 percent fatality rate, could have been catastrophic.
This is not to deny that Covid-19 is serious. The human consequences are, and will be, substantial. Countries and regions with weak, underfunded health infrastructures may be overwhelmed. National and community health campaigns involving quarantines, hygiene initiatives and communication updates will be less available to poor populations with little media access. In New Zealand, the virus should be manageable, if the spread is not too rapid, and if the fatality rate does not spike because of biological mutation. 
Now for the bad news. As I write, the economic, social and psychological impacts of Covid-19 are magnifying. The culprit here is globalisation rather than the virus itself. Human activity is interconnected worldwide. Regional events, decisions and activities have global reach. Global connectivity is complex and multifaceted. Occasional travel between extremely disparate localities contrasts with thick patterns of long-distance migration and international trade. The impact of distant events, decisions or activities upon local circumstances can be enormous. Examples include colonisation, world war and world depression. Of course, none of this is entirely new. Globalisation has co-evolved with a world-spanning capitalist economic system since about 1500, when human activities associated with Western imperialism connected the Americas to Africa and Eurasia. In this context, the outward transmission of diseases from western countries destroyed indigenous populations. 
TDB Recommends NewzEngine.com
Globalisation in its contemporary form, however, has one distinctive feature. Ideas, goods, information, capital, people and microbes are diffused with unprecedented velocity. These diffusions are enabled by modern technologies of transport and communication – railways, automobiles, airlines, telephone exchanges, terrestrial broadcasting, cables, satellites, interlinked computers, the internet and social media. Our lives are shaped by high-speed interacting global networks associated with financial transactions, trade, travel, international politics, media communication and consumer culture. 
Consequently, 24/7 media representations of a momentous, unfolding event can feed back into the event itself via a global loop encompassing radio, television, Facebook, Google ,We-Chat ,the twittersphere, blogosphere, specialist web platforms and portable devices. In these conditions, unexpected and substantial developments will accelerate the generation of feedback loops across multiple global networks. Such developments may involve military conflict, terrorist atrocities, a massive natural disaster or a pandemic. A cascade of associated events will expand and further intensify the mediated interplay of feedback loops. 
Contemporary globalisation is not just about fast-moving human interaction, communication and conflict. It is also an expression of global capitalism. Transnational corporations, central banks, investment banks, interlinked stock markets and speculative bubbles in shares, property and derivatives cut across national economies and geo-political rivalries. The whole edifice is inherently fragile, as the spread of Covid-19 has revealed. Slowdowns of just-in-time global supply chains linking manufacturers in China with importers and retailers worldwide are having multiple effects. As Chinese workers lose wages and jobs, the likes of Apple and Walmart revise profit forecasts and trim their own workforces. Countries reliant on Chinese imports will experience balance of payment difficulties. Dwindling supplies of strategic goods such as semi-conductors, computer chips, plastics, telecommunications hardware and automotive components will curtail much business activity within importing countries.
Declining profit projections for large firms are influencing daily share prices, equity trading patterns and investor mood across the world's major stock markets. This is damaging for the financial sector. As Tony Yates observes "a widespread halt in economic activity could cause insolvencies and defaults on bank loans putting the viability of banks in question and spreading financial disruption even further" ('Post the 2008 crash…', Guardian, 2 March). All of these tendencies, together, heighten the risk of a worldwide financial meltdown. Already, global capitalism and national capitalist economies are experiencing weak growth and high levels of private debt. Against this background, real-time viralities of rumour, fear and panic could trigger bankruptcies and bank runs. 
Meanwhile, aggregate demand and consumer sentiment fluctuates rapidly. If masses of people cancel or postpone holidays, airline profits fall, hotels empty out, tourism operators fold and local tourism economies collapse. Redundant workers without disposable income cannot support local retailers and receiverships increase. Sensational media headlines and social media clickbait sparks panic buying among consumers worrying about food shortages. Pictures and videos of shoppers emptying shelves and queuing outside stores go viral. Resulting increases in panic buying creates the very food shortages that consumers were trying to avoid.
On the preceding analysis, New Zealand is in a difficult situation. After July 1984, 15 years of neoliberal economic policies undermined economic sovereignty and increased our vulnerability to global capitalist forces. Now, in 2020, the national economy has all but dissolved. Overseas ownership of urban and seafront property, farmland, forests, agricultural value-chains, tourist businesses and hotels coincides with utter dependence on export markets, especially in China. Chinese and South East Asian student revenue props up universities, polytechnics and many high schools. Apart from Kiwibank, our major financial institutions are Australian owned. The BNZ, ANZ, ASB and Westpac will respond to the Coronavirus fall-out according to their own priorities rather than those of the New Zealand government.
Herein lies the difficulty. Government strategies to contain the spread of Covid-19 have been hampered by our economic vulnerabilities and dependencies. Thus, really tough restrictions or bans on incoming travel from countries with proven domestic transmission patterns would be economically disastrous. I am referring to Australia, the United Kingdom and the US, alongside China, Italy, Iran and other countries. Such an intervention would tank the tourist economy and bankrupt entire towns. Without sufficient rates revenue, Queenstown and Rotorua would be virtually ungovernable. Rising unemployment and social breakdown in our major cities would be the eventual result.
As of now, economic pressures are building on all fronts. Tourist numbers have dropped, Chinese and other students are not arriving, forestry exports cannot enter Shanghai and importer-retailers are receiving less stock from their supply chains. Domestically, shoppers are deserting downtown Auckland, and many are spooked by social media gossip and lurid front pages. On Saturday 1 March, for example, the New Zealand Herald's block-lettered headline 'Pandemonium' was accompanied by a vivid picture of a full-suited quarantine officer fumigating a train carriage. Although closer inspection revealed that the photo was taken in Tehran, the local inference was clear – Aucklanders are in panic, supermarkets all over the city are being emptied of canned food, hand sanitisers and toilet paper. This was more than simple reportage. A major newspaper was contributing to the mediation of social fear. 
How, then, should Jacinda Adern and her government respond? What are the main priorities? Well, if my globalisation thesis is correct, our leaders should plan for a worst-case scenario. Over committing money and resources to tracing cases from overseas is too reactive. The virus is already here. The cabinet and health officials should be thinking ahead, proactively, as if they are playing chess against a wily opponent. National, regional and community health plans should be pre-funded, organised and coordinated, ready to roll out. Fiscal policies to counteract regional economic downturns should answer to the principle of counter-cyclical Keynesianism. Forget budget responsibility rules and all other neoliberal cant. With historically low interest rates, deficit funding of health infrastructures, cash-strapped educational institutions and local businesses should be paramount. However, large corporate entities with deep financial reservoirs should not be subsidised. The government's first priority ought to be the economic livelihood of New Zealand citizens. On the travel front, all commercial flights to Western Samoa must be cancelled forthwith. A Covid-19 outbreak there would be impossible to contain, given poor medical facilities and the prevalence of obesity and diabetes among the population.
Finally, central and local government, health experts, doctors, nurses and media professionals must counter the viralities of fake news, fake remedies and the cyber-bullying of victims with a calm, evidence-based communication strategy. Our Prime Minister understands this requirement and has done much to quell the mediation of hysteria. If this performance continues over the coming months as difficulties mount, then she deserves to be re-elected.