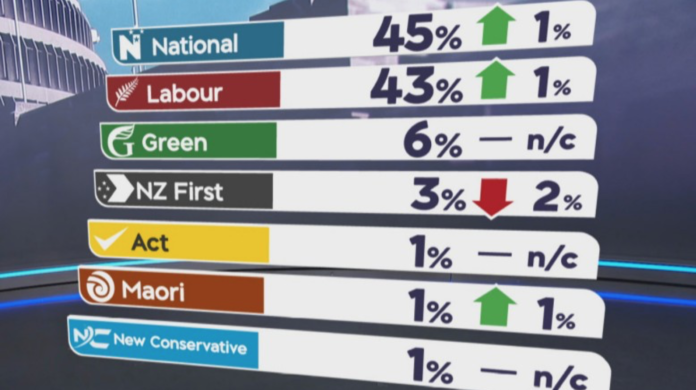 For those comrades trying to crow over the latest TVNZ poll, a couple of sobering truths,
1: Its 50-50 methodology between landline & cell phones is unique and probably closer to the reality than we like.
2: Greens have gone backwards in every election for the past 10 years so have every chance of slipping under 5%.
3: If NZFirst & Greens slip under 5% their vote is redistributed to the Party with the highest Party vote and in that poll, it would be National.
4: National are on bloody 45%!
TDB Recommends NewzEngine.com
It's just astounding isn't it?
National on 45%???
After damaging the country for 9 years by underfunding all our social services and basic infrastructure, after falsely pumping the economy up by selling cheap milk powder to China and opening up the immigration taps to prop up property speculation they are still recording 45% in the polls???
National's continued stratospheric polling is unprecedented in NZ political history.
The stunned silence on Twitter of National being 45% is a reminder Twitter is a tiny woke echo chamber that alienates more than it recruits because there's no way National deserves 45%.
I'm not sure what is more frightening, that they have 45% for doing nothing or that they have 45% with a leader as weak as Bridges.
The saving grace of the Poll is 13% don't know which is bloody high – that's where our efforts need to go in re-electing this Government, sadly the Left are shit at recruitment.
On the Left, we are great at being offended & telling others how racist/sexist/transphobic they are, but crap at winning hearts and minds. I fear other kiwis are responding to our call out social media pile ons and not the movements social justice goals.
Social media has not connected us, it's created echo chambers where the most outraged voices are algorithmically promoted and in a Millennial culture of safe spaces and micro aggression policing, that subjective outrage eclipses objective reality.
We like to tell ourselves that the satanic hysteria that wrongfully convicted Peter Ellis wouldn't happen today, but with the spread of woke mob social media where accusation is the new evidential threshold, he'd probably be found guilty of everything under the sun if the accusations were made on social media today.
Look at last years Pride Parade that saw 30 000 Aucklander's celebrate the rainbow community and then compare it to the bare 2500 who turned up after woke Trans activists stacked the Board and voted to stop Police marching in uniform because the uniform would 'trigger' some Trans people.
Pure temple identity politics vs broad church class politics where exclusion is the new inclusion is no way to win the 51% democratic majority when it comes to elections.
I think our most voracious activists on social media have become the worst alienators. This is why I fear the Greens will slide under 5% come the 2020 election (hopefully the cannabis referendum will keep them relevant).
On a lighter note.
5% believe the moon landing was fake.
1% vote for ACT.
More people believe no one has landed on the moon than believe in David Seymour.
That is all.