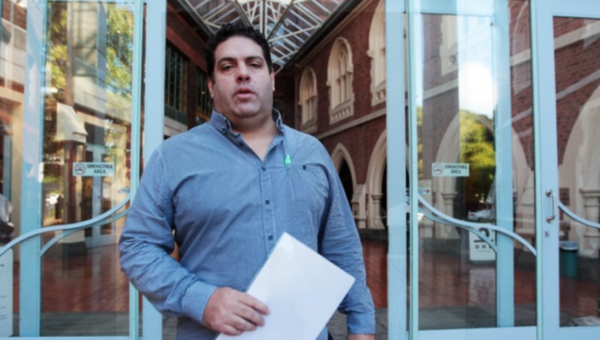 The longest running defamation case in NZ ended last week and the fact that in the end Slater had no defence whatsoever is as extraordinary as it is shameful.
The full story of the beating at home by Matthew Blomfield and the vile means which Slater decided to destroy Blomfield's life by publishing stolen emails is as ugly as it is hypercritical in light of how Slater screamed victim over his own emails being hacked and handed to Nicky Hager…
Matt Blomfield was beaten bloody. A shotgun blast ringing in his ears. Blows from the stock of the weapon splitting skin to send blood running down his face.

It was a horrifying attack at home. His children were watching. One stood at the window as her father grappled with the intruder. The other sought shelter in the house, seeking safety from the armed man who brought violence to their home.

Blomfield had fought off the attacker, fiercely enough that police later found blood from which they took DNA.
There is no justification for anyone to be beaten in front of their children like a dog in the street. Incredible that Blomfield's stolen emails and the long fight for justice he has suffered at the hands of Slater doesn't seem to get anywhere near the speed of Justice Slater has enjoyed. Blomfield has been fighting for 7 years to get Police to move on his stolen emails and he has been beaten in front of his family, Slater on the other hand has an investigative journalist's house raided within 36 days of making his complaint.
The double standards of the Police is breathtaking. When you look at the back story of Blomfield's defamation case, the sadism is disgusting…
TDB Recommends NewzEngine.com
Blomfield's departure from Hell Pizza wasn't pleasant. There were accusations, ill-feeling and an eventual falling out with those who had been friends – Hell Pizza director Warren Powell, his PA Amanda Easterbrook and Powell's friend Marc Spring.

The depth of feeling is captured in emails held on a file in the Manukau District Court, where Blomfield is suing Slater for defamation. Filed in support of Blomfield's claims, the emails show Easterbook arranging a meeting between herself, Slater, Spring and a liquidator in April 2012 for what was called "Operation Bumslide".

In a chain of emails between them, there was a joke about Blomfield being raped and one in which Spring made disparaging sexual remarks about Blomfield's wife Rebecca. Spring did not return calls.

Easterbrook did not want to comment beyond saying: "Just because you're copied in on something doesn't mean you agree with it."

About that time, Facebook messages apparently hacked from Slater's computer and supplied to the Herald, show him forecasting a "big story". He told one confidante it "involves Hell pizza, a g[u]y called Matt Blomfield" and a lawyer. "I've got him on money laundering, cheque fraud," wrote Slater.

Blomfield alleges Operation Bumslide began to play out in early May 2012 when he became the focus of more than 100 articles posted to the Whaleoil site in a two-month period. Slater declared the beginning of an investigation based on the contents of a hard drive he had obtained on which were 10 years of Blomfield's communications and personal records. There was no explanation about where it came from, but court documents would later allege Blomfield's former business associates had given it to Slater.

In the weeks that followed, those court documents allege, Blomfield was described as being involved in "drugs, fraud, bullying, corruption, collusion, compromises, perjury, deception" along with being a "psychopath" and a "pathological liar" who loved "notoriety and extortion".

Blomfield, who sued on the basis the claims were untrue, says he was puzzled over Slater's interest: "I'd never heard of Whaleoil." He says he wasn't contacted before any post ran on the site but watched, initially incredulous then frustrated and finally strained, as the blog painted a picture of someone he says has no resemblance to himself.

"There were stories of me committing every crime you can imagine. I felt like the only thing Cameron Slater hadn't accused me of is killing someone. The time and energy it takes from someone is very hard to deal with.

"There were only so many people I could sit down with and walk them through the story and say what had actually happened. You're never going to match the reach of Cameron Slater."

The apparently hacked Facebook messages show the blogger appealed to media interest in his Blomfield posts. In May, after the campaign began, one Facebook correspondent asked Slater: "Any journos taken you up on your offer?"

"Not yet," the blogger replied. Journalists were "lazy", he said.
…there was NEVER any public interest in what Slater did to Blomfield, that's why Slater lost his case in Court when he tried to pretend he was a Journalist to gain legal source protection against Blomfield's defamation case.
This used to be NZ.
The damage of this political spite has yet to be calculated, but the most terrifying truth that was uncovered was that New Zealanders, when given the opportunity to throw this toxicity out, embraced it and awarded Key a third term.
Maliciousness shouldn't be rewarded, yet this nation did just that.
Matthew Blomfield refused to allow the bully to win, the delusional fanatics who still visit Whaleoil have gone terribly quiet since this ruling. The full truth of Slater's malignancy has been exposed but it says as much about us as a people as it does about Cameron.
Blomfield should never have had to fight so long for such empty victories.