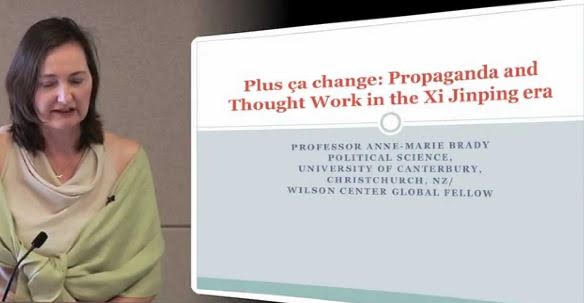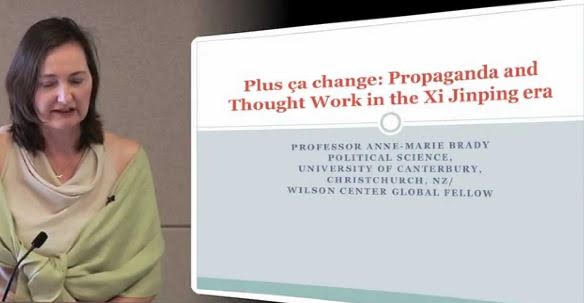 ANNE-MARIE BRADY presents this government with a rather large problem. Her alleged harassment by agents of Chinese national security has all the makings of a cause celebre. Were Professor Brady's antagonists from any other nation but China the problem confronting Jacinda Ardern and Winston Peters would not exist. One has only to recall Helen Clark's response to the discovery of an active Israeli spy mission underway on New Zealand soil to appreciate the political capital to be made out of being seen to take the defence of New Zealand sovereignty seriously. Unfortunately for Ardern and Peters, however, the Peoples Republic of China is not Israel – it's New Zealand's largest trading partner after Australia. When Israel gets angry it cannot threaten to undermine the New Zealand economy. Pissing-off China, on the other hand, can be extremely injurious to this nation's economic health.
The latest chapter in the Brady saga, a letter from a group of academics, journalists and activists demanding a more aggressive defence of academic freedom, can hardly have improved the PM's mood. Her hopes of the whole matter quietly disappearing have been dashed. People want answers – not evasions.
But do "people" have any right to answers in a matter as delicate as this one? Is the public entitled to push aside all the geopolitical and economic factors impinging on their government as if they are of no importance?
Prattling on about being the "critic and conscience" of society is all very well, but when New Zealand's universities are so dependent on the continuing inflow of international students, is it really all that wise to antagonise one of the largest contributors to this country's educational export trade? It would be interesting to see how the nation's vice-chancellors would react if equivalents of Anne-Marie Brady started popping up on their own campuses. Each one launching equally uncompromising attacks against the Peoples Republic. How would all that criticising and conscientising affect their bottom-line I wonder?
TDB Recommends NewzEngine.com
And all that Chinese investment in New Zealand's agricultural sector: all those massive milk treatment plants springing up around the provinces; how keen would the government be to see all that brought to an end? How would Shane Jones respond to the loss of so many well-paying jobs? And David Parker, how would he feel when New Zealand's perishable exports started piling-up on China's docks? How would Federated Farmers react to a Chinese freeze-out? Or the Dairy Workers Union, for that matter?
New Zealand lives by its agricultural exports – which is why the New Zealand-China Free Trade Agreement was so important when the Global Financial Crisis struck. Without it, this country would have had significantly less to come and go on. Chinese consumers saved us from the sort of vicious austerity measures that afflicted the people of the United Kingdom and Greece. The nature of the Chinese system has not changed since 2008. If we were happy then to be given access to the huge Chinese market, are we not happy now? What's changed?
We all know the answer to that question. What has changed is that the United States is no longer prepared to see China assert its "hard" (military and economic) and "soft" (cultural and propagandistic) power unchallenged. In concert with its principal regional allies, Japan and Australia, the US is pushing back against Chinese expansion into the Pacific – once an American lake but now the location of intense international rivalry. Try as it might (and it tried very hard under John Key and his foreign minister, Murray McCully) New Zealand is finding it increasingly difficult, in the age of Donald Trump, to keep its distance from this looming fight between the Eagle and the Dragon.
Professor Brady is an acknowledged expert on the production and delivery of Chinese soft power – its "magic weapons". But, the good professor isn't above advancing a little soft power on her own account. Is it no more than a coincidence that she has been called upon to present her ideas to the Australian parliament? Or that her academic articles and speeches are followed closely, and receive considerable approbation, in Washington DC? That the name of Anne-Marie Brady started appearing in our news media at exactly the same moment as the rivalry between the USA and China ratcheted-up several notches – was that nothing more than serendipity?
Much has been made of President Trump's extraordinary statement concerning America's relationship with Saudi Arabia. What made it extraordinary was its brutal honesty. For once naked American self-interest was presented to the world without its hypocritical vestments. "It's about America first", said the President, truthfully. Almost in as many words, he intimated that if putting America's interests first means turning a blind eye to a cold-blooded, state-sanctioned murder, then so be it – that's what his administration (like all its predecessors) will do.
Jacinda can't really say "It's about New Zealand First" – that could be misinterpreted, but if she were to say something similar in defence of her continuing silence vis-à-vis Anne-Marie Brady, then she would earn the respect of Beijing and Washington alike. With considerable relief, the advisers to both President Xi and President Trump would be able to tell their bosses: "This New Zealand prime minister, at least she knows how the game of geopolitics is played."