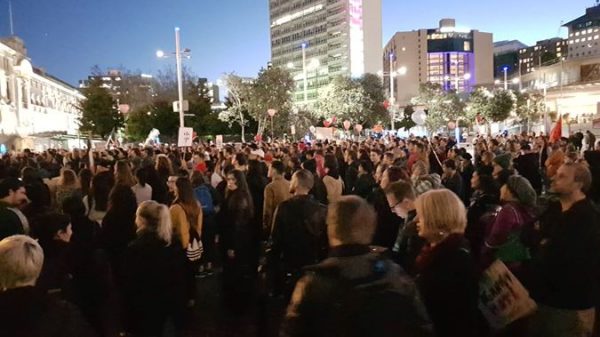 I love Aotearoa and hate racism. And the ability to protest peacefully is something I'd never want to take for granted. It's a right, a freedom, of speech and action, and I exercise it regularly; whether it's against environmental abuses, for animal rights, for solidarity with Palestine, for the right to access cannabis should I choose. Unjust laws and practices demand that I act on my conscience and take to the streets with banners and flags, to make a stand and to try to effect change, to mobilise against injustice.
Sometimes when I'm protesting, I'm accused of being a fanatic, part of a mob, disruptive, of being wrong. My beliefs and participation in marches and blocking the streets looks like radical political interference to those who don't share my views. While I think it's my moral duty to stand against injustice, others think I'm overly political and disrespectful of the established political order.
But I'll continue to exercise that right, and recall that that not too far away in our history, anti-racist Springbok tour protestors were beaten by state forces for also protesting a view contrary to widespread opinions of the time. Our right to take to the streets in defence of personal freedoms and in favour of law change is something denied in other countries and at other times.
That this week we could freely assemble and speak against inflammatory views of visiting racists is a sign of an open society. But things are never black and white. My views expressed as freedom of speech looks like fanaticism to others. And similarly, what looks like the expression of others' fanaticism can also look like freedom of speech to some.
These paradoxes came to a head this week with the reaction to the visiting Canadian self-described 'libertarians'. The unpalatable, inflammatory, provocative and intolerant views of the right wingers Southern and Molyneux, were met with some intolerance on the other side.
TDB Recommends NewzEngine.com
In my view we're right to be reject prejudiced and racist views. We should tolerate no racism. But signs saying 'Free speech be damned', and 'Punch Nazis', run the risk of bringing intolerance back onto those of us whose own views would be shut down by more conservative forces in society. I consider my own views to be humanistic, liberal and progressive, part of the fight for a more just distribution of wealth and a fairer treatment of all life on our planet. But there are plenty of others out there who see my views as radical and a threat to society. They'd like me to shut up and sit down, where I feel the need to speak up and rattle the cage.
I was heartened to see a reported thousand citizens gathered in Aotea Square on Friday night, protesting against racism and the visiting Canadian right wingers. A thousand people out on a cold wintery night, standing against racism is a powerful force. But it's generated a lot of discussion about whether it is right to curtail free speech just because we don't want to hear the message. What's that mean for my own freedom of speech when people take offence at my views and would rather I just sit down too? There's an irony in any position that expects freedom of speech for one's own view but not for the view of others.
What concerns me most, are not the fringe and fanatical views of these visitors Molyneux and Southern, whose message has probably got a much larger audience because of the attempts at suppression, but the wider forces of racism in our society that they reflect. White supremacy has no logical justification and should have no traction.
But racism is alive and well and needs to be fought, not just on the occasional Friday night when visiting fanatics ignite the flames. The institutionalised and historic racism that sees Maori and Pacific Island people over-represented in prison statistics, in poor health outcomes, in educational under-achievement, in police bias, in poor wages and housing, in snide negative stereotypes, in lost lands and sovereignty, in a lack of self-determination, culture and mana; the racism that sees Maori and Pasifika denied access to positions of economic and social power, home ownership, in having a home, in material hardship, reduced life expectancy, these are the forms of racism that we should be fighting against every day in every sector. But you probably won't get any of that on a slogan or a banner brandished in Aotea Square on a Friday night.
I'm sure anti-racism protestors on Friday night were as much against Southern and Molyneux as they were against racism per se. But Southern and Molyneux are a representation of more vile historical and contemporary forces, they're the symptoms of colonial oppression and appropriation, of a dominant narrative that shapes society, the economy and our everyday lives. Racism needs to be fought on the streets, the workplace, the media, the economy, at home in New Zealand, and in nations across the world, every night. The most significant injustice isn't that some barely credible white supremacists travel the world vomiting diatribe, but that racial inequality still informs and shapes life outcomes marginalising ethnic groups here and in every nation on a daily basis.