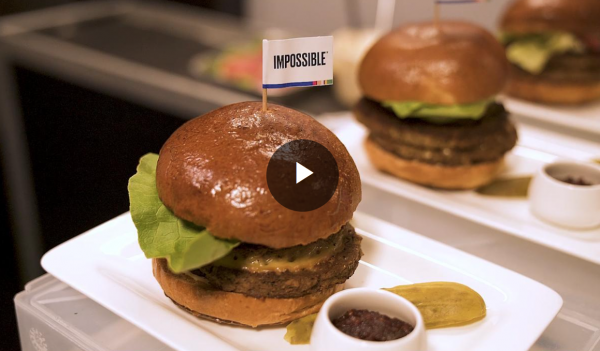 NZ First MP Mark Patterson criticises Air New Zealand over 'Impossible burger'

Another New Zealand First MP has taken aim at Air New Zealand, this time for serving up synthetic meat burgers to passengers.

The party's primary industries spokesman Mark Patterson called the promotion of the "Impossible burger", which contains a plant-based meat substitute on some international flights a "slap in the face" for New Zealand's red meat sector.

Air New Zealand has teamed up with Silicon Valley start-up Impossible Foods to serve the burger to premium customers.

The plant-based burger will be available as part of its business premier menu on flights NZ1 and NZ5 from Los Angeles to Auckland until late October.

"The national carrier should be showcasing our premium quality grass-fed New Zealand red meat, not promoting a product that has the potential to pose an existential threat to New Zealand's second biggest export earner," Patterson said.

"There has been widespread concern in the regions at the loss of services from provincial airports and now we have Air New Zealand actively promoting synthetic proteins which have a genetic modification component to them. This is not a good example of New Zealand Inc working together for the greater good."

Patterson called for Air New Zealand to review its decision and instead showcase New Zealand produce to international visitors.

National's agriculture spokesman Nathan Guy expressed his disappointment on Twitter over the promotion.

"Disappointing to see Air NZ promoting a GE substitute meat burger on its flights to the USA. We produce the most delicious steaks & lamb on the planet – GMO & hormone free. The national carrier should be pushing our premium products and helping sell NZ to the world," Guy tweeted.
These MPs clearly have no idea of the speed & multi-billion dollar global investment that is going into synthetic meat – that's deeply concerning because once synthetic meat is here, the entire backbone of our economy is gone, their ignorance suggest no one is aware of this.
Our dairy and meat industry face an existential crisis.
Meat and Dairy pollute our water, cause human dietary health issues and are the main drivers of climate change in this country. The millisecond synthetic meat and dairy can replicate the taste of meat and dairy with plant based alternatives grown at a fraction of the environmental degradation and water consumption, it is all over rover for our Dairy & Meat industries.
This is a simple fact.
What we need to be doing now, is urgently funding the adaptation of our diary and meat industry away from what they are doing right now.
Planting trees is a process under way, if we legalise cannabis, Hemp production could replace dairy and meat and we should be funding synthetic meat R&D ourselves.
Dairy prices have just slumped…
Dairy product prices decline for eighth time in 10 auctions
Dairy product prices declined at the Global Dairy Trade auction, led by a larger-than-expected drop in whole milk powder, after Fonterra said an increase in its May production lifted its expectations for the season's milk collections.

The GDT price index fell 5.0 per cent from the previous auction two weeks ago. The average price was US$3,232 a tonne. Some 26,519 tonnes of product was sold, up from 21,634 tonnes two weeks ago.

Whole milk powder sank 7.3 per cent to US$2,905 a tonne.
…many Dairy farms are up to their eyeballs in debt from dairy intensification and with a looming economic crisis that will ram interest rates up, many will go to the wall.
The Government should be preparing for mass buy ups of existing dairy farms with the intent to change the land use or offer farmers the option of doing it themselves to buy out their debt.
Because of the speed of climate change, huge ideas with radical vision are required. That a NZ First and National MP can't see the need should surprise no one because they themselves are like the Dairy and Meat Industries – dinosaurs that don't know they are extinct yet.