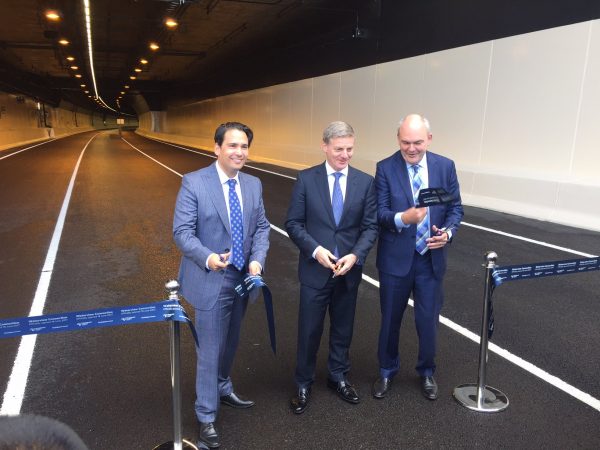 National is preparing to become the Champion of Highways, slaying the dreaded dragon of public transport, rural roads and road safety with their weapon of choice being petitions.
It's not rocket science as to why we need to transition from single user vehicles to public transport; in many cities it is utilising the space we have and accommodating for massive population growth. With year on year records of deaths on NZ roads, safety measures are a no-brainer.  And a promise to develop regional roads are both a political promise and necessary for connectivity in areas normally marginalised.
There's also the environmental incentive to shake up transport funding; Westpac has just realised a report claiming that reducing our carbon emissions could save us $30 billion by 2050, or pay much more and suffer drastic changes if we don't act now. Single use vehicles constitute around 20% of emissions, and more highways only enable more traffic and freight such as trucks which then cause quick erosion of the highway in a vicious cycle.
For many years state highways have been used as a political football to marginalise rail and alternative transport. Increasing funding for rail, public transport and regional roading simply evens the playing field. And there are good arguments that because rail and roads are funded so differently (road is the Land Transport Fund and rail is from the Consolidation Fund) there has been a purposeful and structural deficit in rail that creates the illusion of being 'uneconomic'. Since when is bringing diversity and equity back to transport funding been a bad thing? Never put your eggs in one basket.
The differences in funding is why there is a need to cross-subsidise the Land Transport Fund into the rail space, even if it incurs the ire of the non-political board. It may be a dead rat for those paying road user charges and petrol levies to finance rail but it also means less roads being used, repaired or built. We need a similar analysis when deciding funding for either road or rail. They are both necessary for transport, but roads are currently subsidised far more. When discussing public investment, there should be an integration of all land transport that has the best societal return.
This does not mean the government has abandoned roads. There will be a 42% increase for local road improvements, a 96% increase for regional projects and 17% for highway maintenance. That's still a win for roads.
What frustrates me the most is the faux uproar National is creating. There will be an excise levy on petrol of around 10c a litre. Ok that sucks for many people, even thought I personally don't mind it. We need to ween ourselves off petrol, and hitting the wallet works. But side-swiping everyone with a petrol levy is exactly what National did (alright, they only increase it by 9c) for their Roads of National Significance. Hypocrisy at its finest, and cynical of National to think people would forget.
TDB Recommends NewzEngine.com
Every political party is allowed their constituency, their "issue" (or Trojan Horse) which they can campaign on. Good for them. But when National comes out swinging about how $5 billion was taken from their roading projects to help build Auckland build light rail, they're misleading to say the least.
The Transport Agency has said that money from road projects cannot be transferred into the Consolidation Fund, where the money for rail comes from. So that claim is not true.
Phil Twyford (Transport Minister) has also said that the promised roads National campaigned on will be looked at individually to judge their merit. And here's the kicker – very few of the roads National promised had actually been costed. They're outraged over potential roads that were only election promises.
If National is going to be the Champion of Highways they should learn the attributes of Champions – integrity and honesty.
Damon Rusden is a chef, journalist and law student with an avid belief in civic education and accountability. He was also a Green Party candidate.