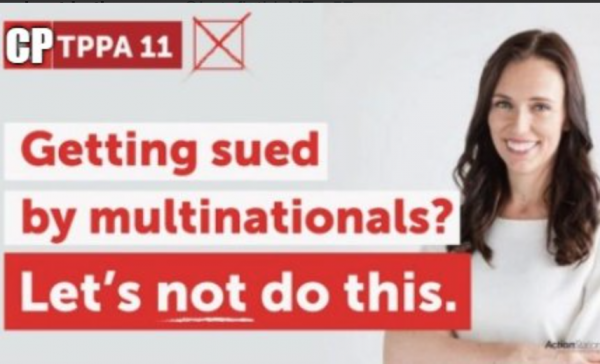 I'd like to be able to offer well-deserved praise to the Labour-led government but their policy offerings from their first 100 days have been uninspiring.
I'm pleased to acknowledge the positive steps underway such as the Pike River re-entry, stopping the sale of 2,500 state houses in Christchurch, the investigation into abuse of children in state institutions and the mental health inquiry.
In each case the issues involved are central to the public interest and the new government is acting quickly and firmly to mop up the previous government's failures.
In each case the public support was already assured for each announcement so there was no chance of serious kickback from National or its vested interests.
TDB Recommends NewzEngine.com
On the other hand, three crucial decisions of the new government will have a wider impact on the country and in each case Labour has failed the public interest in favour of vested corporate interests.
TPP:
Having done their best, before the election, to pretend they were opposed to the TPP and the secrecy around its negotiation, the new government has simply helped repackage the agreement with a few cosmetic changes to make it seem more palatable. It isn't. It's the same old bill of rights for foreign corporations to plunder our economy that its always been.
Child Poverty:
It was gobsmacking to hear the government's target is to halve child poverty in 10 years. This is surely the lamest target of any Labour government on any issue in its history. But it's also a meaningless target as Labour will have to win three more elections in a row to be able to meet it in any case.
This is the Prime Ministers signature policy. She tells us this is the reason she is in parliament. Pathetic.
Even the beneficiary-bashing Paula Bennett had reason to criticise.
"The Prime Minister committed her Government to reducing the number of children in material hardship over the next ten years by 70,000. Yet, over the last five years of the National government, the number of children in material hardship fell by 85,000.

"So this Government is promising to do less over a longer period of time than National did – in spite of its bold claims it would do better.
Housing New Zealand:
The new government's decision not to turn Housing New Zealand back into a government department is their first broken promise.
Labour's Phil Twyford told public meetings up and down the country for over a year that HNZ would change from a profit-driven, state-owned corporation into a government department focused on providing housing services to the most vulnerable New Zealanders. It was a bold policy – the one Labour housing policy which had the potential to be transformative for low-income families struggling with a thuggish corporate landlord.
Twyford tells us HNZ has changed its ways and is now working hard to help tenants. Oh please! HNZ staff on the ground have usually done their best for tenants but they have been forced to work under corporation policies where tenants were treated as the lazy bludgers National Party ministers told the country they were.
Low-income families saw this promised change to HNZ as the only bright spot in Labour's housing policy in light of Twyford's hopelessly inadequate promise to build a measly 1000 additional state houses each year when 41,000 New Zealanders have extreme housing need.
Again National had reason to criticise.
National's housing spokesman Michael Woodhouse said this was "yet another backtrack from Labour."

"It's become more and more obvious that Labour's house building plan involves doing exactly what the National Government was doing."

In their first 100 days Labour has offered us "not-National" policies but little else – unless a Woman's Weekly Prime Minister is considered in the common good.