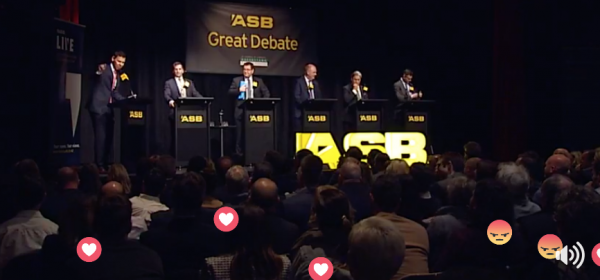 The Finance Leaders Political Debate was held last night and it was far more insightful and interesting than anything we've seen so far.
First off, I have to congratulate Patrick Gower. Whatever you think of his bloodsport style to reporting politics, he was an excellent host who worked hard to give everyone a fair hearing while wrangling some of the most rambunctious egos in politics.
Best burn of the night was Patrick Gower smacking down an overtly friendly David Seymour who suggested the two of them get a drink after the debate, "I don't think so" replied Gower with all the dead pan delivery f Hannibal Lecter ordering room service.
The event was set in Queenstown, so lots of new money with no wisdom or compassion. Think rich racists who believe climate change is a Greenpeace hoax and who hand on heart would tell you current Labour Party policy is actual literal socialism.  Home advantage was to Joyce and Seymour.
TDB Recommends NewzEngine.com
The debate was however incredibly surprising.
Steven Joyce – polished
Whatever you want to say about Joyce, he is as smooth as silk and as confident as a porn star at a pissing contest. His delivery of the facts as National see them is dangerously sophisticated and terrifyingly reassuring. He is a National Party battleship and if you had only been listening for him you would believe all is well in NZ and that we don't realise how lucky we are.
David Seymour – entertaining and charismatic 
I know, I can't believe I wrote those two words to describe Rimmer as well.  One things that annoyed the hell out of me about the Right is that they do manage to capture charismatic arseholes to be their leader (except for Jamie Whyte). Seymour was funny, engaging and entertaining. Sure I despise his politics, but he had a great night during the debate. If that David Seymour keeps popping up there is a real chance ACT could get a second MP in off their list, the problem for Seymour is that National's new power faction, the 'Blue Dragons' (Chinese-New Zealanders) view euthanasia as an obscenity and there is real pressure to euthanise ACT. If Labour were smart, they would start playing this angle up, it could be enough to cost Seymour his seat in Epsom.
Grant Robertson – passionate
Grant was cautious, as someone who might actually become the finance Minister shortly, he wasn't going to get painted into a technical corner, so not a hell of a lot in terms of detail, but where he did shine was when he unleashed on the values he believes should shape economic policy. Robertson went to the mountain top in very credible ways by clearly stated to the powers that be that he intended to inject a very different set of values into place because those on the bottom were suffering. Grant gets a lot of stick on the left for not articulating our revolutionary anger at the current system, I think he's learned that you catch the money by speaking softly, not screaming revolutionary intent. His performance didn't spook any horses, that was the point.
James Shaw – hands down winner
I say this as someone who has spent the last 3 years knocking Shaw, but since Metiria's courageous admission, his mana and personal integrity has only climbed. At the debate he absolutely shone. He had answers, he had solutions, he articulated the current problems, he was incredibly polite, showed manners, even ticked Gower off for not giving ACT the same amount of time to speak on an issue. His performance was master class and he managed to rise above the squabbling that the debate sometimes descended into. That debate alone is enough to get the Greens back to current polling, Shaw won votes last night, he didn't just appease his voter base.
If there was any question mark over Shaw's ability to lead the Greens to a higher percentage than they gained in 2014, it was answered and sorted by last nights performance.
Winston Peters – Painfully Brittle
Remember those last fights by Muhammad Ali? The ones where you just know the champ shouldn't have fought them? That was Winston last night. Punch drunk, swinging haymakers at everything that moved, barely coherent at times, grumpy, losing his cool, not feeling the crowd – Winston was all over the place. Yes there will be sympathy for the way he has been treated by this National Party smear, but as a power, Winston and by definition NZ First are waning.