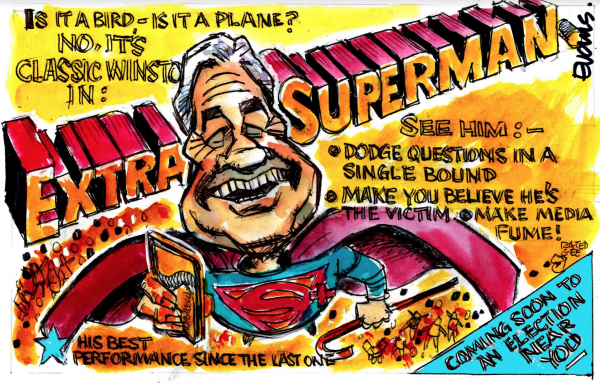 Winston Peters is going to get medieval on who ever leaked his information to the media.
He is an old school gangster who knows where half the bodies are buried because he's put them there. The laziness of this assassination attempt and the enormous public backlash it is forming actually risks eclipsing Labour.
Luckily for Jacinda, the debates are looming and that media lens will squeeze Winston out, but there is no question that this has erupted and given Winston maximum exposure and sympathy.
The irony of this #motherofallscandals that Tim 'Editor who cried scandal' Murphy was boasting about isn't Winston's supposed crime, it was how senior Public Servants broke the law to help National to manipulate the media into attacking him.
Tim's tweet is the most credibility eroding statement out of the fledgling Newsroom whom to date had been so fervent in their status as the new standard for Journalism. It's like the first time you were disappointed with The Spinoff. Meanwhile I was releasing a story regarding police mass surveillance of 100 000+ NZers and their illegal actions against me as part of a wider narrative of the State strangling off critical voices. But you know, #MotherOfAllScandals.
TDB Recommends NewzEngine.com
Amen Brother.
This has become the Mother of all scandals because of the outrageous politicisation of the public service and the viciousness of the Government to use these types of tactics.
Meanwhile, No one can talk about Paula Bennett..
So Anne Tolley said nothing. Paula Bennett said nothing and Wayne Eagleson said nothing.
So we are to believe that National sat on this information about Winston and did nothing despite the PM's Office colluding with the SIS to falsely undermine the Leader of the Opposition months before the 2011 election. This despite Paula Bennett releasing detailed information about beneficiaries who were complaining about her draconian welfare system. This despite Paula Bennet saying she would release private information again even after the Human Rights Commission ruled against her and said she couldn't do that. This despite all the evidence that this type of dirty politics is exactly what National do.
Despite all that we are to believe National on this occasion are as innocent as the driven snow?
As right wing blogger Richard Harman points out using late night revelations…
Why did Social Welfare Minister Anne Tolley hold a second meeting to discuss Peters' private pension details when the first clearly breached the Privacy Act.
Why did the Prime Minister's Chief of Staff, Wayne Eagleson, not brief the Prime Minister on the matter and why did he not counsel Tolley not to hold the second meeting.
Why did the State Services Commissioner, Peter Hughes, brief State Services Minister Paula Bennett on the matter?
Add to this the latest revelation from this morning that Paula Bennett spoke with Anne Tolley – where is that in the timeline? Why hasn't that been added?
Did Paula meet at the second meeting with Tolley to discuss this?
I think this smear against Winston was launched to bury the information that Bill English's Office threw everything they could at the Police to censor and hide his involvement in their inquiry.
I've listed the reasons why the Todd Barclay affair is the only political story around, but let's point it out again.
Barclay lied for months about secretly taping a staff member, Bill English first didn't know anything, then did know something, then questioned if any such tape even existed and then admitted to being asked to listen to the tape that never existed while National Party Board members bullied staff and made veiled threats.
On top of that, English fought tooth and nail to hide his involvement and leaned on the Police to ensure that happened.
Oh and it turns out Bill sent 450 text messages to the staff member in question but he "wasn't involved".
And why did Bill protect Todd? The answer is obvious.
National only had the barest of majorities in Parliament, here is a list of the legislation National have managed to pass by protecting Barclay…
Housing Legislation Amendment Bill
Social Security (Extension of Young Persons Services and Remedial Matters) Amendment Bill
Trade (Anti-dumping and Countervailing Duties) Amendment Bill
Trans-Pacific Partnership Agreement Amendment Bill
Employment Relations (Allowing Higher Earners to Contract Out of Personal Grievance Provisions) Amendment Bill (National Party members bill)
Social Security (Stopping Benefit Payments for Offenders who Repeatedly Fail to Comply with Community Sentences) Amendment Bill (National Party members bill)
Children, Young Persons, and Their Families (Oranga Tamariki) Legislation Bill
Local Government Act 2002 Amendment Bill (No 2)
Employment Relations (Allowing Higher Earners to Contract Out of Personal Grievance Provisions) Amendment Bill (National Party members bill)
…this protection of Barclay has occurred because it allowed National to keep passing law. This abuse of power has occurred to protect National's political agenda.
That's political corruption.
This is why we need a new Government.