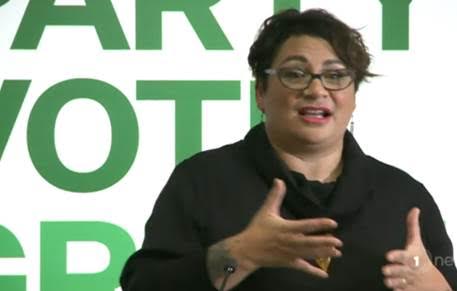 The disgraceful manner in which Barry Soper, Duncan Garner, Guyon Espiner and Patrick Gower have mauled Metiria for the brave admission that she, like many other beneficiaries, were forced to lie to the neoliberal welfare state to feed her child is pure misogyny and classism at its most grotesque.
None of these male broadcasters have had to deal with the horror and cruelty of WINZ. None of them have had to crawl on their belly in a demeaning manner to just pay the bills. They have no idea of the life Metiria had to live, yet in they go with all the judgmental beneficiary bashing neoliberal cultural hate that has become the corner stone of most mainstream media.
Here's Soper at his most misogynist…
Since we were talking about choice, isn't it the choice of a mother to have a child? 
…classy shit.
What astounds me is that Metiria has come in for more criticism and scrutiny for being a mother who stole for her child than the fucking Prime Minister's Office did when they secretly colluded with the Secret Intelligence Service to falsely smear the Leader of the Opposition, Phil Goff, months before the 2011 election.
The joy and clear hatred in display
In Guyon Espiner's case, it's a reminder that no matter how perfectly well they pronounce Te Reo, Radio NZ are still an elite media gatekeeper whose progressiveness is an aesthetic, not a philosophy or binding ethical stance.
TDB Recommends NewzEngine.com
As for Gower and Garner, on The AM Show this morning they were all saying they felt more sorry for Todd Barclay, a former tobacco consultant and rich boy who secretly taped his staff, lied about it, tried to deny it and ended up causing a secret taxpayer funded payout that would be about ten times more than the total amount of money Metiria 'stole'.
As far as I am concerned, theft for need is not theft, theft for greed is. That's something not one of these male broadcasters earning obscene amounts of money could never understand.
We should not allow these arseholes to promote their own limited view of social justice to determine public ethics.
We should not allow this sexist classism to win.
Blaming the poor for the situation they are trapped in is the most sanctimonious of deceptions by white male rich crackers who have little idea of hardship.
#ImwithMetiria