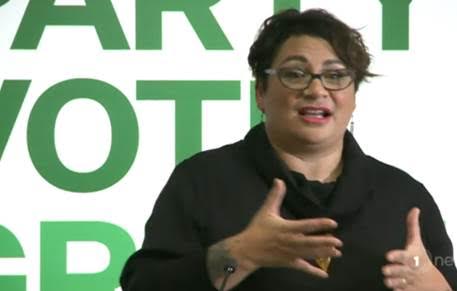 Young Nat activists mocking poor people
Brothers and Sisters,
My thoughts are with you as you watch Metiria viciously ripped to pieces by Patrick Gower, Guyon Espiner, Barry Soper, Duncan Garner, David Farrar, Matthew Hooton, Mike Hosking and John Armstrong.
These rich white male broadcasters who are vilifying Metiria for courageously admitting what you all know, (that the cruel system WINZ treats you to is impossible to live on), aren't just angry, they are frightened.
This character assassination of Metiria isn't just driven by naked sexism, racism and classism – it is driven by fear.
Read their diatribes and rants, beneath the anger is a genuine fear. A fear that Metiria will unleash a wave of beneficiaries who are part of the missing million voters.
TDB Recommends NewzEngine.com
The selective fury at  Metiria is disingenuous in the extreme, where were all these broadcasters outrage when this happened?
The hegemonic economic and cultural interests behind the voices of  Gower, Espiner, Soper, Garner, Farrar, Hooton, Hosking and Armstrong know democracy can work against them when the people rise up. They are terrified that Metiria will spark a rebellion at the ballot box because the life she described is one you all know.
You all know how cruel WINZ are to you.
You know the fear you live under from these petty tyrants. These cretinous public servants who force you to be slaves, you know the viciousness they met out with soulless joy.
You identify immediately with Metiria's position and you are watching the orgy of hate spat at her by these rich privileged men.
You know that spite, that sense of hopelessness, the depression the system drives you to.
That is why what Metiria has done has resonated with so many beneficiaries on social media.
Brothers and Sisters – if you are a beneficiary, you must enrol and vote Green at the election.
Why?
Because what the Greens are offering isn't just solidarity and symbolism, they intend to raise the benefit by $180 per week and dismantle the sticks with which WINZ staff beat you with.
Here is the link to enrol online right now.
I urge you to enrol, I urge you to enrol your beneficiary friends and family and vote Green.
You know and I know that $180 extra per week is the difference between life and death for many.
Do this to gain some real power, to feel counted, to feel heard.
Send those smug vicious male arsehole rich prick broadcasters an electoral punch in the face for their condescension and arrogance.
You know how hard it is to get through on WINZ overloaded and under staffed 0800 number to book an appointment.
You know how awful it is getting past the rude security guards who never seem to know what is happening and who change the rules on the day based on how they are feeling.
You know that you are dumped waiting while no one tells you anything and treats you with contempt.
You know how it feels to sit in an open planned office with zero privacy and unfriendly security staff looming over you trying to explain painful and difficult moments in your life to a staff member who doesn't give a fuck and whose only job is to say no to you.
You know what that life feels like, those smug vicious male arsehole rich prick broadcasters don't know, and in September when you are standing in that electoral booth they can't stop you from voting for your dignity.
Your lives matter and the cruelty you are all forced to live under by WINZ is a horror that those same smug vicious male arsehole rich prick broadcasters will never understand.
Beneficiaries of NZ – this is your moment – seize it and enrol to vote now and Party vote Green as soon as the polls open.
Beneficiaries of Aotearoa, you have nothing to lose but your pains.