The Standard will go into it's usual twisting and turning sophistry to claim that The Standard isn't connected in any way to Labour, but that's just Lynn pretending to be objective.
Their only good blogger is standing for Labour for Christ's sake (although I think after this weekend he'll have problems) and the history of the name The Standard has a long association with Labour, so it's a Labour affiliated blog despite what old man Lynn growls.
If it blogs self defeats like the Labour Party, if it blogs self mutilations like the Labour party and if it blogs self destruction like the Labour Party, it's a Labour Party Blog.
Reading their commentary on Poto Williams' totally counter-productive attack on Willie Jackson which has weakened Andrew Little as Leader, eclipsed Labour's positive Waitangi media and made Labour look divided is political self mutilation at it's most sadistic.
They've now gone as far as dredging up old criticisms of the established middle class unions Willie made 12 years ago!
How do these people think the rest of the electorate are seeing this unbelievable self-immolation? A house divided against itself cannot stand, and yet here's The Standard actually feeding it???
It's like their personal ego is more important than the cause they profess to champion.
TDB Recommends NewzEngine.com
They've gone as far as promoting a letter to Labour Party Council…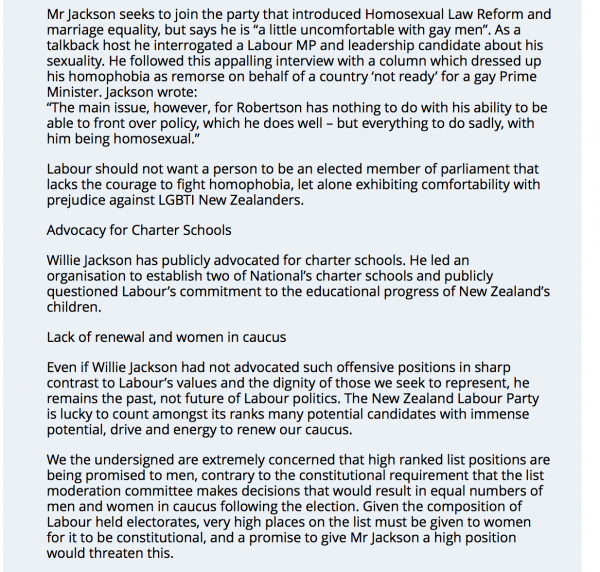 …most of this is bullshit and I've answered all these so called criticisms in a previous blog. I would imagine those signing are going to find out what happens to factions that threaten the Leadership of a Political Party.
The insanity of these haters and wreckers who are more than happy to destroy Labour's unity to push for a divisive attack on a working class Maori who runs two Urban Maori Organisations that provide welfare programmes directly in the poorest urban areas of NZ is beyond belief.
This is as self defeating as the Greens decision to run in Mt Albert, voters will get the perception that the Left is actually more interested in fighting itself than beating the Government.
It's like these people intend to cleanse Labour of anyone who doesn't fit their definition of Left rather than win the 2017 General Election and they can't see how that looks to the wider electorate.
I imagine the riot act is about to be read behind the scenes. Labour doesn't need this with a by-election starting tomorrow.