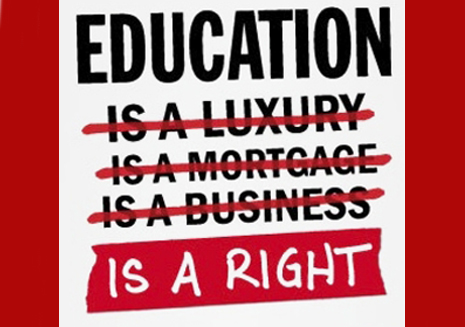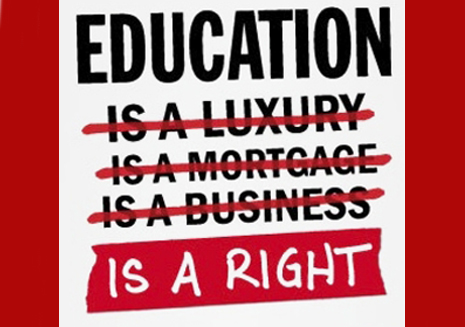 Tertiary education becomes less accessible each year, with fee increases, reduced student allowance availability, increases in loan repayments, lowering of the income threshold for repayments and unrealistic means testing.
I'm nearing the end of a three-year BA. I got my first 'overdue loan repayment' bill after only one semester. I'm expected to be paying off my loan while studying because I'm earning too much. The threshold is around $365 a week gross, regardless of whether you are 18 years old and flatting, or a single parent supporting children and paying high Auckland rents. Currently you can only get an allowance for living costs for four years of undergraduate study, so the one-year post-graduate diploma I want to do after my BA isn't covered – never mind a Masters or Ph.D.
TDB Recommends NewzEngine.com
When I first enrolled for a Bachelor degree in 2013, Work and Income NZ told me they couldn't pay me a benefit while I studied. After a lot of fuss, and pointing out that a single parent couldn't survive on a Studylink Student Allowance (which is a challenge for a young person renting a tiny room), they granted it. Three times over the last two-and-a-half years they've told me out of the blue that someone made a mistake and I'm not entitled to a benefit while studying, meaning I couldn't afford to continue to study, having wasted the last X number of months/years. Each time they've backed off, after a showdown involving tears or frustration and the mention of advocacy organisations/my lawyer (a bluff because I don't have one). But it makes me wonder whether other, less pig-headed single parents out there wanting to improve their education and employability have given up in despair. It's easy to see how WINZ's intimidation tactics would convince people they're scum and a drain on society. You screwed up and had a kid before you got an education, so now it's too late.
Also slashed from Auckland University recently were large numbers of admin staff and courses, especially in the Arts, because the university puts profit before people, commerce before knowledge. It's criminally negligent to leave the state of our education system in the hands of the private sector. If we are at all worried about the 'brain drain' – which doesn't merit much mention these days in an increasingly globalised economy – then why the heavy dependency on high fee-paying international students, who have little or no stake in our society?
How can educating yourself be a drain on society? The best investment a country can make is in educating its population, young and old. New Zealand could be a world leader in so many fields if we took this approach. Instead, those that do manage to scrape their way to a qualification often leave for better opportunities overseas.
The combination of unwritten WINZ policy and government rhetoric fosters the beneficiary bashing that's been prevalent since the early 1990s along with the view that government-funded education is an expensive burden on the tax payer. This rot began to set in with the 'Rogernomics' policies of the 1984 Labour government, which condemned NZ to an economic dark age from which we show no signs of recovering if the 'user pays' mentality continues to prevail.
Considering the past wrongs Labour needs to right, its new policy doesn't show enough balls (see a critical analysis of this published a few months ago). Labour have announced three years of free tertiary education… but not until 2025… and only for students who have had 'no previous tertiary education'. Hard luck if you've already paid for all or part of your first three years. Admirably though, there is no age limit. Whether they will extend student allowances past undergraduate level isn't mentioned in their fact sheet, which suggests no change there. To offer the first three-to-four years for free then cut everything off completely, would still mean only rich people can become doctors and lawyers (or people reckless enough to get themselves into six digits of debt), further enhancing the economic gap and fostering a class system that New Zealand used to pride itself on not having.
Another foreseeable problem is that, if a Labour government were to stagger the introduction of free fees (currently projected over six years from 2019-2025), there would be a massive drop in enrolments leading up to it, with people postponing their studies for a year or two until it's free. Meanwhile the universities lose a lot of money. There's no reason not to implement it quite quickly – no new infrastructure is required – in fact it would be more cost effective to do this. If Labour are serious about fixing education, they need to break some eggs, stop trying to please everyone, and go back to the progressive tax rates we had before the Rogernomes made us the unfortunate guinea pig of the global neoliberal agenda.