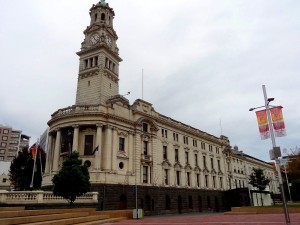 Join Jane Kelsey and the brilliant Lori Wallach list every way the TPPA damages us in NZ from 7pm tonight at the Auckland Town Hall. The venue will pack out quickly so be early to ensure a seat. If you can't get into the venue or you can't get into Auckland tonight, The Daily Blog will be live streaming the debate tonight here at 7pm.
A political panel will tell us why they oppose the signing of the TPPA: Grant Robertson, Labour; Metiria Turie, Greens; Marama Fox, Maori Party; and Fletcher Tabuteau, NZ First.
This forced trade deal creates a defacto upper chamber of our Parliament. It hands enormous power over to American corporations diminishing our ability to pass environmental laws, keep cheap medicines and ensure our Treaty obligations. The economics do not stack up either…
"Even that small benefit is a gross exaggeration. The modelling makes unfounded assumptions, and the real benefits will be far smaller. If the full costs were included, it is doubtful that there would be any net economic benefit to the New Zealand economy."

 

The main beneficiaries of tariff reductions from TPPA will be agricultural exporters, but modest tariff reductions of 1.3% on average by 2030 will be dwarfed by the ongoing volatility in commodity prices and exchange rates. The TPPA is not a gold standard agreement. "There remain extensive trade barriers to New Zealand agricultural exporters into the Japanese, Canadian and US food markets, and these are now locked in under the TPPA" explains Barry Coates who authored the section on agricultural trade. 
Turn up tonight or watch online. If you can – alert all your friends and family.