Wait.
WHAT?
Chippy is back, intends to fight the 2026 election, oh and by the way, the whole policy slate is now clear because Chippy is pretending that when he said he wouldn't ever allow a Wealth Tax, Capital Gains Tax or GST off all Supermarket food "under a Government that I lead", he actually meant as soon as this election was over?????????????????
What?
Chippy claimed his cowardly decision to dump the wealth tax was a 'Captain's Call.
Who is the Captain of?
The Titanic?
Let me see if I can get this completely straight.
TDB Recommends NewzEngine.com
So what Labour are saying to the beneficiaries, drug addicts, disabled, public transport users, those concerned about the environment, renters, the 24 717 people on the social housing wait list, the 600 000 who need food banks each month alongside everyone who depends on public services who are about to suffer at the hands of National/ACT/NZF Government, what Labour is saying to all of them is 'oops about the 3 years under those monsters, we promise to be better come 2026???
How on earth is that a political promise?
Labour refuse point blank to tax the rich to fund the social infrastructure we need to adapt against climate change.
What's the point of Bread and Butter politics if no one could afford the Bread or Butter?
Labour, Jacinda and Chippy squandered an unprecedented MMP majority that the Left will never have again!
As for parroting ACT party spin lines to paint Chloe as an anti-semite…
'A very loaded statement': Chris Hipkins expects Labour MPs to avoid 'river to sea' chant
Labour leader Chris Hipkins says he and his MPs wouldn't join a well-known but controversial Palestinian chant, which two Green MPs have publicly recited.
He said the chant, "from the river to the sea, Palestine will be free", was unhelpful. Green MP Chlöe Swarbrick caused controversy by reciting a well-known pro-Palestinian chant over the weekend, but that wasn't the first time Greens have been drawn into debate about it.
The chant is seen by some as a show of support for the militant group Hamas, while others believe it communicates Palestinians' struggle for human rights.
…Israeli war crime apologists have manufactured this phrase, "From the river to the sea", into meaning the genocidal extermination of the State of Israel which is nonsense because as everyone knows, Hamas agreed to the 1967 boundaries, so this attempt to hold up a rhyme as evidence of antisemitism is petty, pathetic and juvenile in the extreme.
Israel has killed as many civilians in one month that Russia has done in almost 2 years, yet Chippy feels what is more important is parroting ACT Party smears?
Who is Chippy working for?
Labour or ACT?
I am writing what Labour and the Left needs to do next and will have it up on Sunday.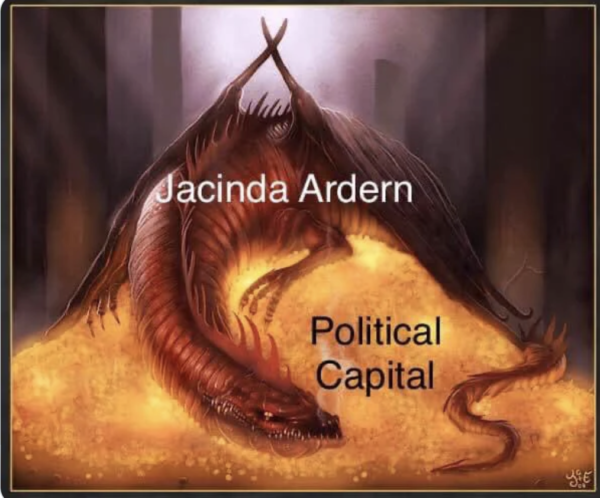 Increasingly having independent opinion in a mainstream media environment which mostly echo one another has become more important than ever, so if you value having an independent voice going into this pandemic and 2020 election – please donate here.
If you can't contribute but want to help, please always feel free to share our blogs on social media.