Kia ora! It's all about cannabis and the election this week on the Marijuana Media potcast, with hosts Jonny and Corey from bFM Drive and Chris Fowlie from NORML – thanks to The Hempstore.
[Stream the pot-cast of this show on 95bFM.com] [download mp3]
Te Pati Māori justice policy: decriminalising drugs and wiping criminal records
Your voting choices just got better with the release of Te Pati Māori's justice policy, which includes reforming drug laws to treat drug use as a health issue, not a criminal one, and wiping criminal records for use and possession.
A NZ Herald report said the party would repeal "discriminatory legislation", such as overhauling the Misuse of Drugs Act, amending the Clean Slate Act to apply to custodial sentences, and would require police to wear body cameras.
Read the full Te Pati Maori justice policy here. Here's the section on drugs:
TDB Recommends NewzEngine.com
Like the Greens drugs policy, it's a bit light on detail, but whereas the Greens appear to be backing legalisation this is effectively decriminalisation with health referrals (like Portugal) plus expungement of criminal records. The rest of Te Pati Māori's justice policy is far more "revolutionary", such as a pathway towards abolishing prisons.
Their plan to reform the justice system aims to challenge institutional racism that, according to a report on Te Ao Māori News this week, co-leader Rawiri Waititi said has "traumatised and failed Māori communities at every level".
Marijuana Media reported last week cannabis policing is still discriminatory. For the first time, Māori now make up more than half of drug prosecutions. Māori are still imprisoned at over seven times the rate of non-Māori, peaking in 2010 at just under two per cent of the entire population, according to figures quoted in the Herald.
Cannabis-based voting
Over on The Daily Blog, veteran human rights campaigner John Minto has posted a drug policy guide for the 2023 election, inspired by a book he recently read and relying not on Marijuana Media's #TokeTheVote cannabis-based voting guide posted the previous week on The Daily Blog but on extracts from an Otago Daily Times article from 2022 ("Where political parties stand on drugs").
The #TokeTheVote guide will be updated as policies are announced. This week, Te Pati Māori has gone to 4.5 leaves. Labour remains unchanged on 3 leaves – their justice policy released on Friday contained no mention of cannabis or drug law reform.
ACT hedges it both ways, saying it is sceptical about prohibition in general, notes most of their MPs voted Yes in the cannabis referendum, and supported the pill testing bill – but this week announced a welfare policy which takes a harder line on drug addicts, according to the NZ Herald. The policy says:
"ACT will also take a more proactive approach to ascertaining whether drug-addicted beneficiaries are responsible for their own incapacity with the intention of receiving the benefit."
The Radio NZ voting policy guide has been updated, showing Te Pati Māori and the Greens as the only parties with drugs policies according to that guide. That guide excludes the Aotearoa Legalise Cannabis Party.
The cannabis party was mentioned in the Northern Advocate's coverage of the Northland and Te Tai Tokerau candidate's meeting in Kaitaia, which also includes former NORML president Mike Finlayson running for the Northland Party (Confusion about where to cast their vote key theme at Kaitāia candidates meeting).
Legalise Cannabis Party co-leader and Te Tai Tokerau candidate Maki Herbert spoke to the benefits of the hemp industry on the country's economy, especially housing using hempcrete.
"Investing in the hemp industry is a good solution for this country," Herbert said. "Let's get rid of most of the pine trees because they take 25 years to harvest, they poison our whenua and cost us lots of money.
"Hemp doesn't cost us anything, it gives us our wellness back and when we build our homes out of hempcrete, it takes a 120 days to harvest a patch of hemp, so two acres in farmland will grow you a three bedroom home at a third of the cost."
And – when someone in the crowd shouted they could use "pot" to fill the potholes, she agreed it wasn't a bad idea.
Meanwhile The Spinoff had advertising veteran John Plimmer review the websites of the political parties – and while they all came up lacking, the ALCP's grassroots website got a special mention right at the end:
So does any party have an appealing tone? I had hoped it would be the Legalise Cannabis Party. If any party should be having fun, surely it's the one dedicated to smoking weed. But have you seen their website?
He has a point, but they do what they can, with what they have. An article on Stuff this week said undecided voters may decide the general election – and noted the cannabis referendum may have boosted turn out last time.
On Thursday, Radio NZ's daily photos from the campaign train included the Karangahape Business Association's meet the candidates meeting held at Whammy Bar on K Road. Moderated by Russell Brown, the public meeting included Chloe Swarbrick and the ALCP's Christopher Coker, resplendent as always in his cannabis leaf suit.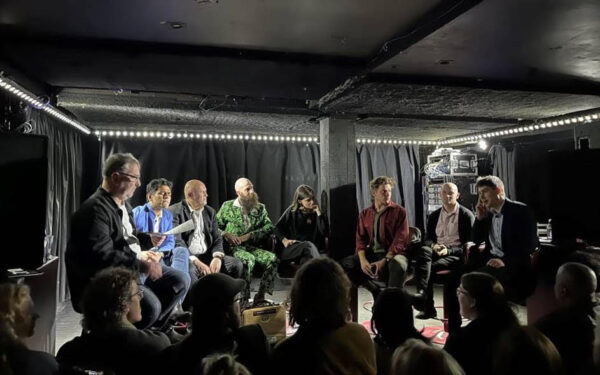 Photo credit: RNZ/Emma Stanford
Show your support at our next Cannabis Rally
Last Saturday 9th September a bunch of us gathered beside the election hoardings on Ponsonby Road in Auckland Central and waved signs for cannabis law reform. It was fun and we got plenty of toots.
Highlight for me was the Navy Admiral in full regalia, medals, with pearl-wearing wife and a big toot of their horn. Half of us voted Yes but reform won't just be handed to us on a plate without having to work for it. Show your support and come along to the next rally, Ponsonby Road at Western Park, high noon on Saturday 23rd September.
This week's prohibition madness endangering our communities:
In Whangarei shots were fired in an alleged cannabis robbery, reported 1News. The Newshub report said the shooter was defending his 'substantial' grow from gang members. Four men were arrested according to the Police. It even made the Indian Weekender.
And in Gore, seven people were charged over firearms and cannabis. Our communities will continue to be endangered by drug-market violence as long as prohibition remains on the books.
Copenhagen Mayor urges foreigners to stop visiting Christiania
The Danish capital is home to Christiania, founded by hippies in 1973 in an old barracks it has been home to Pusher Street, an open air cannabis market. I visited in 2002 and enjoyed buying hash in the relaxed environment.
But now, because the cannabis trade is not properly legal but exists in a grey zone, the peace loving hippies have been pushed out by Hells Angels and another gang called Loyal to Family, who are killing each other over territory according to the Associated Press.
The Mayor has said tourists and students looking for weed are creating the demand and asked them to stay away – but a better solution would be to properly legalise and regulate the cannabis trade there, rather than handing it to gangsters to fight over.
Global cannabis and CBD markets set to grow
Latest projections show the global legal cannabis markets will grow to almost US130 billion by next year (up from just $20 billion last year) with CBD comprising US$48 billion of that. According to a report on Bezinga, the Vantage Market Research report includes New Zealand.
It comes as local NZX-listed firm Cannasouth announced this week it has completed it's first commercial shipment of cannabis-based active pharmaceutical ingredients (API) to Australia. In a report on Bezinga, CEO Mark Lucas said upcoming improvements to New Zealand's medicinal cannabis scheme – expected by the end of the year – "will further enable us to export at scale".
Coming up:
Marijuana Media airs every Thursday at 4:20pm on 95bFM, with your hosts bFM Drive's Jonny and Chris Fowlie from The Hempstore. Stream or download the pot-cast for this show here or hundreds of previous Marijuana Media shows at 95bFM.com (or via iTunes / RSS feed). Thanks to The Hemp Store!