Ministry of Health rejects Mike King's Gumboot Friday funding plea
The Ministry of Health has rejected a plea for funding from Gumboot Friday, which provides free counselling for young people in New Zealand, according to Mike King.
King, the founder of Gumboot Friday, posted the news on social media this morning but the ministry said the request was made outside the required timeframe.
It comes two weeks after he returned his Order of Merit medal, saying the mental health system was "broken" and "no one is trying to fix it".
The final humiliation of Mike King is complete with the Bureaucracy he has called out refusing to fund Gumboot day.
Mike's system sees immediate free counseling to create a means of gaining mental well being before it gets to crisis levels.
All the money raised goes to the services, Mike isn't in this for financial gain.
As Dave Macpherson points out, King's scathing criticism of a broken mental health system has made him enemies who see their fiefdoms threatened by his solutions.
TDB Recommends NewzEngine.com
After sinking $1.9billion into mental health. all Labour have to show is 5 extra acute beds. Labour don't have the muscle to bash heads to get results.
The real difference difference between Labour and National is this.
National are ruthless pricks. Nasty, bullying ruthless pricks and you need nasty bullying ruthless  pricks to beat the bejesus out of the Wellington bureaucracy to actually get shit done.
Labour on the other hand wants to give everyone a cuddle and an inclusive Hui with a vegan lunch menu in te Reo and a side dish of pronouns, where they all feel safe and as such, the Wellington bureaucracy isn't scared of Labour.
Jacinda pumped $1.9 billion into mental health and what has she got for it? 5 extra acute mental health beds! The Wellington bureaucracy are laughing at her and divvying up the latest splurge of cash on whatever they want.
New Zealanders don't understand that the representative democracy they interact with once every 3 years is merely a masquerade of democracy, a pretense to keep you voting and giving the process the flimsiest of legitimacies, the real powers are the Wellington bureaucracy and a Party's success is determined purely by how much they can force the Wellington bureaucracy to actually implement policy.
In the words of the great Unionist, Robert Reid…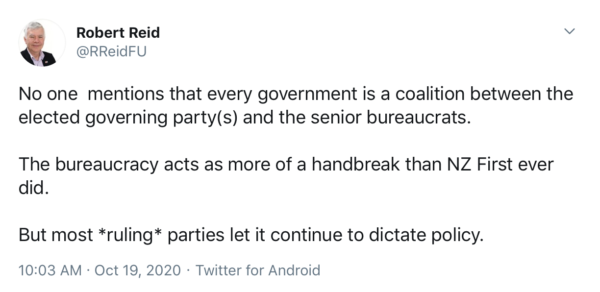 National got shit done because the Wellington bureaucracy was frightened of them, Labour can't achieve jack shit because they are too busy giving everyone a cuddle.
Kiwibuild, child poverty, inequality, that bloody bike bridge we all know they will never build – Labour can't bully or headkick the Wellington bureaucracy and that's why nothing ever gets done.
Mike's humiliation is a symptom of this.
Increasingly having independent opinion in a mainstream media environment which mostly echo one another has become more important than ever, so if you value having an independent voice – please donate here.
If you can't contribute but want to help, please always feel free to share our blogs on social media