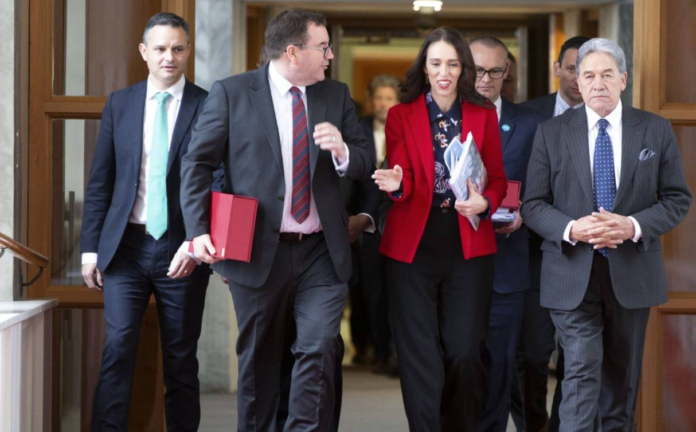 GRANT: "Winston calm down, you don't even have to look him in the eyes"
WINSTON: "And Marama, I can ignore her too right".
JACINDA: "Guys, kindness please, James is right there, he can hear us talking about him".
JAMES: "…."
I don't wish to be rude, but is there a point to even having the Greens?
Greens' James Shaw says party wanted more for welfare in $50b Covid-19 Budget spend
Shaw says the Covid-19 crisis has revealed the inequalities in New Zealand's economy, and the investments being made today start to address that.  In terms of welfare spending, the Budget doesn't go as far as the Greens would like. There is more to be done.
…yeah, I think it takes more than thoughts and prayers James.
TDB Recommends NewzEngine.com
So let's count up what the Greens have managed to get here.
$1.1b in 'environmental jobs', there's $400m to clean up rivers  plus $2.7b for rail (which isn't directly their own policy) gets us to say $4billion.
That's $4billion out of a budget of $50billion?
James says he's sad that the Government couldn't do more for welfare, but when all you've managed is a measly $4b out of a $50b budget, it's safe to say you've almost given up altogether really.
It's like aiming for Mt Everest, flying to Australia and taking a selfie at Ayers Rock.
Don't give me 'But Winston is mean to us" as an explanation for getting next to nothing here, you've had 3 years to find a strategy to deal with Winston, maybe you need to look at your tactical team, I mean Andrew bloody Campbell is in Jacinda's office, he's previously Green, if you can't get access to policy gains, something has gone terribly bloody wrong in the backroom!
This was an opportunity to make a mark upon the rebuild of Aotearoa, the Greens have missed that moment. They have from now until the election to wrestle something meaningful out of Labour and claim it as their own.