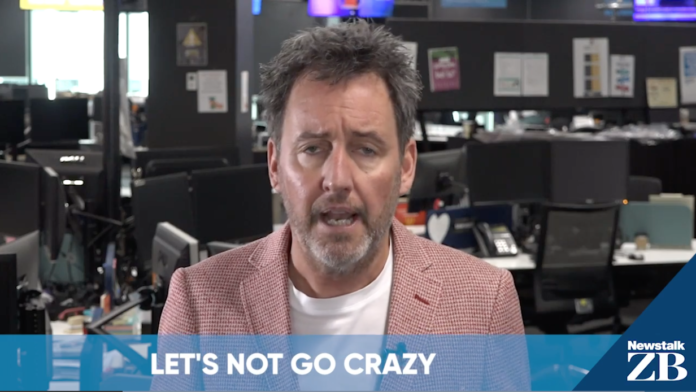 At this stage, Mike Hosking is less a broadcaster and more a personal cheerleader for the Hard Right.
If Jacinda Ardern today announced that she had personally developed a Vaccine in her bathroom at home overnight and had resurrected Elvis, Frank Sinatra and Jesus Christ to front the public health campaign Mike would describe it as, "An Incompetent Government desperately trying to wrap itself up in cheap publicity".
His latest douchebag rant against looking after everyone post this unprecedented pandemic with a Universal Basic Income is funny because you can smell the fear.
Listening to a selfish multimillionaire complain about allowing poor people into the lifeboat is ZBs bread and butter, so there are no surprises that he is bitching about looking after poor people in the middle of a pandemic, but the true joy is the panic in Mike's eyes as he feels all that neoliberal certainty shift dramatically under his feet.
The free market dogma that has cemented into place the neoliberal social, political and economic experiment in this country is fracturing with every passing day under lockdown.
TDB Recommends NewzEngine.com
The people turn not to the fucking free market at this time, they no longer pray to Milton Friedman, they have fled Adam Smith's ungloved invisible hand and scream for the State, they demand the State, they cry for its protection and collective wisdom in a way that terrifies Hosking.
Neoliberal free market capitalism was built upon lies and deceits for cheaper trinkets and trickle down standard of living. The hollowness of its promises stares at us bleakly as the options are boiled down to culling the older workforce and the sick to restart the economy or risk Socialism by stealth.
The neoliberal foundations of Capitalism are collapsing, new socialist foundations with egalitarianism and solidarity at their sustainable green heart are the only way forward for the all and not the few.
Expect Mike's rants to become as breathless as a Covid19 victim. A vaccine to his brand of neoliberalism is coming whether he likes it or not.
It's not Socialism by stealth if the entire country is calling for it.